Hello and welcome to exampundit. Today was RBI Assistant Mains 2017 examination and thanks to V Pandey and Tanmay for sharing the questions and review with us.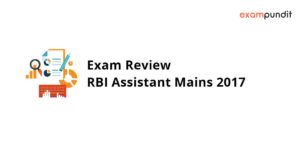 [toc]
Exam Review
---
Numerical Ability – Easy to Moderate
Numerical Ability was not very easy neither tough. It was mostly moderate level. Since the aspirants have been preparing with tough questions, a good number of them found most of the questions doable.
General Awareness  – Moderate
General Awareness had plenty of Banking Awareness along with Current Affairs and Stock GK Questions. We have shared the GA Questions which you can check from below.
English Language – Easy
English had old pattern questions and were doable. The subject which always brings a frown on aspirants' faces was surprisingly easy.
Computer Knowledge – Easy
Computer Knowledge was extremely easy with basic level questions.
Reasoning Ability – Moderate
Reasoning was overall Moderate with plenty of puzzles and seating arrangements to solve. One could attempt the puzzles and seating arrangement if she or he has good hold in the subject.
Type of Questions
---
A big thanks to Tanmay for sharing the types of questions in RBI Assistant Mains 2017.
Numerical Ability
There were total 3 Dis in RBI Assistant Mains 2017
There were 2 Data Interpretation questions along with one Caselet DI.
One of the two Data Interpretation in RBI Assistant Mains 2017 was calculative.
Other DI and Caselet DI was comparatively easy.
There were 5 approximation questions which were extremely easy.
There were 5 Quadratic Equations problem and they were very easy.
Other questions were from miscellaneous word problems such as Age Based Problems, Profit & Loss, Compound Interest, Average, Time & Work etc.
English
There was a comprehension of 10 marks out of which 4 questions were Synonyms & Antonyms.
The reading comprehension was EASY to comprehend.
There was an Old Pattern Cloze Test for 10 marks/questions.
There were 5 questions on one Para Jumble.
There were error correction of 5 marks along with Sentence joining of 5 marks.
Reasoning Ability
There were 5 puzzles and seating arrangements problems which were easy to do.
There was one puzzle on Age where 4 months and 2 dates were given and one had to find out month/date wise date.
There was another puzzle where 5 boxes and their shapes were given and one had to arrange the box from top to bottom.
There was another puzzle on 7 Family Members and 2 of the family member's age were given and one had to find out the Age and arrange the family tree.
There was a seating arrangement problem where total number of person was not given but since it was easy, one could find out the total number by solving.
There was another Puzzle where 7 Work in 7 various years of a country was given and one had to find out on which year the work was done.
On the other hand, there were few miscellaneous questions on Coding-Decoding(Old), Direction based etc.
Computer Knowledge
Almost 15-20 questions were from MS 2010 (We have already given MS Office quizzes in the past)
Others were basic computer questions
General Awareness
There were questions from Banking Awareness like RBI Acts and all.
There were questions from currency and capital.
There were also static GK Questions.
There were Current Affairs Questions from November/December 2017
GA Questions Asked in RBI Assistant Mains 2017
Click here to View the GA Questions asked in RBI Assistant Mains Exam 2017
Average rating / 5. Vote count:
We are sorry that this post was not useful for you!
Let us improve this post!
Thanks for your feedback!
EP Recommends: Oliveboard Mock Tests