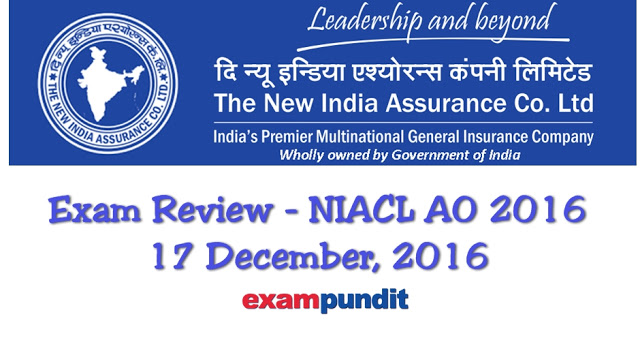 Hello and welcome to exampundit . We received a lot of NIACL AO Prelims 2016-17 reviews through comments, emails and messages and decided to compile every shift into one review.
The exam was overall moderate for everyone. It is only because a large number of aspirants wanted to attempt more than they have. So the reviews suggested that English & Quantitative Aptitude had mixed responses while Reasoning had a jovial review.
In Reasoning there were questions from
Inequalities
Coding Decoding
Directions
Blood Relation
Syllogisms
Seating Arrangements – Rows
Seating arrangements – Square
Puzzle – Floor based
In English there were questions from
Error Detection
Cloze Tests
Reading Comprehension
In Quantitative Aptitude there were questions from
Approximation
Word Problems
Quadratic Equations
Series
Data Interpretation
Average attempts were
Quantitative Aptitude: 20 – 23
Reasoning: 25 – 28
English: 20 – 24
Total attempts were between 65 to 73 regardless of any shift, category.
Since it is a qualifying examination, you just need to focus on clearing it. It does not matter if you get 100 or 40.
Sponsored

(adsbygoogle = window.adsbygoogle || []).push({});
Regards
Team ExamPundit