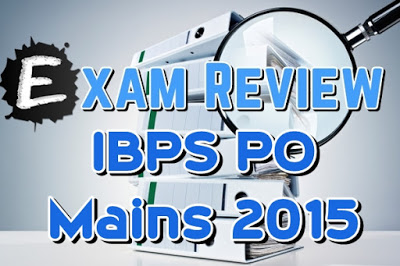 Hello and welcome to ExamPundit. So, according to everyone, IBPS PO Mains Reasoning was way
above the expected standard. It caused a lot of panic. We received plenty of
reviews and here is the official review of IBPS PO Mains 2015 held on 31st
October, 2015.
Reasoning:
The chapter turned into a villain within a few hours of the examination. Nobody
has claimed that they did well in Reasoning. Most of the reviews suggested that
the Puzzles, Input & Output was horribly confusing and took a lot of time. On
the other hand, syllogisms, statement & course of actions were moderately
easier than the other ones.
The reasoning standard was higher than anyone could imagine.
Hence the reasoning test was dissatisfying for most of the candidates.
Quantitative
Aptitude: Quantitative Aptitude questions were mostly moderate to
expected standard. The Data Interpretations were mostly calculative and some of
them were really difficult. The arithmetic questions were mostly moderate to
normal standard. The overall Quantitative Aptitude section was comparatively
easier than Reasoning.
English:
English was mostly moderate for a large number of candidates. However, the
Comprehension test took a lot of time. The Cloze test, Para Jumble were mostly
moderate. Those who utilised the time in English did well otherwise it was
mostly moderate for all.
Computer
Knowledge & General Awareness: Computer was easy(in the morning) and moderate(in the day). The questions
were basic to moderate and aspirants mostly attempted without any hassle. Similarly, General Awareness was
also very easy for almost everyone. The questions were from Current Affairs,
Banking Awareness and a few bits of Static GK. General Awareness and Computer
had plenty of assured attempts by the candidates.
IBPS is continuously changing its exam patterns and will
definitely follow this method in the future. A big round of applause for
students who held their nerves and did well. No need to worry as most of the
reviews were similar to each other. The average attempt varied between, 93-110
regardless of any Shift or Category.
All the best. May the force be with You.
Regards
Team ExamPundit
Sponsored

(adsbygoogle = window.adsbygoogle || []).push({});
Books For 2015 Banking/Insurance Exams