Hello and welcome to exampundit. The IBPS Clerk Mains 2017 has finally concluded today with mixed responses. While the exam was quite satisfactory for most of the aspirants, the experience in the examination center was bad for a lot people.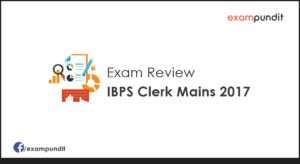 [toc]
Exam Pattern
Reasoning Ability
---
4-5 Puzzles
1 Puzzle was on 3 floors, each floors having 3 flats and there were ABCDMNOPQ people.
1 Parallel Arrangement having 4 people.
1 Hospital related puzzle where Doctor and their visiting hours were given.
1 Seating Arrangement with family members.
 Alphanumeric Series with 3-4 conditions.
Old Pattern Input/Output problems.
Direction Test Problems
Syllogisms
English Language
---
2 Reading Comprehensions – 8 questions each (One on IBM Work From Home, another on Resetting Passwords and hackers)
Vocabulary questions, not related to RCs.
Double Fillers with little lengthier passage.
Sentence Rearrangement – Only 1 Sentence needed.
Phrase Use in a sentence.
Sentence Connectors.
Quantitative Aptitude
---
Two Data Interpretations
One Caselet Data Interpretation
Approximations
Number Series problems
5 Quadratic Equations
5 Data Sufficiency problems
Two questions from Time and work
One from train
One from allegation
One from partnership
One from profit and loss
General Awareness
---
Click here to view the General Awareness Questions asked in IBPS CLERK MAINS TODAY
Exam Overview
The overall IBPS Clerk Mains 2017 examination was Moderate. Introduction of laminated rough sheets in IBPS Clerk Mains was criticized by almost every aspirants. Quantitative Aptitude was quite easy for a large number of aspirants while English was on the moderate side. General Awareness in IBPS Clerk Mains 2017 did not have any questions from the recent months (Dec-Jan), the questions were mostly from banking awareness and stock gk. Reasoning was on the moderate side with puzzles, old pattern input outputs etc.
Advice For Upcoming Exams
Right now, Nothing is NEW and Nothing is OLD. If you are preparing for Bank Exams, be prepared for everything. Today there was no Recent Current Affairs does not guarantee that in coming exams it will be same. In simple words, You HAVE TO be prepared for all.
Regards
Team EP