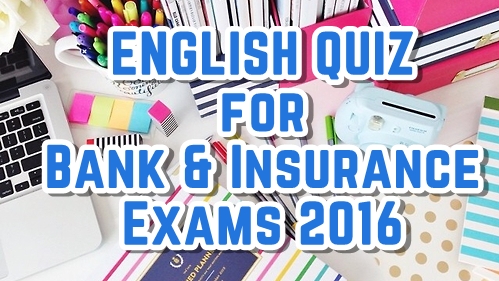 Hello and welcome to ExamPundit. Here is a set of English Quiz for SIDBI Assistant Manager 2016 Online Exam.
Directions (Q. 1-10):
In the given passage there are blanks, each of which has been numbered. Against
each, five words are suggested, one of which fits the blank appropriately. Find
out the appropriate word in each case.
A long time ____(1), in Athens, a
middle-aged man had two wives. The first wife was old and the ____(2) one was
young. ____(3) loved the man very much and desired to see him like herself. Now
the man's hair was ____(4) grey, which the young wife did not like, as it made
him ____(5) too old to be her husband. So every night she would ____(6) his
hair and pick out the white ones. But the elder wife saw her husband growing
grey with great ____(7), for she did not like to be ____(8) for his mother. So every
morning she would arrange his hair and pick out as many of the black ones as she
could. The ____(9) was that the man soon found himself entirely ____(10).
1. 1) behind 2) before 3) since 4) upon 5) ago
2. 1) second 2) next 3) another 4) alternate 5) future
3. 1) Both 2) Two 3) All 4) Every 5) Each
4. 1) little 2) turning 3) some 4) all 5) entirely
5. 1) behave 2) see 3) look 4) appeared 5) become
6. 1) pluck 2) select 3) assort 4) comb 5) cut
7. 1) pleasure 2) stubbornness 3) height 4) distance 5)
alarm
8. 1) called 2) said 3) responsible 4) mistaken 5) seem
9. 1) situation 2) output 3) problem 4) reaction 5) result
10. 1) curled 2) bald 3) grey 4) black 5) hairy


Regards
Team ExamPundit
Sponsored

(adsbygoogle = window.adsbygoogle || []).push({});
Books For 2015 Banking/Insurance Exams


EP Recommends: Practicemock Free Mock Tests