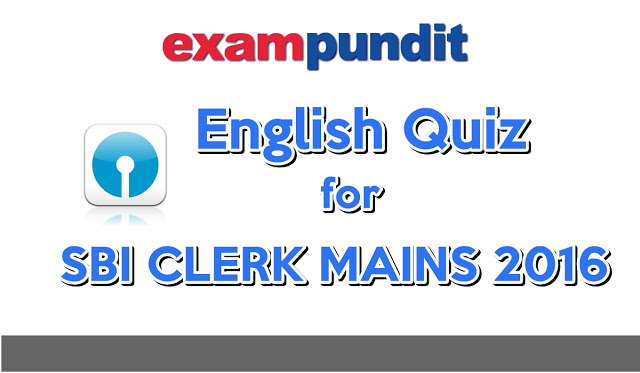 Hello and welcome to exampundit . Here is a set of English Quiz for the upcoming SBI Clerk(Junior Associates) Mains 2016.
Read the followings carefully and answer
Rules:
Post answers according to the following format(s)
1-2
2-3
3-4
Or
12345
54213
In case the options are ABCD, use the Appropriate Options.
Do Not Rectify anyone.
If you have any doubt regarding any question of the quiz, kindly ask after the quiz is over i.e answers given.
DO NOT GOOGLE ANSWERS!! IT WILL HAMPER YOUR PREPARATION
Do Not CHAT here. If you have any query, use today's Ask The Mentor Page.
At least 7 Attempts for Scores.

Exampundit.in reserves the right to choose winner or give scores.
Directions (Q. 1–10):
In the following passage there are blanks, each of which has been numbered.
These numbers are printed below the passage and against each five words are
suggested, one of which fits the blank appropriately. Find out the appropriate
words.
A little less than five years
ago, the government of India _______(1) a set of _______(2) that _______(3) in
an _______(4) of reforms for the IT sector. Within India, these reforms have
not yet _______(5) to the grassroots level, though smaller towns and cities and
many villages, especially in South India, have been _______(6) by public and
private participation in e-governance and have some experience of online
transactions. On the _______(7) the Internet's _______(8) as a ______________(9)
tool has been most _______(10).
1. 1) activated 2) proposed 3) finalised 4) initiated 5)
dedicated
2. 1) measures 2) directions 3) planning 4) panels 5) agenda
3. 1) developed 2) assumed 3) envisioned 4) flourished 5)
ushered
4. 1) aura 2) environ 3) era 4) ultimately 5) area
5. 1) realised 2) merged 3) rooted 4) percolated 5) bestowed
6. 1) benefited 2) governed 3) supported 4) supplemented 5)
involved
7. 1) basis 2) account 3) whole 4) above 5) average
8. 1) programme 2) utility 3) idea 4) success 5) revolution
9. 1) computer 2) software 3) electronic 4) technology 5)
communication
10. 1) divulged 2) utilised 3) common 4) appreciating 5)
soothing
Regards
Team ExamPundit