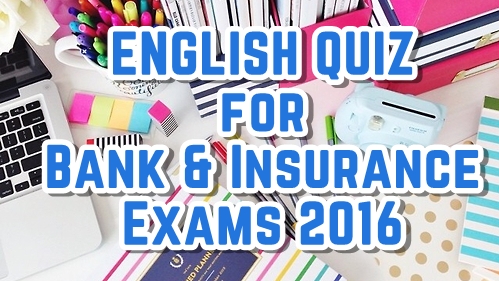 Hello and welcome to ExamPundit. Here is a set of English Quiz for LIC AAO 2016.
Directions: (Q. 1-5): In each of the following sentences there are two
blank spaces. Below each sentence there are five pairs of words denoted by
numbers 1), 2), 3), 4) and 5). Find out which pair of words can be filled up in
the blanks in the sentence in the same sequence to make it meaningfully
complete.
1. Autonomy in investigation and prosecution would ________
judicial disposals and restore ________ in the rule of law.
1) expedite, credibility
2) energise, autonomy
3) empower, faith
4) maintain, awareness
5) supervise, speed
2. The highest court of this country has always gone out to
________ the ________ of the citizenry.
1) govern, issues
2) deliver, justice
3) stretch, rights
4) derive, hope
5) uphold, interests
3. ________ of illiteracy from a nation that is set to
become the most populated in the world is by no ________ easy.
1) Dealing, effect
2) Management, concern
3) Eradication, means
4) Uprooting, method
5) Capturing, task
4. This approach would ________ the enormous illiteracy problem
to be ________ in a holistic manner.
1) drive, controlled
2) enable, tackled
3) contain, settled
4) manage, defined
5) negotiate, sorted
5. It is time to ________ ongoing programmes and ________ new
horizons.
1) allocate, define
2) consider, think
3) justify, assemble
4) assess, seek
5) evaluate, avail
Directions (Q. 6-10): In each of the questions below four sentences are
given which are denoted by A), B), C) and D). By using all the four sentences
you have to frame a meaningful para. The correct order of the sentences is your
answer. Choose from the five alternatives the one having the correct order of
sentences and mark it as your answer.
6. A. At best, it has had one or two dangerous bowlers in an
attack of four.
B. Except for a brief spell in the 1970s, India has never had
a match-winning bowling combination.
C. But this comes as no surprise to those who have followed
Indian cricket over the last 50 years.
D. India has one of the worst bowling attacks in the world.
1) ABCD
2) DCBA
3) CDAB
4) BCAD
5) CBAD

7. A. Language, it was once said, is a dialect backed by an army.
B. Despite more than 50 years of state sponsorship, neither
Urdu nor Hindi, at least in its official incarnation, has gained the allegiance
of the people at large.
C. Yet, the history of 'national' languages in the region tells
a very different story.
D. On the face of it, this is perhaps more true of the Indian
subcontinent than any other part of the world.
1) ADCB
2) BDCA
3) DCBA
4) CDBA
5) CABD
8. A. We should judge and determine if our acts are correct,
whether they are appropriate before the Lord who has granted us life.
B. We should live in a manner that material considerations
and personal benefits don't matter.
C. Every one of us should find the time for meditation and
communion with the Almighty.
D. If we find we have acted properly, we should fear no one.
1) DCBA
2) ABCD
3) CADB
4) ACBD
5) DACB
9. A. Therefore, all this breast-beating about the few knocking
advertisements that are being aired, taking potshots at our political leaders,
is needless.
B. The right to information is the bedrock of a true democracy.
C. By the very fact that these politicians are in the public
space and are seeking our mandate to represent us and rule this country for the
next five years, we have the right to know both their pluses and minuses.
D. What is not spelt out but is implicit in this right is
that the information can be both negative as well as positive.
1) ABCD
2) DCBA
3) CDAB
4) DABC
5) BDAC
10. A. An individual's decline begins with desire and ends in
misery.
B. Animals take life as it comes, but when man fails to do a
certain thing or to possess certain things, he gets angry and slips into mental
depression.
C. To keep the mind happy, we have to learn to be content
with minimum wants.
D. Human beings are the only species in God's creation who
make an issue out of nothing.
1) BACD
2) DCBA
3) ABCD
4) DBAC
5) ACBD


Regards
Team ExamPundit
Sponsored

(adsbygoogle = window.adsbygoogle || []).push({});
Books For 2015 Banking/Insurance Exams