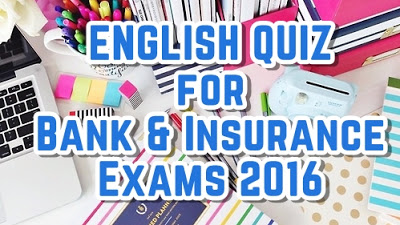 Hello and welcome to ExamPundit. Here is a set of English Quiz for LIC AAO 2016. This set can also be used for other Bank and Insurance Exams.



Directions (Q. 1-11):
In the following passage there are blanks, each of which has been numbered.
These numbers are printed below the passage and against each five words are
suggested, one of which fits the blank appropriately. Find out the appropriate
words.
Since the ______(1) of planning
in our country, continuous ______(2) has been laid on ______(3) distribution of
income as a broad ______(4). As ______(5) of poverty was higher in the rural
areas, where majority of the population lives, it was considered ______(6) to shift
the ______(7) of poverty ______(8) programmes to the rural areas. But, despite
several programmes being ______(9) by the government, it was ______(10) towards
the end of Fifth Five Year Plan that fruits of development had failed to ______(11)
down to the poorer sections living in the rural areas.
1. 1) conception 2) emergence 3) inception 4) managing 5)
arrival
2. 1) light 2) path 3) debate 4) argument 5) stress
3. 1) equitable 2) social 3) pragmatic 4) economic 5) solid
4. 1) spectrum 2) objective 3) majority 4) viewpoint 5)
achievement
5. 1) nature 2) tendency 3) striking 4) incidence 5)
reflection
6. 1) irksome 2) irritating 3) imperative 4) basic 5) astonishing
7. 1) trend 2) focus 3) development 4) effort 5) nature
8. 1) alleviation 2) tackling 3) monitoring 4) reflecting 5)
addressing
9. 1) oriented 2) delivered 3) hosted 4) navigated 5)
launched
10. 1) ascertained 2) revealed 3) directed 4) realised 5)
traced
11. 1) wipe 2) trickle 3) balance 4) raise 5) trailing


Regards
Team ExamPundit
Sponsored

(adsbygoogle = window.adsbygoogle || []).push({});
Books For 2015 Banking/Insurance Exams