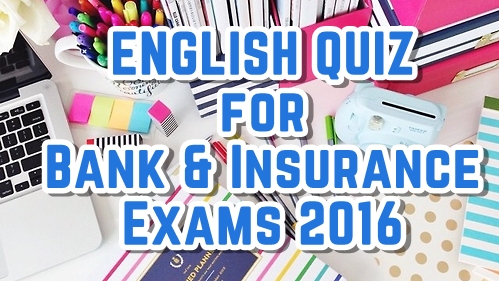 Hello and welcome to ExamPundit. Here is a set of English Quiz for IRDAI Junior Officers 2016.
Directions (Q. 1-5): In each question there are two statements
which can be combined into a single statement in a number of different ways
without changing their meaning. Below them are given three probable starters of
such combined sentence. One, two, three or none of them may be correct. Decide
upon which is/are correct, if any, and answer the questions.
1. This judgement has been given by the highest court in the
land. It therefore assumes finality from legal point of view.
(A) Being the judgement of …
(B) In spite of the judgement…
(C) As it is the judgement of …
1) Only A
2) Only B
3) Only C
4) Only A and B
5) Only A and C
2. On this special occasion the chief minister of the state would
be welcomed first. After that the prime minister would be extended warm
welcome.
(A) Although the prime minister would …
(B) As per the prevalent practice the prime minister…
(C) In spite of the chief minister….
1) Only A
2) Only B
3) Only C
4) Only A and B
5) Only A and C
3. India is rich in bio-resources. It has no clear
legislative framework to regulate access to and use of these resources.
(A) As India is rich…
(B) But India is rich…
(C) Although India is rich…
1) Only A
2) Only B
3) Only C
4) Only A and B
5) Only A and C
4. I did not receive any packet from Dipti. I also did not receive
any phone call from her.
(A) Neither did I receive…
(B) Clearly I did not…
(C) Because I did not …
1) Only A
2) Only B
3) Only C
4) Only A and B
5) Only A and C
5. I was to reach home a little early but I got delayed. On reaching
home I found that guests had left a little while ago.
(A) Hardly had I reached…
(B) As long as I reached…
(C) Besides few minutes…
1) Only A
2) Only B
3) Only C
4) Only A and B
5) Only A and C
Directions (Q. 6-10): In each of the questions below four sentences
are given which are denoted by A, B, C, D. By using all the four sentences you have
to frame a meaningful para. The correct order of the sentences is your answer. Choose
from the five alternatives the one having the correct order of the sentences.
6. A. It was with this invincible spirit that Netaji opposed
Wavell's offer.
B. "Japan's surrender is not India's surrender," he said.
C. The revolutionary spirit of Netaji was never dampened even
after the surrender of Japan.
D. He knew that a war of liberation demanded great spirit, great
sacrifice, courage and patience.
1) BCDA
2) BCAD
3) CBAD
4) DCBA
5) CBDA
7. A. But all work is not education.
B. In India, a majority of our people do hard work, strenuous
physical work, but all are not educated.
C. It aims at concrete and objective realization of the ideas
and is of great educative value.
D. "Work" is that activity of man which has a definite objective.
1) DCAB
2) BCDA
3) BACD
4) DBCA
5) CBAD
8. A. Hari Prasad Nanda is one such person who worked his
way to the top from the scratch.
B. A few of them had a spark of proved adventure and their
initiative, dedication and sincerity brought them spectacular success.
C. The partition of India into India and Pakistan made a number
of migrants to India penniless.
D. He rose to become a first-generation entrepreneur with
the second largest complex to his credit.
1) ADBC
2) ADCB
3) CBAD
4) CBDA
5) BCDA
9. A. They think that India will disintegrate like the
Soviet Union or Yugoslavia.
B. What will be the exact shape of India in 2000 A.D. can only
be a matter of surmise.
C. On the contrary, the blind patriots foresee a very bright
future for India.
D. The prophets of doom say that the future of India is doomed.
1) BCDA
2) BDAC
3) DABC
4) DBAC
5) BCAD
10. A. I wish I had more time, so that I could visit the odd
nooks and corners of India.
B. And yet I have not seen many parts of the country we love
so much and seek to serve.
C. Our own country is a little world by itself with an infinite
variety and places for us to discover.
D. I have travelled a great deal in this country and I have grown
in years.
1) DCBA
2) DBCA
3) ADBC
4) CDBA
5) CBAD
WINNERS


Regards
Team ExamPundit
Sponsored

(adsbygoogle = window.adsbygoogle || []).push({});
Average rating / 5. Vote count:
EP Recommends: Oliveboard Mock Tests

EP Recommends: Practicemock Free Mock Tests