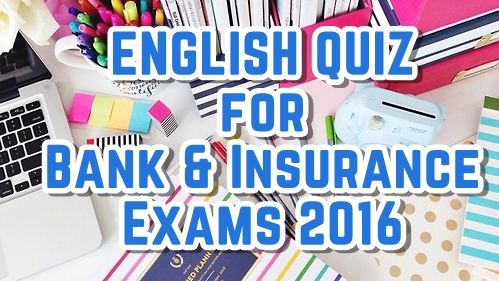 Hello and welcome to ExamPundit. Here is a set of English Quiz for IBPS Clerk Mains V.
Directions (Q.1-10):
In the following passage there are blanks, each of which has been numbered.
These numbers are printed below the passage and against each five words are
suggested, one of which fits the blank appropriately. Find out the appropriate
words.
The _____(1) functioning of the world economy should be _____(2)
to _____(3) instead of _____(4) it with a war-like _____(5) created by the US
and Britain which is _____(6) for. Iraq has _____(7)_____(8) lessons after a
decade of economic _____(9) and _____(10) of so many lives.
1. 1) crystal 2) speed 3) accelerated 4) smooth 5)
lubricated
2. 1) made 2) directed 3) governed 4) assisted 5) allowed
3. 1) roll 2) continue 3) turn 4) energise 5) hold
4. 1) destroying 2) concerning 3) shadowing 4) drying 5)
facing
5. 1) dictatorship 2) hostility 3) scenario 4) destruction
5) gravity
6. 1) condemned 2) rebuked 3) unmindful 4) uncalled 5) silly
7. 1) sought 2) learnt 3) availed 4) resulted 5) slapped
8. 1) bitter 2) hot 3) sour 4) enough 5) severe
9. 1) block 2) sanctioning 3) penalty 4) showdown 5) embargo
10. 1) injury 2) damages 3) claim 4) loss 5) killing


Regards
Team ExamPundit
Sponsored

(adsbygoogle = window.adsbygoogle || []).push({});
Books For 2015 Banking/Insurance Exams

Average rating / 5. Vote count:

EP Recommends: Practicemock Free Mock Tests