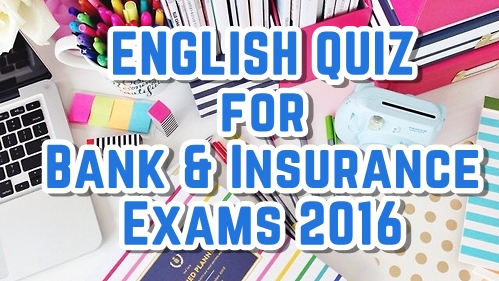 Hello and welcome to ExamPundit. Here is a set of English Quiz for IBPS Clerk V Mains.



Directions (Q. 1–10):
In the following passage there are blanks, each of which has been numbered.
These numbers are printed below the passage and against each five words are
suggested, one of which fits the blank appropriately. Find out the appropriate
word in each case.
India's _____(1) over the past half century since
independence has been unique and _____(2) in many ways. Yet the record is _____(3)
in relation to what the country set out to achieve and could certainly have
been _____(4). It is _____(5) to look at both sides; the alternative is to be _____(6)
down by unrelieved gloom or unwarranted _____(7). The fact is that after eight
5-year plans, about 40 per cent of population is _____(8) below the poverty
line. The human development indices are _____(9) low, placing India at the
126th position in the world table, far below many countries that came into _____(10)
much later than it did.
1. 1) development 2) domination 3) predicament 4) history 5)
excellence
2. 1) dubious 2) insignificant 3) desperate 4) special 5)
commendable
3. 1) outshining 2) broken 3) disappointing 4) brighter 5)
played
4. 1) underplayed 2) accomplished 3) tampered 4) noteworthy
5) exaggerated
5. 1) proposed 2) futile 3) impracticable 4) necessary 5)
suggested
6. 1) laid 2) struck 3) cooled 4) weighed 5) brought
7. 1) progress 2) debating 3) meticulousness 4) haste 5)
complacency
8. 1) much 2) still 3) obviously 4) found 5) far
9. 1) deplorably 2) admirably 3) surprisingly 4) not 5)
amusingly
10. 1) world 2) being 3) independence 4) compete 5) India


Regards
Team ExamPundit
Sponsored

(adsbygoogle = window.adsbygoogle || []).push({});
Books For 2015 Banking/Insurance Exams