Hello and welcome to exampundit. Here is a set of English Quiz on Double Fillers and Contextual Usage of Words.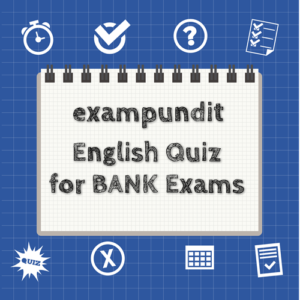 Each question below has one or more blanks, each blank indicating that something has been omitted. Choose the words for each blank that best fits the meaning of the sentence as a whole
1. The proposal has been ________ and will be sent to the cabinet for final _______.
(a) designed, process
(b) drafted, approval
(c) amend, sanction
(d) said, objection
(e) mentioned, figure
2. The fake diesel factory was being _______ under the _______ of a dairy.
(a) operated, operation
(b) captured, array
(c) functioned, alias
(d) run, garb
(e) activated, control
3. The singer, who has been very________ about his faith in the party, also ________at the grand event.
(a) vocal, performed
(b) strong, sang
(c) open, dance
(d) loud, came
(e) creative, present
4. Over the years, the town has ________ popularity as the best ________ for paragliding, and pilots from across the world visit it.
(a) acquired, spots
(b) claim, one
(c) gained, destination
(d) sought, wonder
(e) sent, place
5. Due to the ______ number of swine – flu cases in the district, the health department has decided to spread ______ about the disease.
(a) Raising, alertness
(b) Populated, knowledge
(c) Prolonged, understanding
(d) Increasing, awareness
(e) High, ability
For each of the words below, a contextual usage is provided. Pick the word/phrase from the alternatives that is most the appropriate substitute in the given context and mark its number as your answer.
6. Specious: A specious argument is not simply a false one but one that has the ring of truth.
a) Deceitful
b) Fallacious
c) Credible
d) Deceptive
7. Obviate: The new mass transit system may obviate the need for the use of personal cars.
a) Prevent
b) Forestall
c) Preclude
d) Bolster
8. Disuse: Some words fall into disuse as technology makes objects obsolete.
a) Prevalent
b) Discarded
c) Obliterated
d) Unfashionable
9. Parsimonious: The evidence was constructed from very parsimonious scraps of information.
a) Frugal
b) Penurious
c) Thrifty
d) Altruistic
10. Facetious: When I suggested that war is a method of controlling population, my father remarked that I was being facetious.
a) Jovian
b) Jovial
c) Jocular
d) Joking
Regards
Team EP

EP Recommends: Practicemock Free Mock Tests