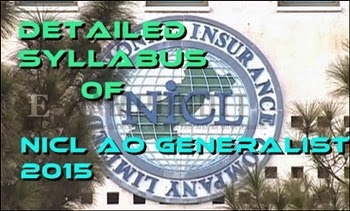 Hello and welcome to ExamPundit. Loads of request came for a detailed syllabus of National Insurance Co Limited AO Generalist Exam 2015. So lets get started.


As per the Notification of NICL AO Generalist Exam 2015, there will be 5 categories consisting 40 marks each.


1. Reasoning
2. Quantitative Aptitude
3. English Language
4. General Awareness
5. English Language Descriptive Test




Here is the official Notification:


https://www.exampundit.in/2014/12/national-insurance-co-ltd-nicl-2015-ao-recruitment.html





1. Reasoning:



Sequence & Series,
Alphabet test,
Classification,
Blood Relations,
Direction Test,
Number Series,
Coding -Decoding,
Venn Diagrams,
Group Reasoning,
Number, Ranking & Time Sequence Test,
Logical Arrangement of Words.

2. Quantitative Aptitude:



Data Interpretation (Very Basic)
Time and Work,
Simplifications,
Numbers,
L.C.M and H.C.F,
Average,
Ratio and Proportion,
Problems on Numbers,
Age Relations,
Percentages,
Partnership,
Simple Interest,
Compound Interest,

3. English Language:



Error Correction,
Articles and Prepositions
Antonyms, Synonyms,
Paragraph Questions,
Spelling Mistakes,
Sentence Rearrangement, .

4. General Awareness:



Current Affairs,
Insurance Awareness,
Geographical GK,
Banking Awareness,
Banking and Insurance Terms.
How to Study Current Affairs?


https://www.exampundit.in/2014/12/how-to-prepare-gk-and-current-affairs.html
How to study in General Awareness?


https://www.exampundit.in/2015/01/what-to-study-in-general-awareness-for-banking-exam-2015.html



5. Descriptive Paper:



Precise
Comprehension
Essay
The Descriptive will be ONLINE Mode.


A quick guide to Ace the Online Descriptive Tests:



https://www.exampundit.in/2015/02/how-to-ace-online-descriptive-exam-banking-insurance.html




If you have any query, drop a comment below.






Regards






Team ExamPundit