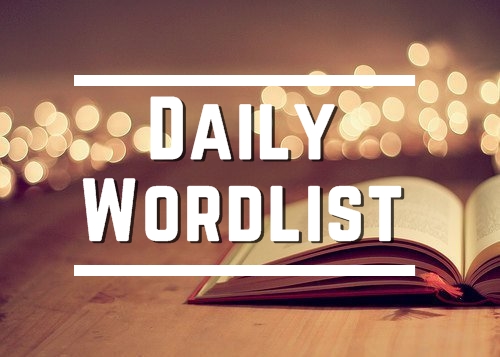 Hello and welcome to ExamPundit. Here is the Daily Word List Set 2 prepared by our very own Wazza.
1. Abnegation-
Self-denial, Forbearance
e.g.:- People
are capable of abnegation and unselfishness.
2.
Diffidence- Shy, Insecurity
e.g.:- He was
modest and diffident about his own success.
3. Orthodox- Conventional,
Traditional, Accepted
e.g.:- He is
very orthodox in his views.
4. Weather- Survive,
Overcome
e.g.:-
The company just managed to weather the recession.
5. Voracious-
Enthusiastic, Greedy
e.g.:- A
voracious reader, To have a voracious appetite
6. Clemency- Mercy,
Mild, Gentle
e.g.:- A plea
for clemency
7. Haughty- Arrogantly
self-admiring and disdainful
e.g.:- He
replied with haughty disdain.
8. Impromptu-
Improvised, Spontaneous, Unrehearsed
e.g.:- They
often held impromptu meetings in their house.
9.
Consonance- A state of agreement or
record
e.g.:- My
reading of the text is in consonance with what the author tells us elsewhere.
10. Kindle- To
inflame, To provoke, To incite
e.g.:- We
watched as the fire slowly kindled.




CLICK HERE TO CHECK THE WORD LIST SET 1






Regards
Team ExamPundit
Sponsored

(adsbygoogle = window.adsbygoogle || []).push({});
Books For 2015 Banking/Insurance Exams