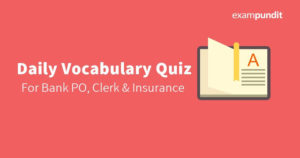 Hello and welcome to Exampundit. Here is the Daily Vocabulary Test for upcoming Bank & Insurance Examinations. The following set now have definitions of the key word which has been suggested by our EP follower, Akshita.
Directions: Choose the option which is the antonym of the word mentioned.
Tarnish
(a) inchoate (b) squander
(c) deride (d) polish
Subordination
(a) stipulation (b) Cimmerian
(c) autonomy (d) desalinize
Contumacious
(a) willful (b) pliable
(c) mercurial (d) temperamental
Pernicious
(a) drone (b) travesty
(c) benign (d) false
Rampant
(a) raging (b) wanton
(c) quiescent (d) apocryphal
Bellicose
(a) militant (b) demagogue
(c) champion (d) congenial
Cantankerous
(a) belligerent (b) thimble
(c) gregarious (d) cathartic
Quixotic
(a) exotic (b) ruse
(c) pragmatic (d) romantic
Jingoistic
(a) satisfied (b) contemplative
(c) noncommittal (d) zealous
Strutting
(a) cowering (b) smocking
(c) confident (d) dissipating
May the force be with you!
Team EP
Average rating / 5. Vote count:
We are sorry that this post was not useful for you!
Let us improve this post!
Thanks for your feedback!