Hello and welcome to exampundit. Here are the Daily One Liner Current Affairs 4 April 2018. These are important for revision.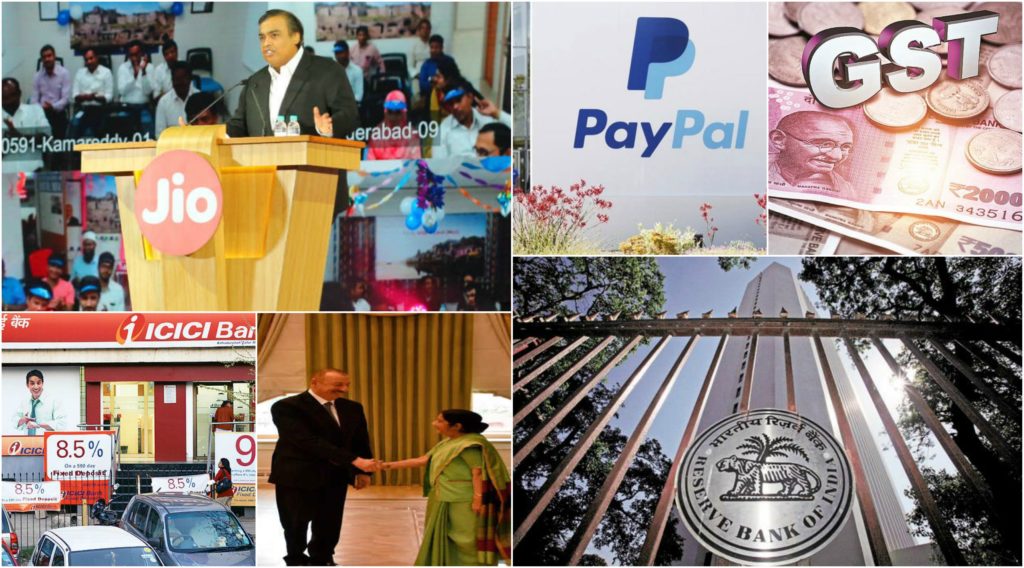 Financial
---
The Reserve Bank said on Wednesday that Jio Payments Bank commenced its banking services from Tuesday. Reliance Industries Ltd was one of the 11 applicants which were issued in-principle approval for setting up a payments bank in August 2015. Jio Payment Bank Limited is a 70-30 joint venture between Mukesh Ambani's Reliance Industries Limited and India's largest lender State Bank of India (SBI).
Three trade receivable discounting systems (TReDS)—digital invoice discounting platforms—approved so far by the RBI have jointly implemented a blockchain solution, which is expected to help reduce frauds in bills discounting or receivable financing. The platforms—RXIL, TReDS and M1xchange—had been set up to bring together buyers, sellers and financiers for discounting the MSME invoices and provide them with timely funding. This is billed as India's first live blockchain implementation in the enterprise financial segment.
Leading private lender ICICI Bank announced the launch of a service that enables Non Resident Indians (NRIs) to send money to a beneficiary in India using social media platforms like WhatsApp and e-mail. Christened 'Social Pay', this first-of-its-kind service is available on Money2India (M2I), the bank's app for remittances. This new facility will enable NRIs to send money conveniently to their friends and family.
IndusInd Bank in association with the JSW Foundation launched the IndusInd Bank Girl Power Programme to support junior as well as established girl athletes. This power-packed Programme supports girl athletes from various parts of the country and in different individual sports disciplines, so as to enable them to compete on a global stage.
The Financial Intelligence Unit (FIU) has slapped Rs 9 crore penalty on Bank of Baroda for "failing" to adhere to anti-money laundering norms, and not having an effective system to report suspicious transactions linked to the Rs 6,000 crore scam in its Delhi-based branch.
International payments platform PayPal has digitised the Foreign Inward Remittance Certificate (FIRC) application process for the ease of Indian sellers and freelancers. With the new process, PayPal sellers receiving payments from across the globe can apply for an FIRC online by filling a form on the PayPal website and paying the FIRC fee via NEFT as opposed to the previous process of a Demand Draft (DD), reducing tedious paper work.
The GST Council on April 4, 2018 delegated its powers to an IT Grievance Redressal Committee to approve and recommend the steps to be taken to redress the grievance and provide relief to the taxpayer.
Non-financial
---
Delhi to become the first state to issue licences with the mother's name.
India and Azerbaijan on Wednesday agreed for a global and concerted action to combat terrorism, stating that both sides had zero tolerance on the issue.
India and Russia have reviewed ongoing military technical cooperation projects , including measures to promote joint industrial activities under the 'Make in India' programme with respect to defence production.
India, Japan and the United States on April 4, 2018 participated in the ninth trilateral meeting in New Delhi.
Reliance Wealth Management Ltd., a subsidiary of Reliance Capital Ltd., on Wednesday announced appointment of Nitin Rao as its new Chief Executive Officer.
India ranked third in the list of countries where the highest number of cyber threats were detected, and second in terms of targeted attacks in 2017, according to security software firm Symantec.
The United States on April 3, 2018 announced additional tariffs of 25 percent on 1300 products imported from China that could amount to USD 50 billion.
The President of Turkey, Recep Tayyip Erdogan along with Russian President Vladimir Putin on April 3, 2018 launched the construction of Turkey's first-ever nuclear power plant in Mersin region, a large port city on the Mediterranean coast of southern Turkey.
Indonesia on April 3, 2018 declared a state of emergency around a port on Borneo island after a large oil spill and fire killed four people.
We are sorry that this post was not useful for you!
Let us improve this post!
Tell us how we can improve this post?