Hello and welcome to exampundit. Here are the Daily One Liner Current Affairs 30 April 2018. These are important for revision.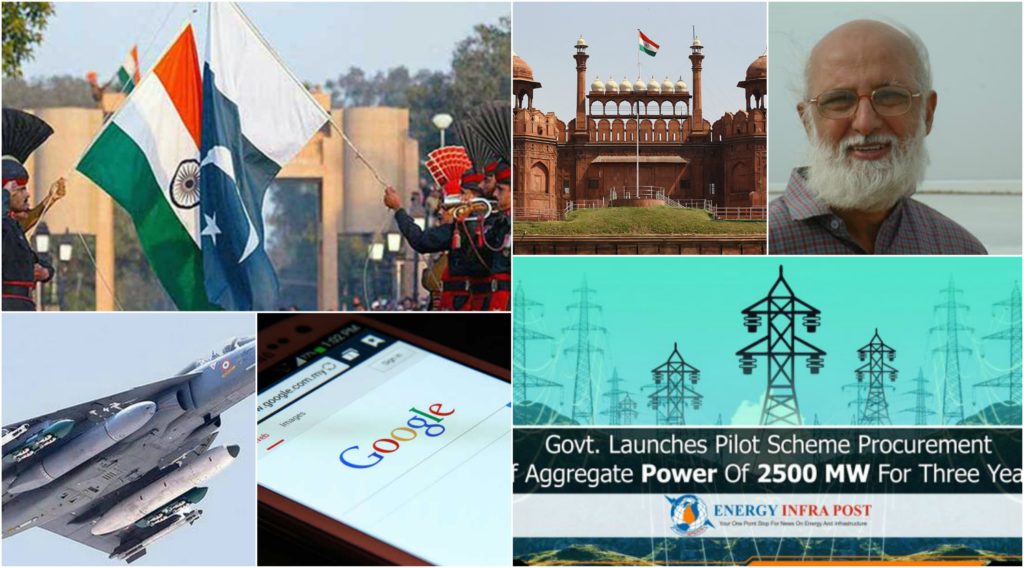 Financial
---
Online search engine Google is the most trusted Internet brand in India, followed by Facebook, a report said on Wednesday.
The Government kicks off a Pilot Scheme for Procurement of Aggregate Power of 2500 MW on competitive basis for 3 (three) years under medium terme. from generators with commissioned projects but without Power Purchase Agreement. The Ministry of Power had recently issued the model bid documents, model PAPP and PPSA on 6th April, 2018. The Guidelines for the said scheme were issued on 10th April, 2018.
The Odisha State Cooperative Milk Producers' Federation (OMFED) on Saturday signed a memorandum of understanding (MoU) with National Dairy Development Board (NDDB) for setting up a five lakh litre per day capacity modernised dairy plant.
India and Nepal in last week of April 2018 agreed to review their bilateral trade treaty by July 2018. The decision was taken during a meeting of India-Nepal Inter-Government Committee (IGC) on Trade, Transit and Cooperation to Control Unauthorised Trade in Kathmandu.
Non-financial
---
Tech giant Google said on Monday it has collaborated with Central Board of Secondary Education (CBSE) to allow students check their results on its platform.
In a major milestone, indigenously developed Light Combat Aircraft (LCA) Tejas has successfully fired an air-to-air beyond visual (BVR) range missile, demonstrating its overall capability as an effective combat jet, and inched closer to receive final operational clearance.
Dalmia Bharat Group has become the first corporate house to adopt a historical monument in India. The private entity has adopted the Red Fort under the central government's Adopt a Heritage Scheme.
As part of Gram Swaraj Abhiyan, Ayushman Bharat Diwas was celebrated across the country on April 30, 2018.
Delhi's Lt Governor Anil Baijal on Monday inaugurated the Centre for Sight Institute at Dwarka here which is said to be the country's largest state-of-the-art single specialty private eye hospital designed to cater to North India.
In a first, India and Pakistan will jointly take part in 'Peace Mission-2018', a multi-nation counter-terror war game, under the aegis of the Shanghai Cooperation Organisation (SCO) in Russia in August 2018.
Prime Minister Narendra Modi on April 29, 2018 announced that April 28 will be remembered as a historic day in the development journey of India as on this day, every single village of India was electrified.
The PHD Chamber of Commerce and Industry (PHDCCI) and Indian Yoga Association (IYA) have signed MoU to facilitate interaction and cooperation between two organisations to promote wellness, spiritual and cultural tourism in Krishna Circuit.
Renowned Gujarati poet Sitanshu Yashaschandra was on April 28, 2018 chosen for the 2017 Saraswati Samman for his collection of verses (poetry) titled 'Vakhar', published in 2009. The collection 'Vakhar' engages with larger and more immediate human conditions.
Kotak Mahindra Bank on Monday announced the appointment of Prakash Apte as part-time chairman of the Bank for a period up to December 31, 2020, subject to regulatory approvals.
Intex Technologies, an Indian mobile and consumer electronics companies, announced the appointment of Rajiv Bakshi as its Chief Marketing Officer (CMO).
Pakistani-origin MP Sajid Javid was appointed Britain's new Home Secretary to replace Amber Rudd, who resigned after admitting that she had "inadvertently misled" Parliament over the existence of deportation targets for immigrants.
International Jazz Day observed on 30 April
International Dance Day observed on 29 April
This year's World Immunization Week campaign, celebrated from April 24 to 30, aims to highlight that protecting entire communities with vaccines protects everyone and so the theme of this year's campaign is "Protected Together, #VaccinesWork".
The Office of United States (US) Trade Representative (USTR) placed India on 'Priority Watch List' in its annual Special 301 Report on the state of intellectual property protection.
International Buddhist Conference was held in Lumbini, Nepal on April 29-30, 2018 to commemorate 2562nd Buddha Jayanti.
World's oldest person, Nabi Tajima from Japan born in the 19th century, dies at 117 years.
Regards
Team Exampundit

EP Recommends: Practicemock Free Mock Tests