Hello and welcome to exampundit. Here are the Daily One Liner Current Affairs 3 April 2018. These are important for revision.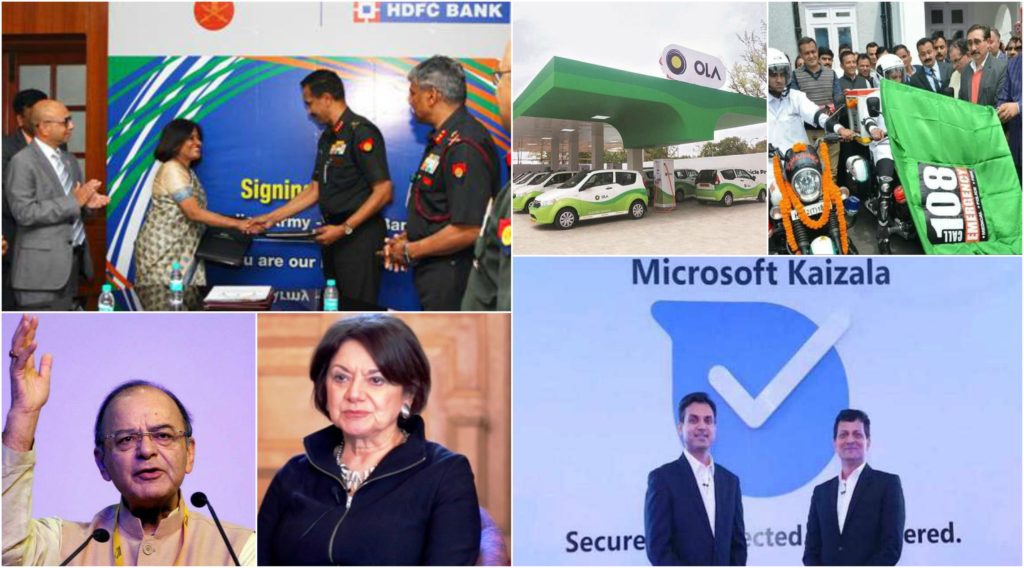 Financial
As per the government, 97.05 lakh subscribers have enrolled under Atal Pension Yojana (APY) at the end of Financial Year 2017-18. It just missed the target of 1 crore set by the pension regulator PFRDA.
A Memorandum of Undertaking (MoU) tailor-made to suit the requirements of serving soldiers, pensioners and families, was signed between the Indian Army and HDFC Bank on the Defence salary package on Tuesday.
The Reserve Bank of India (RBI) late on Monday dropped Axis Bank from a list of banks it has cleared to import gold and silver in the current financial year that began April 1.
Homegrown ride-hailing major Ola has acquired end-to-end public transport ticketing app Ridlr in an all-stock deal at an undisclosed valuation as it looks at integrating its own services with mass transit infrastructure that exists in cities.
Private lender IndusInd Bank on Tuesday announced a pilot program with WhatsApp enterprise solution in India to communicate with its customers.
The Colombo Stock Exchange (CSE) and the National Stock Exchange of India Limited (NSE) have signed a memorandum of understanding (MoU) focused on exploring opportunities to work together and co-operate with each other to foster a deeper and more strategic relationship.
Digital financial services platform, MobiKwik, on Tuesday announced its partnership with Microsoft for powering digital payment services on Microsoft's chat platform – Microsoft Kaizala.
Following the past success of Skill Development initiatives in 2015-16 & 2017-18, Airports Authority of India (AAI) and Construction Industry Development Council (CIDC) signed a Memorandum of Agreement (MoA) on for Financial Assistance for Employment Oriented Training and Skill Development Programme for SC/ST/OBC/Women, Unemployed Youth & people belonging to EWS.
In a digital initiative to promote ease of exports, particularly for Indian agricultural products, the Commerce Ministry on Tuesday launched three portals – for Safe Food Export Traceability, Single Laboratory for Accreditation and Approvals, and the third for Monitoring Export Alerts from importing regulators.
Non-financial
---
The state government of Haryana has decided to double the monthly allowance for chowkidars (watchmen), from Rs 3,500 to Rs 7,000. The decision came into effect on April 1, 2018.
Scientists at the civil engineering department of IIT-Kharagpur have developed an award-winning bio-toilet that recycles waste water for its reuse and generates electricity.
Himachal Pradesh chief minister Jai Ram Thakur launched a free bike ambulance service 108 in Shimla town on Monday. He flagged-off bike ambulances, thereby making the state the first in the region to launch this service.
Indian Institute of Science, Bengaluru, has been ranked best institution in country by HRD Ministry's national ranking framework.
Qutub Minar on April 2, 2018 was lit up with blue lights on World Autism Awareness Day as part of the international '#LightItUpBlue' campaign to increase sensitisation and acceptance of autism in the society.
Finance Minister Arun Jaitley was today once again appointed as the Leader of the Rajya Sabha following his re-election to the House.
Former American diplomat Rosemary DiCarlo was on March 29, 2018 appointed as the Head of UN Political Affairs, one of the most high-profile positions of the United Nations (UN).
YES BANK, India's fourth largest private sector bank announced the appointment of Raj Ahuja as Chief Financial Officer of the Bank and Group CFO.
Chocolate and confectionery firm Hershey India has appointed Herjit S Bhalla as its new Managing Director.
Rubique, on Tuesday announced the appointment of former Yes Bank, senior president and chief financial inclusion officer, Ajay Desai as its chief operating officer (COO).
SBI Life Insurance Company Limited on Tuesday appointed Sanjeev Nautiyal as its new MD and CEO.
E-commerce major Myntra on Tuesday announced the appointment of Mithun Sundar as its Chief Revenue Officer (CRO), effective June.
India and Bangladesh have started the first container train service between Kolkata and Dhaka, reports HCI Dhaka.
China has increased tariffs by up to 25 percent on 128 US products, ranging from frozen pork and wine to certain fruits and nuts in response to US duties on imports of Aluminium and Steel.
The Egyptian parliament has preliminarily approved a new law to establish a supreme council for combating terrorism.
Nasa's Hubble Space Telescope has discovered the farthest individual star ever seen – an enormous blue stellar body nicknamed Icarus located over halfway across the universe.
International Children's Book Day observed on 2 April, 2018.
We are sorry that this post was not useful for you!
Let us improve this post!
Tell us how we can improve this post?
EP Recommends: Oliveboard Mock Tests