Hello and welcome to exampundit. Here are the Daily One Liner Current Affairs 25 April 2018. These are important for revision.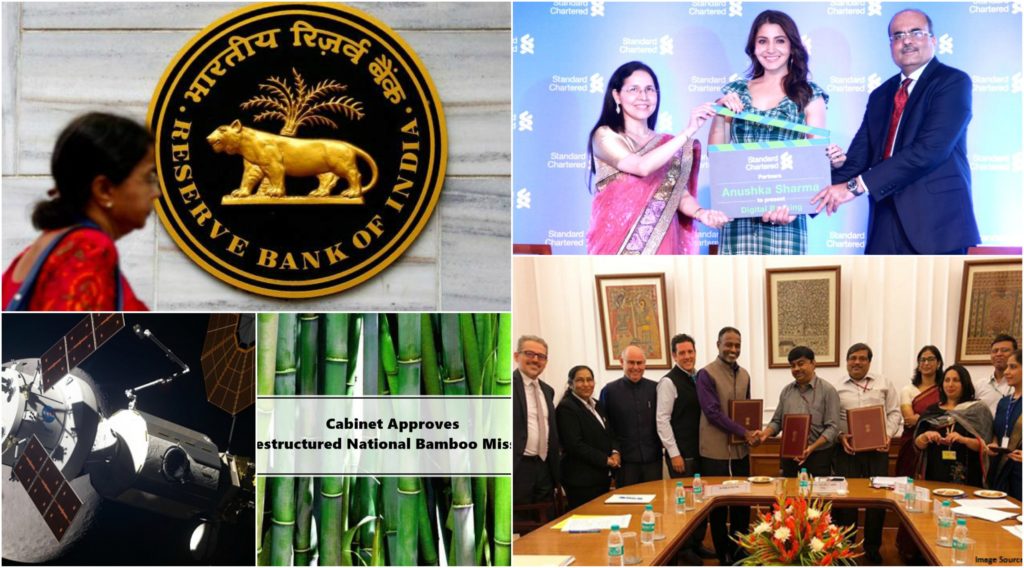 Financial
---
The Union Government and World Bank signed a $125 million agreement on April 24, 2018 for the 'Innovate in India for Inclusiveness Project' to support India in developing an innovative biopharmaceutical and medical devices industry, which is globally competitive.
In a relief to small service providers, the Reserve Bank of India (RBI) on Wednesday lifted credit caps with immediate effect for all service sector Micro, Small and Medium Enterprises (MSME) borrowers qualifying under the priority sector lending norms. In February, the Central bank had made a similar relaxation for MSMEs engaged in manufacturing activities.
India and Mongolia on April 25, 2018 agreed to explore ways to identify new areas of cooperation in all sectors of mutual interest and to enhance bilateral trade and investments.
The Atal Innovation Mission (AIM) under the NITI Aayog will be launching the Atal New India Challenge on April 26, 2018.
The Cabinet Committee on Economic Affairs chaired by the Prime Minister, Shri Narendra Modi today has approved Centrally Sponsored Scheme of National Bamboo Mission (NBM) under National Mission for Sustainable Agriculture (NMSA) during remaining period of Fourteenth Finance Commission (2018-19 & 2019-20). The Mission would ensure holistic development of the bamboo sector by addressing complete value chain and establishing effective linkage of producers (farmers) with industry. An outlay of Rs.1290 crore (with Rs. 950 crore as Central share) is provisioned for implementation of the Mission during the remaining period of 14th Finance Commission (2018-19 and 2019-20).
Non-financial
---
In order to boost defence cooperation, the Union Government has asked the armed forces to compile a list of obsolete military equipment that can be refurbished at minimal cost with an aim to gift them to friendly countries.
The Ministry of Earth Sciences (MoES) will be tying up with the United States and Finland to develop new pollution-forecast system to anticipate particulate matter (PM) levels at least two days in advance and at greater resolution.
Two-day coastal security exercise 'Sagar Kavach' was held in Kerala to strengthen and evaluate the loopholes in the coastal security mechanism.
Anushka Sharma named Standard Chartered Bank Retail Digital Banking brand ambassador.
Bharti Infratel board has reappointed Akhil Kumar Gupta as Executive Chairman of the company for five years with effect from August 1, 2018.
NASA will start work on its Lunar Orbital Platform-Gateway by early 2019 when it will award the first contract for the program.
The World Malaria Day was observed across the world on April 25, 2018 with the theme 'Ready to beat malaria'.
Regards
Team Exampundit
We are sorry that this post was not useful for you!
Let us improve this post!
Tell us how we can improve this post?