Hello and welcome to exampundit. Here are the Daily One Liner Current Affairs 19 April 2018. These are important for revision.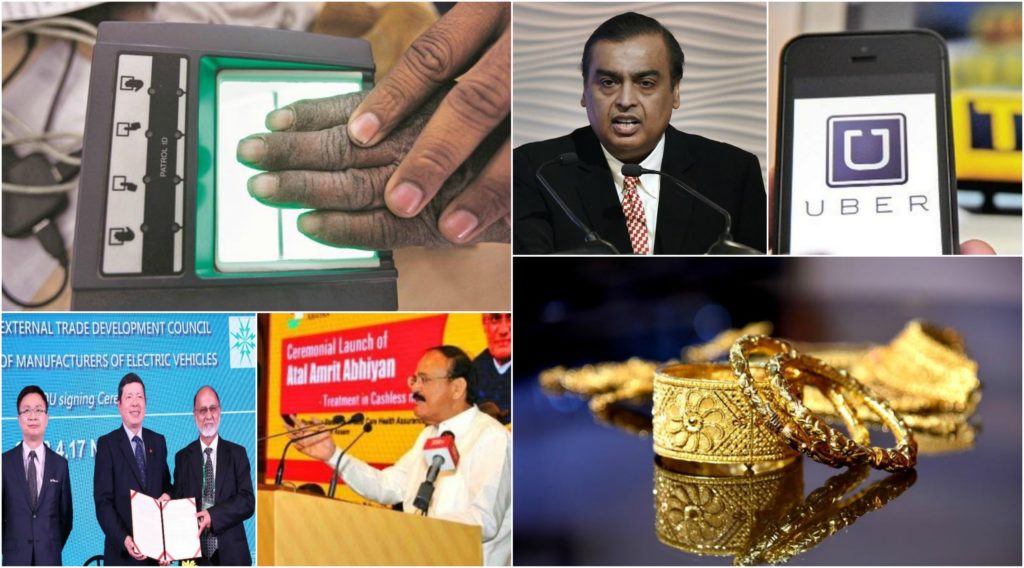 Financial
---
The TRA Brand Trust Report 2018, launched on April 18, 2018, stated that the State Bank of India is the most trusted bank in the country and ICICI Bank topped the chart among the private ones.
RBI Deputy Governor N.S. Vishwanathan on April 18, 2018 announced that the RBI norms on resolution of banks' Non-Performing Assets (NPAs) are outcome-oriented and provide banks the flexibility on deciding the contours of resolution.
The government today announced this fiscal's first tranche of sovereign gold bond (SGB) and its subscription opened on April 16.
India has 190 million adults without a bank account despite the success of the ambitious Jan Dhan Yojana, making it the world's second largest unbanked population after that of China, the World Bank said on Thursday.
India has been declared the sixth largest economy in the world with a GDP of 2.6 trillion in 2017, as per the recently released report by Indian Monetary Fund (IMF). India displaced France to stand firm on this position, while the United States of America, China, Japan, Germany, and the United Kingdom are ahead in the race.
As per the London-based OpenSignal, Reliance Jio topped the charts of 4G availability and was able to provide an LTE signal more than 95 per cent of the time to testers in every single region in India.
Taipei World Trade Centre (TWTC) launched its office at New Delhi with the objective of promoting trade between India and Taiwan.
Non-financial
---
UK Visas and Immigration (UKVI) services on Thursday announced an extension of Super Priority Visa service (SPV) to Pune and Bengaluru.
Assam government's new cashless health scheme, 'Atal Amrit Abhiyan' was launched by Vice President M Venkaiah Naidu on April 19, 2018.
The Unique Identification Authority of India (UIDAI) has introduced a new and updated 'QR code' that will have non-sensitive details such as the name, address, photo and date of birth.
The Union Government on April 18, 2018 formed a new integrated institutional mechanism, Defence Planning Committee (DPC) to reform the process of higher defence planning. The permanent body would be chaired by National Security Advisor Ajit Doval.
Cab aggregator Uber today said it has entered into a partnership with Hyderabad Metro Rail Limited for setting up kiosks at 24 stations across the city.
Union External Affairs Minister Sushma Swaraj and Minister of State for Human Resource Development Satya Pal Singh jointly launched the Study in India programme of HRD Ministry by launching the 'Study in India'
Researchers have developed an innovative smartphone app 'Smart Health' to enable 'ASHA' community health workers track the growing burden of non-communicable diseases such as diabetes in the rural areas.
The Union Government on April 18, 2018 announced to provide smartphones, instead of tablets, to Anganwadi workers to promote Poshan Abhiyaan nutrition scheme.
On the occasion of World Haemophilia Day on April 17, 2018, Gujarat launched 'Haemophilia Jagruti, a magazine to spread awareness about haemophilia, a hereditary and genetic disorder that impairs the body's ability to control blood clotting.
As per the 2018 Commonwealth Innovation Index, India fetched 10th position in the index topped by the United Kingdom, Singapore and Canada.
Richest Indian Mukesh Ambani and human rights lawyer Indira Jaising have been named by Fortune magazine as the World's Greatest Leaders of 2018.
The National Aeronautics and Space Administration (NASA) on April 19, 2018 launched the Transiting Exoplanet Survey Satellite (TESS), the first-of-its-kind mission to discover planets outside the solar system, including some that could support life.
China on April 18, 2018 proposed the construction of the India-Nepal-China Economic Corridor with multi-dimensional connectivity through the Himalayas.
The United Nations International Fund for Agricultural Development (IFAD) and leading technology company Ant Financial Services Group have signed an agreement to propel rural economic development and reduce poverty in China and elsewhere.
Sanjay Kumar Moitra on Wednesday took over charge of Director (Onshore) of Oil and Natural Gas Corporation (ONGC).
Regards
Team Exampundit
Average rating / 5. Vote count:
We are sorry that this post was not useful for you!
Let us improve this post!
Thanks for your feedback!