Hello and welcome to exampundit. Here are the Daily One Liner Current Affairs 17 April 2018. These are important for revision.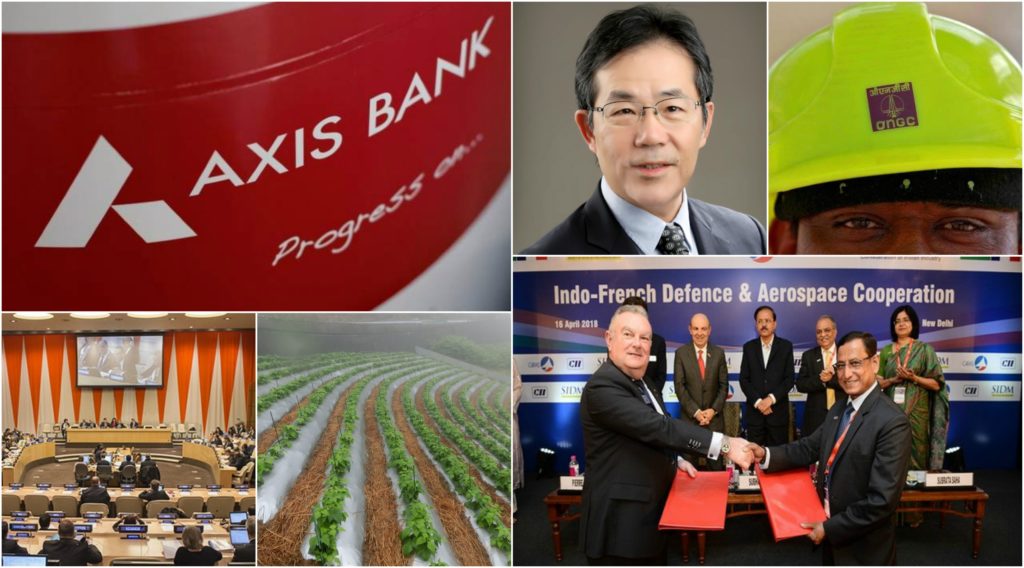 Financial
The Indian Army renewed its MOU with Axis Bank, to offer 'Power Salute', a salary account, exclusively designed for the Army personnel.
The Minister of Commerce & Industry Suresh Prabhu launched the 'FIEO GlobalLinker', a digital platform for MSME exporters to digitise their businesses and join a global community of growing businesses.
Petroleum Minister Dharmendra Pradhan on April 15, 2018 announced that India will coordinate with China and other Asian countries to raise voice against the "Asian premium" being charged by the Organisation of the Petroleum Exporting Countries (OPEC).
The US Department of Treasury has added India in the monitoring list of its major trading partners that value close attention to their currency practices and macroeconomic policies.
The Society of Indian Defence Manufacturers (SIDM) and the Groupement des Industries Françaises Aeronautiques et Spatiales (GIFAS) signed a memorandum of understanding on the sidelines of a major industrial mission in India in the field of aerospace and defence organised by GIFAS with the support of SIDM from the April 16 to 19, 2018.
India and the US today decided to set up a joint task force on natural gas with a view to promote strategic and economic interest of the two nations.
Non-financial
The United Nations' Food and Agriculture Organisation (FAO) has designated 14 sites as Globally Important Agricultural Heritage Systems (GIAHS). These sites will be officially unveiled by the FAO on April 19, 2018.
India on April 16, 2018 won the elections conducted by UN's Committee on Non-Governmental Organizations in the Asia Pacific States category.
British Prime Minister Theresa May on April 16, 2018 opened the Commonwealth Business Forum (CBF) in London, marking the start of the Commonwealth Heads of Government Meeting (CHOGM).
The US Food and Drug Administration (FDA) approved use of 'Acuvue Oasys Contact Lenses' with Transitions Light Intelligent Technology, world's first contact lens that automatically darkens when exposed to bright light.
Pakistan successfully test fired Babur Weapon System-1 (B), an enhanced version of indigenously-built Babur cruise missile.
The Advertising Standards Council of India (ASCI) was on April 16, 2018 inducted to the Ayush Ministry's empowered committee with an objective to control misleading advertisements and exaggerated claims of its drugs.
Toshiba Software India Pvt. Ltd. (TSIP), a 100 percent subsidiary of Toshiba Corporation on Tuesday announced the appointment of Takashi Ishikawa as its new Managing Director.
Director General of the Federation of Indian Chambers of Commerce and Industry (FICCI), Dilip Chenoy, will take over as the Secretary General of the industry body.
The winners of the 2018 Pulitzer Prizes were announced on April 16, 2018 at Columbia University in New York City. This year, the 2018 Pulitzer Prize in the Public Service was shared by 'The New York Times' for reporting led by Jodi Kantor and Megan Twohey; and 'The New Yorker' for reporting by Ronan Farrow.
Regards
Team Exampundit
Average rating / 5. Vote count:
No votes so far! Be the first to rate this post.
We are sorry that this post was not useful for you!
Let us improve this post!
Thanks for your feedback!
EP Recommends: Oliveboard Mock Tests

EP Recommends: Practicemock Free Mock Tests