Hello and welcome to exampundit. Here are the Daily GK/GA Expected Questions from Current Affairs – 25 April 2018.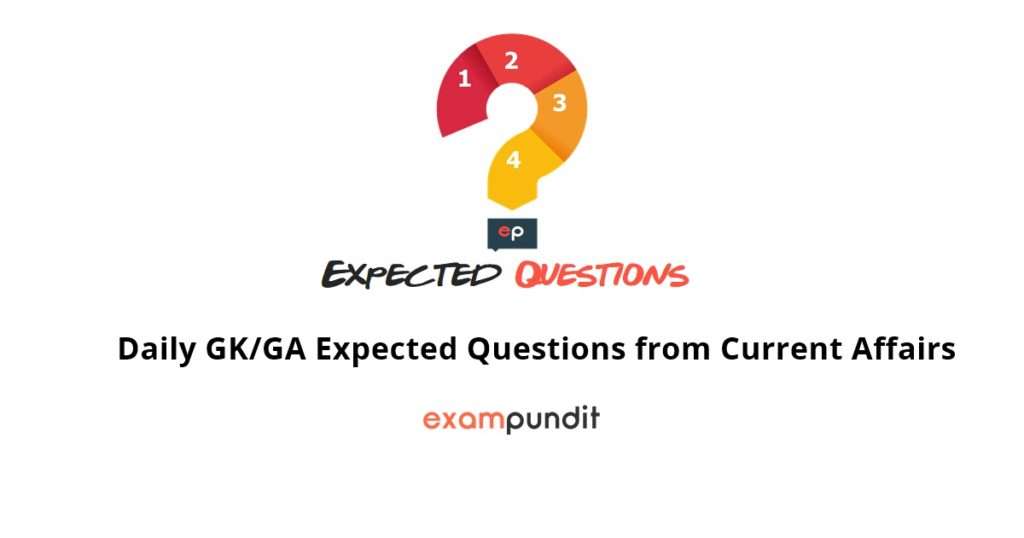 Daily GK/GA Expected Questions from Current Affairs – 25 April 2018
How much amount of loan agreement did India sign with World Bank for the 'Innovate in India for Inclusiveness Project'? – $125 million
The Union Government and World Bank signed a $125 million agreement on April 24, 2018 for ________. – developing an innovative biopharmaceutical and medical devices industry in India
The Reserve Bank of India recently lifted credit cap on which sector? – Service Sector MSMEs
How many focus areas are there in Atal New India Challenge? – 17
The Government recently approved Centrally Sponsored Scheme of National Bamboo Mission (NBM) with an outlay of? – ₹1290 crore
India recently announced to tie up with USA and which nation to develop new pollution-forecast system? – Finland
Two-day coastal security exercise 'Sagar Kavach' was held in _______. – Kerala
Who was appointed Standard Chartered Bank brand ambassador for Retail Digital Banking? – Anushka Sharma
Who was appointed Executive Chairman of Bharti Infratel? – Akhil Kumar Gupta
World Malaria Day is observed on _______. – 25 April
What was the theme of World Malaria Day 2018? – Ready to beat malaria
Liked it?  Share it with your friends!
Regards
Team Exampundit
Average rating / 5. Vote count:
We are sorry that this post was not useful for you!
Let us improve this post!
Thanks for your feedback!
EP Recommends: Oliveboard Mock Tests