Hello and welcome to exampundit. Here are the Daily GK/GA Expected Questions from Current Affairs – 17 April 2018.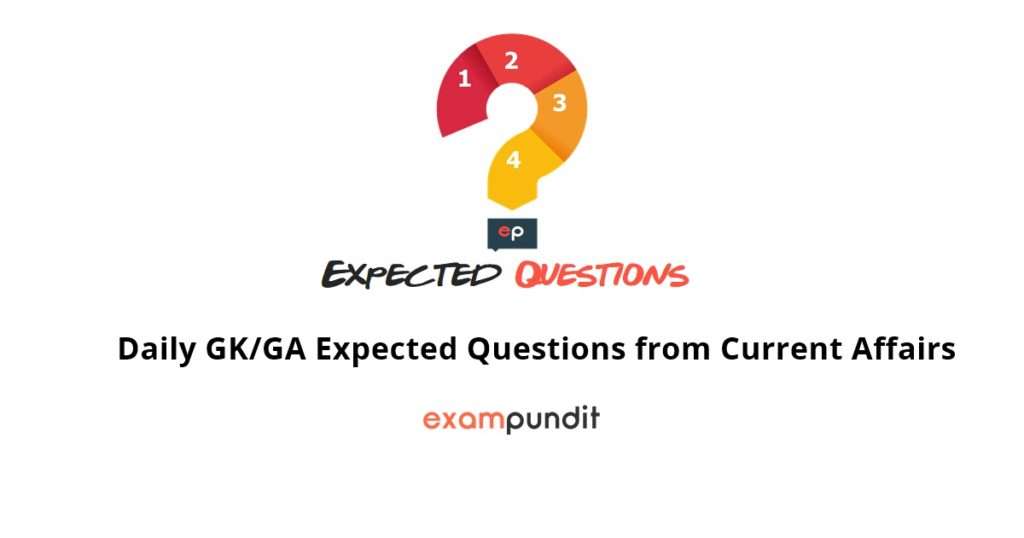 Daily GK/GA Expected Questions from Current Affairs – 17 April 2018
Which of the following bank announced to offer 'Power Salute', a salary account, exclusively designed for the Army personnel? – Axis Bank
Axis Bank recently announced an exclusively designed salary account for Army Personnel. What is the name of the account? – Power Salute
Government recently launched the 'FIEO GlobalLinker' for ____________. – a digital platform for MSME exporters to digitise their businesses
India recently announced to raise voice against the "Asian premium". What is Asian Premium? – Asian Premium is extra charge that is collected by OPEC countries from Asian countries when selling oil in comparison to western countries.
Which of the following nation recently added India in the monitoring list of its major trading partners that value close attention to their currency practices and macroeconomic policies? – United States of America
With whom did Society of Indian Defence Manufacturers signed a memorandum of understanding on the sidelines of a major industrial mission in India in the field of aerospace and defence? – Groupement des Industries Françaises Aeronautiques et Spatiales (GIFAS)
With which country did India announce to set up a joint task force on natural gas with a view to promote strategic and economic interest of the two nations? – United States of America
How many sites did United Nations Food and Agriculture Organisation designate as Globally Important Agricultural Heritage Systems (GIAHS)? – 14
India on April 16, 2018 won the elections conducted by UN's Committee on _____________. – Non-Governmental Organizations in the Asia Pacific States category
Which nation did recently approve world's first contact lens that automatically darkens when exposed to light? – United States of America
Which of the following organization was recently inducted to the Ayush Ministry's empowered committee? – Advertising Standards Council of India (ASCI)
Who was appointed as the Managing Director of Toshiba Software India? – Takashi Ishikawa
Who was appointed as the Secretary General of the Federation of Indian Chambers of Commerce and Industry (FICCI)? – Dilip Chenoy
2018 Pulitzer Prize in the Public Service was conferred to – 'The New York Times' for reporting led by Jodi Kantor and Megan Twohey; and 'The New Yorker' for reporting by Ronan Farrow.
Pulitzer Prize is given in the field of _________. – Journalism in USA
Liked it?  Share it with your friends!
Regards
Team Exampundit
We are sorry that this post was not useful for you!
Let us improve this post!
Tell us how we can improve this post?