Hello and welcome to exampundit. Here are the Daily GK/GA Expected Questions from Current Affairs – 11 May 2018. These are important for the upcoming SBI PO 2018 and SBI Clerk 2018.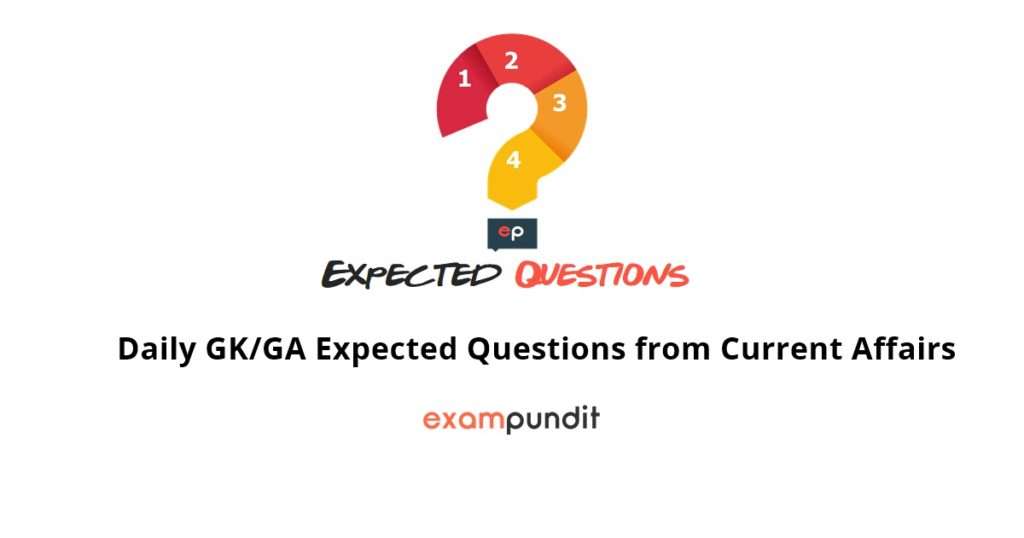 Daily GK/GA Expected Questions from Current Affairs – 11 May 2018
Which of the following bank recently launched Agenda 25×25 to for budding women entrepreneurs? – YES Bank
Which of the following Indian state recently signed a MoU with UK for setting up bio-gas, bio CNG plants? – Punjab
GO-SWIFT is an investment portal by which state? – Odisha (Government of Odisha's Single Window for Investor Facilitation & Tracking)
Airports Authority of India (AAI) recently signed a contract worth how much with Harris Corporation for its Futuristic Telecommunications Infrastructure (FTI) initiatives? – ₹945 crore
Narendra Modi announced how much amount of aid for development of Janakpur in Nepal? – ₹100 crore
UGC approved setting up of nation's 1st Railway University in ____. – Vadodara, Gujarat
Which of the following Indian state announced to launch its new optic fibre network? – Kerala
Name the newly announced optic fibre network by Kerala. – K-FON (Kerala Fibre Optic Network)
Who was recently appointed as the Chief Financial Officer of Quick Heal Technologies? – Nitin Kulkarni
Who was recently appointed as brand ambassador of Policybazaar/Paisabazaar? – Akshay Kumar
Who was sworn in as Malaysia's seventh Prime Minister? – Mahathir Mohamad
National Technology Day 2018 was observed on ____. – 11 May (anniversary of Pokhran nuclear tests)
What was the theme of National Technology Day 2018? – 'Science and Technology for a sustainable future'
India Day held at 71st Cannes International Film Festival in France on ____. – May 11
Which nation recently launched Gaofen-5 satellite to monitor air pollution? – China
World's second oldest rock was recently discovered in _____. – Odisha
Liked it?  Share it with your friends!
Regards
Team Exampundit
We are sorry that this post was not useful for you!
Let us improve this post!
Tell us how we can improve this post?