Hello and welcome to exampundit. Here are the Daily GK/GA Expected Questions from Current Affairs – 11 April 2018.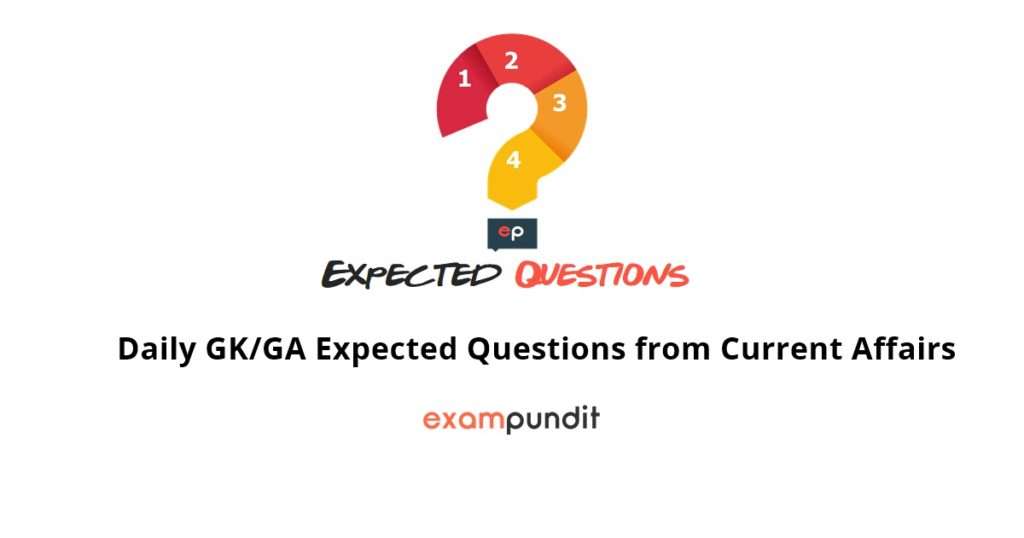 Daily GK/GA Expected Questions from Current Affairs – 11 April 2018
Government in April 2018 announced the creation of a dedicated SME fund for which purpose? – defence and aerospace
With which company did Bharat Electronics Limited (BEL) signed an MoU to cater to the needs of evolving domestic and export markets for defence products and systems? – Larsen & Toubro
In which of the following city did UPS recently launch their logistics facility to support businesses and SMEs (small and medium enterprises)? – Ahmedabad
With which of the following company did Cyient announced a joint venture to offer field-proven UAV systems to Indian defence, paramilitary, security, and police forces? – BlueBird Aero Systems
India and World Expo 2020 signed participants' contract on April 10, 2018 for India's pavilion in the World Expo 2020. It will be held in which city? – Dubai
The first meeting of NITI Forum for Northeast outlined how many development missions? – 5
The first meeting of NITI Forum for Northeast coined the concept of HIRA. What does HIRA stands for? –Highways, Internet ways, Railways and Airways
2018 National Convention of Swachhagrahis was held in _____. – Motihari, Bihar
10th edition of a DefExpo India- 2018 was held in ________. – Kancheepuram, Tamil Nadu
16th International Energy Forum (IEF)  was held in _______. – New Delhi
Who was appointed as the new Flag Officer of Indian Coast Guard (West Region)? – Vijay Chafekar
Who among the following was appointed as Managing Director and CEO of Bandhan Bank? – Chandra Shekhar
Who was appointed as an independent director of Jet Airways? – Ashok Chawla
The first international conference on 'Water, Environment and Climate Change: Knowledge Sharing and Partnership' was inaugurated in ____________. – Kathmandu, Nepal
Liked it?  Share it with your friends!
Regards
Team Exampundit
We are sorry that this post was not useful for you!
Let us improve this post!
Tell us how we can improve this post?