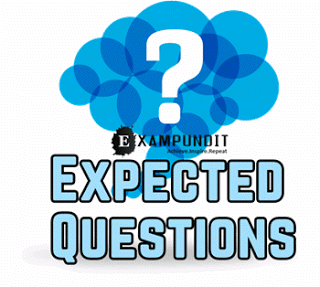 Hello and welcome to ExamPundit. Here are the Daily Expected Questions of 3rd and 4th December, 2015.
3rd
December
1. What was the
forecasted growth rate of the Indian National Economy by The Asian Development
Bank (ADB) in their recent "Outlook
2015 Supplement"?
– 7.4%
2. Which of the
following e-commerce company recently acquired stake in MapmyIndia to improve
delivery operations?
– Flipkart
3. Which of the
following proposed airport was recently given environment clearance by the
Ministry of Environment and Forest?
– Dholera airport in Ahmedabad district
4. How many new
Indian Institute of Technologies were approved by the Union Government
recently?
– 6 i.e Andhra Pradesh, Chhatisgarh, Goa, Jammu, Kerala and
Karnataka.
5. With which of the
following country did Government of India recently approved signing of MoU on
visa facilitation for Diplomatic,
Official/Service and Ordinary passport holders?
– Iran
6. Who was appointed
as the 43rd Chief Justice of India?
– Justice Tirath Singh Thakur
7. Who was recently
appointed as the Chairperson of Radiological Society of North America (RSNA)?
– Indian–American Dr. Vijay M Rao
8. International Day
of Persons with Disabilities is observed on ________.
– 3 December
9. Which of the
following Indian personalities became a co-owner of the International Premier
Tennis League (IPTL) team OUE
Singapore Slammers?
– Amitabh Bachchan
4th
December
1. According to the
revised Priority Sector Lending norms for Regional Rural Banks by RBI, what is
the PSL target for RRBs?
– 75% (Increased from 60%)
2. In the revised
Priority Sector Lending norms for Regional Rural Banks by RBI, the Loans to
individual farmers, for the purpose
of PSL was _____________.
– Increased to 50 Lakh Rupees
3. Which of the following Indian states became the first
state to launch Rotavirus vaccination project?
– Himachal Pradesh
4. With which of the
following unit of ISRO did GAIL recently jointly launched 'Bhuvan-GAIL Portal'
to monitor pipelines?
– National Remote Sensing Centre
5. What percentage
was the recommended salary hike in the MLA of NCT of Delhi (Salaries,
Allowances, Pension, etc)
(Amendment) Bill, 2015?
– 400%
6. For which of the
following purpose did Union Government recently launch Sugamya Bharat Abhiyan
or Accessible India Campaign?
– For enabling persons with disabilities to gain universal
access, equal opportunity for development, independent living and participation
in all aspects of life in an inclusive society
7. Which of the
following countries ranked Number 1 in the November 2015 edition of FIFA World
Rankings?
– Belgium
8. Navy Day is
observed on _________.
– 4 December


Regards
Team ExamPundit
Sponsored

(adsbygoogle = window.adsbygoogle || []).push({});
Books For 2015 Banking/Insurance Exams