Hello and welcome to exampundit. Here are the important Daily Current Affairs 16 and 17 June 2018 with PDF. These are important for the upcoming SBI PO & SBI Clerk Exams.
Get all other important Current Affairs and PDFs from here: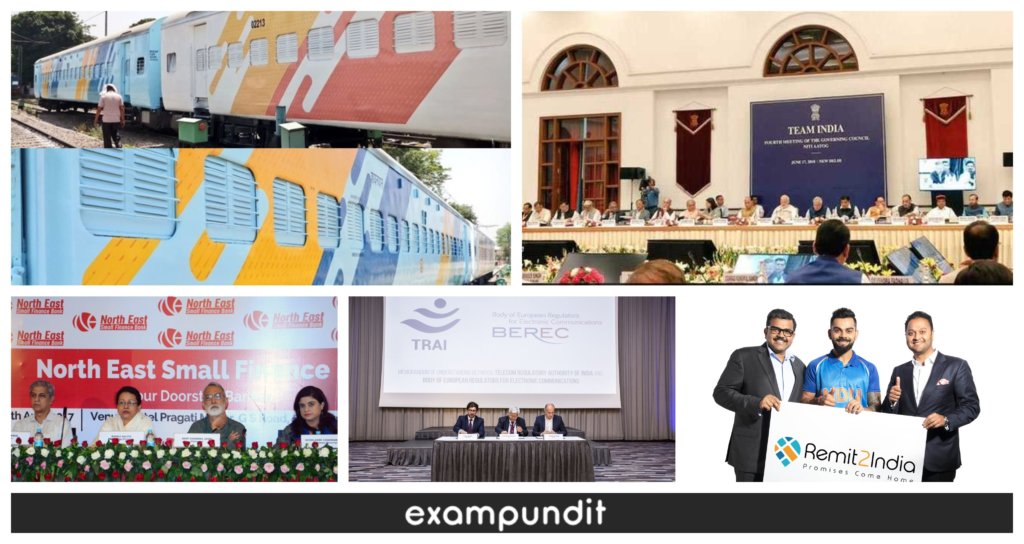 [toc]
Finance and Banking
---
Northeast India's first small bank, North East Small Finance bank starts operation
North East Small Finance bank (NESFB), Northeast India's first small bank has started its services on 17 June, 2018 in Assam.
Ratan Tata launched the first branch of the bank in Guwahati, Assam.
Tata, through his investment arm RNT Associates, has invested Rs 40 crore in the bank.
Rupali Kalita is the MD & CEO of  North East Small Finance bank (NESFB).
Supported by infusion of funds from domestic and overseas investors, North East Small Finance Bank Ltd which has a net worth of Rs 300 Crore.
Reserve Bank of India (RBI) on March 31, 2017 granted the Small Finance Bank License to Rashtriya Gramin Vikas Nidhi (North East) Microfinance Limited.
About North East Small Finance bank
Headquarters – Guwahati, Assam
MD & CEO – Rupali Kalita
NABARD to Lend Rs 21000 crore to Madhya Pradesh in Current Fiscal
National Bank For Agriculture And Rural Development (NABARD) would lend Rs 21000 crore to the Madhya Pradesh government in the financial year 2018-19.
Out of the 21000 crore rupees, Rs 4000 crore would be used for irrigation, roads and infrastructure in rural areas, another Rs 4000 crore to commercial and cooperative banks for investment in the agriculture sector, Rs 3000 crore for Civil Supplies Corporation and MP State Cooperative Marketing Federation Limited (Markfed), and Rs 10000 crore to cooperative banks for the purpose of agricultural credit.
NABARD has given Rs 2000 crore every year to the Madhya Pradesh government for works related to roads, bridges and irrigation among other things for last 3 years.
TRAI signs net neutrality MoU with European regulator BEREC
Telecom Regulatory Authority of India (TRAI) has signed a memorandum of understanding on net neutrality titled 'Joint Statement for an Open Internet' with the Body of European Regulators for Electronic Communications.
The purpose of the MoU is to "collaborate closely and expose their common understanding of net neutrality".
This will help TRAI to implement a proper Net Neutrality law since it does not have ready access to tools that can measure net neutrality violations.
4th Meeting of Governing Council of NITI Aayog held
The fourth meeting of Governing Council of NITI Aayog was chaired by PM narendra Modi at Rashtrapati Bhavan, New Delhi.
A total of 23 state chief ministers attained the meeting.
Highlights of the Governing Council of NITI Aayog Meeting
PM Narendra Modi has assured help to the bifurcated states of Bihar, Jharkhand, Telangana and Andhra Pradesh with the norms and provisions.
Madhya Pradesh CM Shivraj Singh Chouhan headed seven member committee will be formed under MNREGA scheme for development of irrigation and post-harvest. The committee will also comprise the Chief Ministers of Bihar, Gujarat, Sikkim, West Bengal, Uttar Pradesh, West Bengal, and Andhra Pradesh.
PM Narendra Modi also discussed about the Aspirational Blocks and the development of villages to implement welfare schemes in 45,000 villages by August 15. In total 65 thousand villages have to be covered.
As a tribute to Mahatma Gandhi on his 150th Birth Anniversary in 2019, Open Defecation Free India under Swachh Bharat Abhiyaan is targetted.
PM Modi also discussed about Uniform Voter List.
Arunachal Pradesh, Madhya Pradesh, and Uttarakhand were specifically directed to utilise their hydro-potential.
India
---
Indian Railways to repaint 30,000 conventional coaches
The Indian Railways have announced to repaint 30,000 conventional coaches manufactured at the Integral Coach Factory in Chennai.
The new colour scheme of Indian Railways is beige and brown.
Except Rajdhani, Shatabdi, Duronto and newly launched Tejas, Gatimaan and Humsafar Express Indian Railways would be repainting all Mail and Express trains.
The first train to sport the new look will be Delhi-Pathankot Express, 16 coaches of which have been repainted with the new colour scheme.
Foundation stone for ALIMCO's production unit laid in Faridabad
Haryana Chief Minister Manohar Lal Khattar laid the foundation stone of a production unit of the Artificial Limbs Manufacturing Corporation of India (ALIMCO) at Nawada village of Faridabad district of Haryana.
The purpose of this production unit is to cater to the needs of the differently-abled persons from Jammu and Kashmir, Punjab, Haryana, Rajasthan and Chhattisgarh.
The unit will be set up under the Department of Empowerment of Persons with Disabilities (DEPwD), Ministry of Social Justice and Empowerment.
Appointments
---
Virat Kohli appointed as Brand Ambassador of Remit2India
Captain of the Indian Men's Cricket Team Virat Kohli has been appointed as the Brand Ambassador of Remit2India.
Remit2India is an online money transfer portal that focuses on the Indian diaspora.
Kohli will endorse the Remit2India brand by being part of its innovative marketing and customer experience initiatives for three years.
Days
---
World Day to Combat Desertification and Drought observed on 17 June
World Day to Combat Desertification and Drought was observed on 17 June, 2018.
The theme of 2018 was Land has true value. Invest in it.
The World Day to Combat Desertification and Drought is a United Nations observance each June 17.
Click below to download the PDF of Daily Current Affairs 16 and 17 June 2018
Regards
Team Exampundit