Hello and welcome to ExamPundit. Here are the important current affairs of 8th April, 2015.
Finance/Banking/Economy
Prime Minister
launched MUDRA Bank under PM Jan Dhan Yojana to fund small entrepreneurs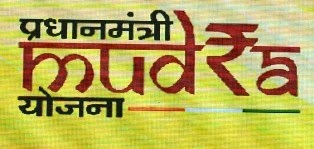 Prime Minister Narendra Modi on 8 April 2015 launched the
Micro Units Development and Refinance Agency Ltd. (MUDRA) Bank to fund the
small entrepreneurs.
The Bank was launched under the ambitious Pradhan Mantri Jan
Dhan Yojana (PMJDY). The bank will provide credit of up to 10 lakh rupees to
small entrepreneurs and act as a regulator for Micro-Finance Institutions
(MFIs).
It was set up through a statutory enactment. It would be
responsible for developing and refinancing all Micro-finance Institutions
(MFIs) which are in the business of lending to micro / small business entities
engaged in manufacturing, trading and service activities.
The concept of MUDRA Bank goes beyond credit only approach
and offers a credit plus solution for these enterprises spread across the
country.
Government raises
stake in state-owned IFCI to 51%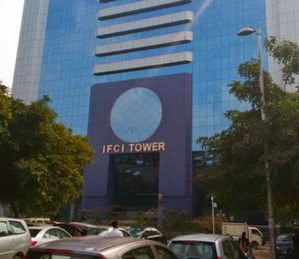 IFCIBSE 2.81 % Ltd has now become a state- owned firm with
the government increasing its stake in the infrastructure financing firm to
51.04 per cent.
Government has acquired IFCI's 6,00,00,000 Preference shares
of Rs 10 each from certain scheduled commercial banks and has consequently
increased its holding from 47.93 per cent to 51.04 per cent of the paid-up
share capital.
As a result of this increase in shareholding of the
Government of India, IFCI has become a 'Government Company' as per the
provisions of Section 2(45) of the Companies Act, 2013, with effect from April
7, 2015.
The Industrial Finance Corporation of India was set up by
government on July 1, 1948 as the first Development Financial Institution in
the country.
IFCI was provided access to low-cost funds through the
central bank's Statutory Liquidity Ratio or SLR which in turn enabled it to
provide loans and advances to corporate borrowers at concessional rates.
Union Ministry of
Commerce and Industry constituted Ajay Shankar committee to simplify clearances
The Union Ministry of Commerce and Industry on 8 April 2015
formed an expert committee under the chairmanship of Ajay Shankar to suggest
simplified compliance for establishing new industries. He is a former Secretary
to the Department of Industrial Policy and Promotion (DIPP).
The Expert Committee has been constituted for examining the
possibility of replacing multiple prior permissions with pre-existing
regulatory mechanism and to prepare draft legislation for this purpose.
The committee is directed to submit its report within 30
days.
Terms of Reference
of the committee
Study the requirement of various prior permissions with an
exhaustive inventory of such permissions
Examine the possibility of replacing these prior permissions
with a pre-existing (proposed) regulatory mechanism
Identify safeguards to be put in place while replacing the
system of prior permission and integrating these safeguards in the proposed
regulatory mechanism
CCEA approved two
FIIs proposals in pharmaceutical companies Aurobindo and Glenmark
Union Cabinet Committee on Economic Affairs (CCEA) on 7
April 2015 approved two FIIs (Foreign Institutional Investors) proposals worth
4187 crore rupees in the pharmaceutical majors Aurobindo Pharma Ltd. and
Glenmark Pharmaceutical Ltd.
The CCEA's approval for QIBs (Qualified Institutional
Buyers) in Aurobindo Pharma Ltd. will increase the FIIs share in the company
from 27.32 to 34.32 resulting in an inflow of about 2165 crore rupees. The
funds will enable the company to expand its operations in the areas of anti
infective, cardiovascular and central nervous system related ingredients.
The CCEA's clearance for FIIs in Glenmark Pharmaceutical
Ltd. will increase the FIIs share in the company from 35.07 percent to 49
percent resulting in an inflow of about 2022 crore rupees.
Govt to Provide
Higher Compensation to Distressed Farmers: PM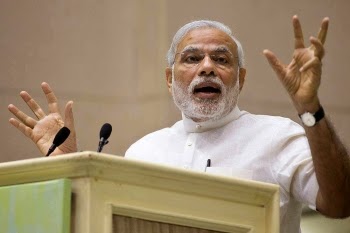 Prime Minister Narendra Modi today announced the
government's decision to raise by 50 per cent the quantum of compensation to
farmers affected by crop losses due to recent unseasonal rains.
Besides, the criterion of 50 per cent crop damage for
providing compensation to farmers has been reduced to 33 per cent, which will
help more people get better compensation for the crop loss.
Speaking at the launch of the Pradhan Mantri MUDRA (Micro
Units Development Refinance Agency) Yojana here, he also instructed insurance
companies to expeditiously settle the claims of the distressed farmers.
The decision to provide liberal assistance to farmers was
taken by Modi after a review meeting with Cabinet Ministers who were asked to
assess the damage to the crops following the unseasonal rains and hailstorms in
northern and central parts of the country.
Business
Deals
Snapdeal acquires
FreeCharge in a cash and stock deal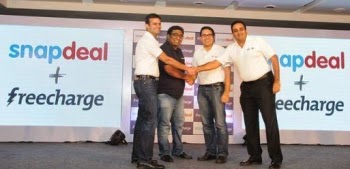 Online marketplace Snapdeal has acquired mobile transactions
platform, FreeCharge, in a cash and stock deal that is speculated to be in the
range of $400 million.
With this acquisition, Snapdeal becomes the largest mobile
commerce firm in the country offering over 11 million products and services
including financial services, mobile recharge and utility payments with a
growing base of over 40 million users.
FreeCharge, a leading mobile commerce platform where users
can pay their mobile, DTH and utility payments across most major operators will
continue to function as an independent platform and all aspects of FreeCharge's
shopping experience will continue to remain intact.
Over the last 6 months, Snapdeal has acquired many
companies. This February, the company acquired Exclusively.in, an online
retailer of premium luxury and fashion. Last year the company acquired fashion
discovery start-up Doozton and gift recommendation technology platform,
Wishpicker. More recently, Snapdeal picked up a majority stake in digital
financial services platform, RupeePower.com.
Amazon Picks
Telangana for Largest Fulfilment Centre
e-Commerce major Amazon has chosen Telangana over the
neighbouring state of Karnataka to set up its largest fulfilment centre (FC) in
the country.
The US-based firm, which has been facing taxation issues in
Karnataka, said it has put its proposed investments in the state on hold till
the matters are resolved.
The e-commerce major last year had announced investment of
USD 2 billion (about Rs 12,500 crore) in the country.
The new FC in India will come up near Kottur, on the
outskirts of Hyderabad. Spread over 280,000 sq ft, the unit will become
operational by May this year.
This will enable Amazon to ensure faster and quicker
delivery of products to stay ahead as it competes head on with domestic rivals
like Flipkart and Snapdeal.
No investment details were disclosed.
India

CCEA gave nod for
strengthening and widening of 455-km of National Highways
The Union Cabinet Committee on Economic Affairs (CCEA) on 7
April 2015 approved the projects for strengthening and widening of 455
kilometers of National Highways (NH) at a total capital cost of about 9500
crore rupees.
The projects are aimed at improving road connectivity in
Uttar Pradesh and Tamil Nadu and the expenditure to be incurred on these
projects will be borne by the Union Government.
The NHs that form
the part of 455-km of NHs approved include:
Four laning of 138-km stretch of Sultanpur-Varanasi section
of NH-56 at a cost of 3800 crore rupees
Four laning of 200-km stretch of Varanasi to Ghazipur,
Gorakhpur and further to Nepal section of NH-29 at a cost of 4400 crore rupees
Four laning or two laning with paved shoulders of 115-km
stretch of Madurai-Ramanathapuram section of NH-49 at a cost of about 1400
crore rupees
US aviation regulator
upgrades India's air safety rating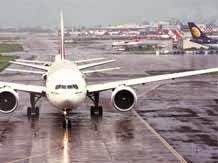 US aviation regulator Federal Aviation Administration (FAA)
has upgraded India's safety ranking — after fourteen months of close watch —
paving the way for Indian carriers to expand their services to the US and enter
into agreements with American carriers through code-share to expand operations.
The move will benefit state-run Air India, besides Jet
Airways, and Vistara (if and when policy changes allow it to fly
international). Vistara, a joint venture between the Tatas and Singapore
Airlines, has plans to fly to the US, either directly or with partners.
In January last year, FAA had downgraded India to
Category-II, implying safety oversight in the country did not comply with the
International Civil Aviation Organisation standards. As a result, no Indian
carrier could expand capacity to the US.
The decision to restore India's Category-I safety ranking,
taken after a review of the Directorate General of Civil Aviation's (DGCA's)
measures, was announced on Wednesday. These measures included appointment of 55
pilots as full-time flight operation inspectors, for better safety oversight.
Indian Registers Record
Production of Nuclear Fuel
In a major milestone for the nuclear industry, India has
registered a record production of over 1,252 MT of uranium bundles,
manufacturing close to double the annual fuel requirement of atomic reactors in
the country.
The production has also exceeded country's annual fuel
requirement of 650 MT for the Pressurised Heavy Water Reactors (PHWRs), which
means the country has surplus nuclear fuel, for at least a few months.
The Hyderabad-based Nuclear Fuel Complex (NFC), which
produces fuel for nuclear reactors in the country, has produced over 30 per
cent more fuel compared to its 961.023 MT production in 2013-14.
NFC, set-up with an initial production capacity of 100 MT
per year, was augmented several times to enhance the capacity to 850 MT, to
cater to the fuel requirement of all the 18 operating PHWRs and the 2 Boiling
Water Reactors at Tarapur.
India produces around 5,780 MW of nuclear power. Of this,
4,780 MW of electricity is generated by fuel processed at the NFC. Fuel for the
Kudankulam Nuclear Power Plant (KKNPP) unit 1 is provided by Russia, as per the
agreement.
World

Kansas becomes first
US state to ban abortion procedure
Kansas became the first state on Tuesday to ban a common
second-trimester abortion procedure that critics describe as dismembering a
foetus.
Republican Gov. Sam Brownback, a strong abortion opponent,
signed a bill imposing the ban, and the new law takes effect July 1. He and the
National Right to Life Committee, which drafted the measure, said they hope
Kansas' example spurs other states to enact such laws. Already, the measure
also has been introduced in Missouri, Oklahoma and South Carolina.
Two abortion rights groups that operate Kansas clinics with
abortion services, Trust Women and Planned Parenthood of Kansas and
Mid-Missouri, said they're considering challenging the new law in court.
A Delaware-based law professor said U.S. Supreme Court
precedents over the past 15 years suggest the Kansas law wouldn't survive a
challenge but added that the justices may revise past stances.
Under the law, the procedure is banned except when necessary
to save a woman's life or prevent irreversible damage to her physical health.
Doctors cannot use forceps, clamps, scissors or similar instruments on a fetus
to remove it from the womb in pieces.
Awards
Amitabh Bachchan,
Prince Karim Aga Khan get Padma Vibhushan
Bollywood megastar Amitabh Bachchan and Prince Karim Aga
Khan were among the eminent personalities awarded the Padma Vibhushan,
country's second highest civilian honour, by President Pranab Mukherjee here
today.
Besides them, senior Supreme Court advocate Kottayan K
Venugopal and D Veerendra Heggade of the famous Dharmasthala Jain temple in
Karnataka were also conferred the Padma Vibhushan.
Renowned Assamese Filmmaker Jahnu Barua and computer
scientist Vijay Bhatkar were given the Padma Bhushan, third highest civilian
honour, during the civil investiture ceremony held at the majestic Durbar Hall
of Rashtrapati Bhavan.
Hockey player Saba Anjum, women cricketer Mithali Raj,
economist Bibek Debroy, IT honcho T V Mohandas Pai and musician Ravindra Jain
were given Padma Shri.
Vice President Hamid Ansari, Prime Minister Narendra Modi,
Home Minister Rajnath Singh, Finance Minister Arun Jaitley and Delhi Chief
Minister Arvind Kejriwal were among the prominent dignitaries present during
the event.
Sports

IPL 8 kicks off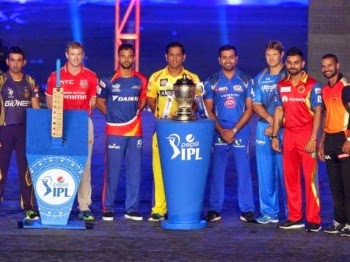 Bollywood-style opening ceremony kick started the eighth
edition of Indian Premier League (IPL) cricket after a one and a half hour
delay at the decked-up Salt Lake stadium here on Tuesday.
The first match is between 2014 Champions Kolkata Knight
Riders and Mumbai Indians in Eden Gardens.
Gujarat won Syed
Mushtaq Ali T20 Trophy
Gujarat cricket team on 7 April 2015 won the 2014-15 Syed
Mushtaq Ali T20 Trophy played at the KIIT Cricket Stadium, Bhubaneshwar. In the
final clash, Gujarat defeated Punjab by two wickets.
Wicketkeeper and opening batsman Smit Patel's unbeaten 50
helped Gujarat to win their second Syed Mushtaq Ali Trophy.
Gujarat won the trophy in 2012-13 by defeating Punjab in the
final by four wickets.


Regards
Team ExamPundit
Sponsored

(adsbygoogle = window.adsbygoogle || []).push({});
Books For 2015 Banking/Insurance Exams