Hello and welcome to ExamPundit. Here are the Important Current Affairs of 7th September, 2015. These are important for IBPS PO V.
Banking/Industries
–
NPCI launches new
RuPay credit cards co-branded with Mudra Bank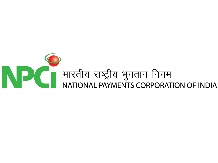 In a move to increase penetration of RuPay Cards, soon
National Payments Corporation of India (NPCI) will roll out a new credit card
that will be co-branded with Mudra Bank. It is also in the final stage of
discussion with China UnionPay and Japan-based JCB Co., Ltd, which would allow
RuPay card holders to use their cards in other parts of the world.
Meanwhile, NPCI is also planning to raise around Rs 100
crore through private placement by end of this year.
RuPay Card is an Indian version of credit/debit card. It is
very similar to international cards such as Visa/Master. National Payments
Corporation of India (NPCI) initiated the launch of RuPay card in India.
M Balachandran, chairman, NPCI said it has already tied-up
with Discover Network Merchants, which is the third largest in US and Europe,
and now is in the final stages of talks with JCB (Japan Credit Bureau) and
China UnionPay.
Reliance Defence
signs MoU with Abu Dhabi Ship Building
Reliance Defence Ltd. (RDL), a wholly-owned subsidiary of
Anil Ambani-led Reliance Infrastructure Ltd. has signed a memorandum of understanding
(MoU) with Abu Dhabi Ship Building (ADSB) to explore an opportunity to set up a
strategic partnership for the construction of naval ships including frigates,
destroyers and other specialised vessels to address the needs of Gulf
Cooperation Council (GCC) over the next 10 years.
ADSB is a leading provider of construction, repair and refit
services for naval, military and commercial vessels in the GCC region.
Both RDL and ADSB are believed to be incorporating a joint
venture, which will encompass both construction of new naval vessels as well as
maintenance, repair and overhaul and refit opportunities of existing commercial
and naval vessels in the region. Reliance Defence will be the majority partner
in this proposed joint venture with 51 per cent stake, according to people
familiar with the development.
Appointments
–
DRDO names first
female Director General J Manjula

In a first, the Defence Research and Development
Organisation (DRDO), will have a woman scientist heading an important cluster
with the high rank of a Director General.
J Manjula, has been appointed the new Director General (DG –
Electronics & Communications Systems or ECS) today. She will be one of the
seven DG's, who are heading different clusters within the DRDO, which has
nearly 50 national laboratories and Institutes under its network.
A recognised expert in electronic warfare systems for Air
Force, Manjula is an Outstanding Scientist and Director of Bengaluru-based
DARE, Defence Avionics Research Establishment.
She brings vast experience in EW systems, following a long
stint with the Hyderabad-based, DLRL (Defence Electronics Research Laboratory),
which is a pioneer in EW systems and cutting edge communications.
India
–
Prime Minister Modi
inaugurated extension of Delhi Metro Line till Faridabad
Prime Minister Narendra Modi on 6 September 2015 inaugurated
the extension of Delhi Metro connecting Badarpur to Escorts Mujesar in
Faridabad.
This extension till Faridabad, an industrial hub in Haryana
would allow hassle-free travel for around two lakh daily commuters between the national
capital and the industrial hub in Haryana.
The total cost of the project from Badarpur to Escorts
Mujesar was to the tune of 2500 crore rupees.
Out of this, 1557 crore rupees was borne by the Haryana
Government, while 537 crore rupees was contributed by the Union Government and
400 crore rupees was spent by Delhi Metro.
Bala Tripura Sundari
Devi Temple renovated under India-Nepal Economic programme inaugurated
Indian Ambassador to Nepal, Ranjit Rae on 5 September 2015
inaugurated the newly renovated Bala Tripura Sundari Devi Temple at Tripurakot.
It is situated on the bank of glacial river Thuli Bheri in Dolpa district of
Nepal.
The temple was constructed with 33.3 million Nepali rupees
financial support from the Indian government.
Shree Bala Tripura Sundari Devi Temple is a historic
structure said to be more than 900 years old, having great socio-cultural
relevance in the life of the people of the Dolpa district. The renovation of
the temple has upgraded the old structure with improved facilities for 20000
pilgrims visiting the temple every year.

World –
Chinese, Pakistani
forces launch joint air drill called 'Shaheen (Eagle)-4'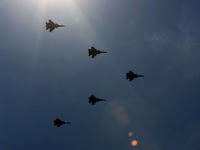 Chinese and Pakistani forces on Sunday launched a joint air
drill, a military spokesperson announced.
The Chinese contingent includes fighter jets, fighter
bombers and early warning planes while Pakistan has dispatched fighter jets and
early warning planes for the military exercise, Air Force spokesperson Shen
Jinke said.
Shen, however, did not mention how long the drill would last,
Xinhua news agency reported.
The joint exercise called "Shaheen (Eagle)-4" is
part of a series of military exchange programmes between the two air forces,
Shen said, adding that China's air force was willing to expand the scope of
cooperation with various countries.
The first such drill was held in Pakistan in March 2011, the
second in China's western Xinjiang Uygur region in September 2013.
Books
& Authors –
To the Brink and
Back: India's 1991 Story by Jairam Ramesh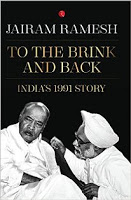 The book titled To the Brink and Back: India's 1991 Story
was in news in the first week of September 2015. It was written by former Union
Environment and Forest Minister (Independent Charge) Jairam Ramesh.
The book deals with fast-paced changes in the economic
sector introduced by the duo P V Narasimha Rao and Manmohan Singh in 1991.
It was the first hand account in the sense it narrates
author's observations when he was part of the Prime Minister's Office (PMO)
during first 90 days of the Narasimha Rao's government.
It also holds key documents and notes, placed for the first
time in the public domain; the personal papers of Narasimha Rao; private
conversations with Manmohan Singh; Parliament proceedings; and the minutes of
seminal Congress meetings.
Sports
–
Shane Watson retired
from Test cricket
Australian all-rounder Shane Watson announced his retirement
from Test cricket on 6 September 2015. He announced his retirement immediately
after his calf injury cut short his one-day international tour of Britain.
He stated that he will continue his international career in
the One-Day Internationals and Twenty20 Internationals.
34-year-old Watson's 10-year Test career came to an end at
the Ashes opener at Cardiff, which England won by 169 runs. His 30 and 19 with
the bat and failure in taking a wicket made him to lose his place for the rest
of the series.
Daily
Expected Questions on Stock GK:
1. Omkareshwar Temple
is located in which state?
– Madhya Pradesh
2. Maharaja Bir Bikram
College Stadium is in which city/state?
– Agartala, Tripura
3. Narora Atomic
Power Station is located in which state?
– Uttar Pradesh
4. International
Mango Festival is hosted in which state/country?
– Delhi, India
5. What is the
official currency of Jordan?
– Jordanian dinar


Regards
Team ExamPundit
Sponsored

(adsbygoogle = window.adsbygoogle || []).push({});
Books For 2015 Banking/Insurance Exams