Hello and welcome to ExamPundit. Here are the Important Current Affairs of 7th October, 2015. These are Important for the upcoming IBPS PO V Mains and IBPS Clerk Exam.
Finance/RBI
–
RBI relaxed norms of
FPI investment in Government Securities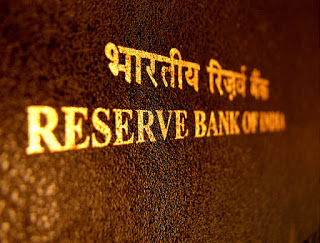 The Reserve Bank of India (RBI) on 6 October 2015 relaxed
the norms of Foreign Portfolio Investors (FPIs) of government debt and also
announced higher investment limits in rupee terms in government securities with
a view to bring in an additional 1.2 lakh crore rupees by March 2018.
The RBI fixed the FPI investment limits in rupee terms and
raised the limits in phases to reach 5 percent of the outstanding stock by
March 2018.
RBI directions on
FPI investment in Government Securities
For the fiscal year 2015-16, RBI enhanced the limit for
investment by FPIs in Government sectors in two tranches from 12 October 2015
and 1 January 2016.
The limit will be increased from 1.53 lakh crore rupees to
1.7 lakh crore rupees from 12 October and it will be 1.86 lakh crore rupees
from 1 January 2016.
Those Central Government securities in which aggregate
investment by FPIs exceeds the prescribed threshold of 20% will be put in a
negative investment list.
No fresh investments by FPIs in Central Government
securities will be permitted till they are removed from the negative list.
There will be no security-wise limit for SDLs for now. And
the operational guidelines relating to allocation and monitoring of limits will
be issued by the Securities and Exchange Board of India (SEBI).
RBI to be payment
aggregator for GST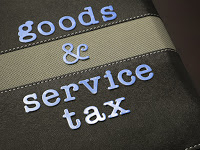 A day after Prime Minister Narendra Modi expressed the hope
to roll out goods and services tax (GST) from 2016-17, the finance ministry on
Wednesday released three reports on the processes for the new indirect tax
regime. These suggested that the Reserve Bank of India (RBI) can act as the
aggregator of payments, and businesses will have to mandatorily register with
the goods and services tax network (GSTN) portal to avail of benefits of the
new tax system.
The reports, prepared by joint sub-committees of the Union
finance ministry and the empowered committee of state finance ministers, relate
to registration, refunds and processes.
The GSTN portal – IT backbone for the new indirect tax
system – will be designed by IT major Infosys by March 31, 2015. The company
will also maintain it for the next five years. It won the ~1,380-crore contract
from GSTN in September.
While the threshold limits are yet to be officially decided,
the Centre is pressing for an exemption limit of Rs 25 lakh annual turnover.
The Constitution amendment Bill has already been passed by
the Lok Sabha, but is stuck in the Rajya Sabha as the ruling National
Democratic Alliance lacks the required numbers in the upper House.
The portal will have back-end integration with the
respective IT systems of the Centre and states.
India, Germany signed
125 million Euros Loan Agreement to fund two projects under Green Energy Corridor
Government of India and Federal Republic of Germany (KFW) on
5 October 2015 signed two loan agreements worth 125 million Euros for financing
two projects under the Green Energy Corridor programme. These two projects are
in Himachal Pradesh and Andhra Pradesh.
Germany will fund 57 million Euros for projects in Himachal
Pradesh and 68 million Euros for Andhra Pradesh.
Green Energy Corridor programme seeks to facilitate the flow
of renewable energy into the national grid. In other words, it is aimed at
synchronising electricity produced from renewable sources, such as solar and wind,
with conventional power stations in the grid.
This comprehensive transmission plan was prepared by
POWERGRID Corporation of India Limited in 2012 and it entails a total cost of
43000 crore rupees.
In April 2013 during the second Indo-German Government
Consultations in Berlin, Germany committed developmental and technical
assistance of 1 billion euro for the project.
India
–
'Neeranchal'
programme gets Cabinet nod
The World Bank-assisted 'National Watershed Management
Project' or 'Neeranchal' received the approval for implementation by the Union
Cabinet on Wednesday.
The project aims to fulfil the watershed component of the
Pradhan Mantri Krishi Sinchai Yojana (PMSKY) to reduce surface runoff of
rainwater, increase groundwater levels and better water availability in
rain-fed areas.
The cost of the project is estimated at Rs. 2,142.30 crore
of which the Centre will be pitching in with Rs. 889 crore while Rs. 182 crore
will be provided by the respective State Governments.
The remaining 50 per cent of the project cost will be
financed by a World Bank loan.
It will be implemented across nine States – Andhra Pradesh,
Telangana, Madhya Pradesh, Maharashtra, Gujarat, Odisha, Chhattisgarh,
Jharkhand and Rajasthan.
2016 Pravasi
Bharatiya Divas (PBD) Conference to be held in New Delhi
The Pravasi Bharatiya Divas (PBD) Conference 2016 will be
held in New Delhi from 8 January to 10 January 2016.
The PBD Conference 2016 will be organised with an objective
for developing a new paradigm for engagement with the Diaspora over the next
decade.
The 2016 PBD Conference will be an attempt to do an expert
study on various issues concerning the Diaspora and areas of mutual benefit to
India and to them, while the previous PBDs focused only on meetings with the
Diaspora.
The traditional PBD convention will be held every
alternative year, with the partner State.
Such a convention would be held in 2017.
Govt approves Rs 500
cr project for war memorial, museum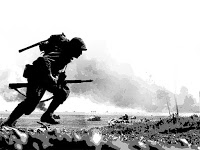 Acceding to a long-pending demand of the armed forces, the
government today approved a Rs 500- crore project for building a National War
Memorial and a National War Museum near India Gate in memory of over 22,500
soldiers who laid down their lives post-Independence.
The total time for completion of the entire project at
Princess Park here is estimated to be five years.
Post-Independence, more than 22,500 soldiers have made the
supreme sacrifice in national interests and in defence of the sovereignty and
integrity of the country.
However, even after 69 years of Independence, no memorial to
commemorate the martyrs has been constructed till date.
Utkal starts 'Project
Saksham' to empower rural women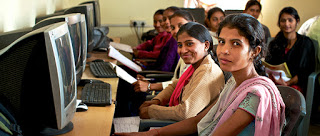 In its bid to empower rural women, Utkal Alumina
International Limited (UAIL), a unit of Aditya Birla Group, has launched a
unique project for the welfare of communities living in the vicinity of its
project area in Odisha.
Christened 'Project Saksham', the new initiative involves an
advanced training-cum-garment manufacturing unit at Tikiri in Rayagada district
to help unemployed rural women engage in a sustainable livelihood and become
self-reliant, said Vijay Sapra.
Aiming at speedy inclusive development, the project imparts
training to 38 women from the underprivileged sections living in villages
surrounding the plant.
Three-member Achary
panel recommended 400% hike in basic salary of Delhi MLAs
A three-member committee chaired by PDT Achary, former
Secretary General of the Lok Sabha, on 6 October 2015 submitted its report on
MLAs' salary packages to Delhi Assembly Speaker Ram Niwas Goel. The other two
members were KV Prasad and Balraj Malik.
In its 21-page unanimous report, the commission favoured 400
percent hike in the basic salary of the MLAs of Delhi, that is, from 12000
rupees to 50000 rupees per month, in addition to a slew of allowances for
purposes ranging from travel to office furniture.
Overall, the hike recommended has been 138 percent.
Awards
& Honors –
2015 Nobel Prize in
Chemistry: Tomas Lindahl, Paul Modrich and Aziz Sancar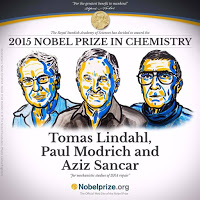 Tomas Lindahl, Paul Modrich and Aziz Sancar were on 7
October 2015 jointly awarded with the 2015 2015 Nobel Prize in Chemistry for
having mapped how cells repair damaged DNA and safeguard the genetic
information at a molecular level.
All the three laureates will share the prize money of 8
million Swedish kronor equally. Tomas Lindahl is from the Francis Crick
Institute, UK; Paul Modrich is from Duke University School of Medicine, USA and
Aziz Sancar belongs to University of North Carolina School of Medicine, USA.
Their work provided fundamental knowledge of how a living
cell functions and how it is used for the development of new cancer treatments.
Raif Badawi, James
Fenton shared 2015 PEN Pinter Prize
Saudi blogger and activist Raif Badawi and British poet and
critic James Fenton were on 6 October 2015 awarded with the 2015 PEN Pinter
Prize. Badawi was named as the 2015 International Writer of Courage by Fenton
himself during a public event held at the British Library in London.
Fenton officially accepted the 2015 PEN Pinter Prize at the
event. He delivered a lecture written for the occasion, which was published in
a limited edition by Faber & Faber. Fenton was selected for this
prestigious award in June 2015 itself.
While, due to Badawi's imprisonment, his award was accepted
by Jimmy Wales, co-founder of Wikipedia and campaigner for Raif Badawi.
A.R. Rahman named
Cultural Ambassador for Seychelles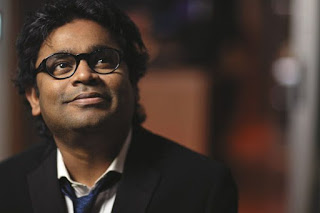 Oscar-winning composer A.R. Rahman has been named the
Cultural Ambassador for Seychelles. The music maestro has sent out his love and
regard to the people and government of the foreign nation.
The composer, who has taken Indian music on a world tour
with his sounds, shared the news with his fans and followers on Twitter.
A two-time Oscar winning composer, Rahman shared an image of
the certificate, on the micro-blogging site.
Resignation
–
Ashok Vemuri resigned
as CEO of iGate Corporation
The Infosys veteran Ashok Vemuri on 6 October 2015 resigned
from his position of Chief Executive Officer (CEO) of iGATE Corporation.
Vemuri joined the US-based iGate as CEO in September 2013.
When Capgemini announced the acquisition, he held 400000 shares of iGate. The
shares were valued at over 19 million US dollar in April 2015.
Vemuri was born on 22 April 1968. He obtained his bachelor's
degree in physics from St. Stephen's College, Delhi, and completed his master's
degree in business management from the Indian Institute of Management,
Ahmedabad.
Reports
–
WWF Report Hidden
Himalayas: Asia's Wonderland released
World Wide Fund (WWF) on the day of World Habitat Day, that
is, 5 October 2015 released Hidden Himalayas: Asia's Wonderland report. The
Eastern Himalayas spans Bhutan, the north-eastern Indian states of Arunachal
Pradesh, Assam, Sikkim, North Bengal, the trans-boundary landscape of Terai
Arc, far north of Myanmar, Nepal and southern Tibet.
According to the report, 211 new species like sneezing
monkey, walking fish and jewel-like snake, were discovered in the Eastern
Himalayas region between 2009 and 2014. On an average 34 new species were
discovered annually for the past six years.
The 211 new species include 133 plants, 39 invertebrates, 26
fish, 10 amphibians, one reptile, one bird and one mammal. These species were
found by scientists from various organizations.
IMF released World
Economic Outlook October 2015 Update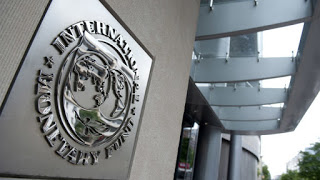 International Monetary Fund (IMF) on 6 October 2015 released
World Economic Outlook (WEO) October 2015 Update titled Adjusting to Lower
Commodity Prices.
The report projects global growth for 2015 at 3.1 percent,
which is 0.3 percentage point lower than in 2014, and 0.2 percentage point
below the forecasts in the July 2015 World Economic Outlook (WEO) Update.
India's growth is expected to strengthen from 7.3 percent
2015 and last year to 7.5 percent in 2016. Also, Domestic demand in India is
projected to remain strong.
Sports
–
Sergey Karjakin won
the 2015 FIDE World Chess Cup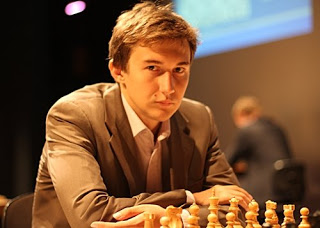 Russia's Sergey Karjakin on 5 October 2015 emerged
victorious in the 2015 FIDE World Chess Cup beating Peter Svidler by 6-4 in the
final. It was held in Azerbaijan's capital, Baku, from 10 September 2015 to 5
October 2015.
Karjakin and Svidler, both from Russia, won two classical
games each. However, the title was decided in the tie-breakers.
In the tie-breaker, Karjakin won the opening rapid game, but
Svidler came strongly back by winning the next two. However, Karjakin won the
fourth rapid game to draw level. In the end, Karjakin took the tie-breaker by
6-4.
Books
& Authors –
The Clintons' War on
Women authored by Roger Stone and Robert Morrow
The book titled The Clintons' War on Women authored by Roger
Stone and Robert Morrow was in news in first week of October 2015. It came into
news as it claims that Hillary Clinton who is running for the US President as
an advocate of women and girls is in actual volatile and prone to violent
outbursts that terrorize even her own husband.
The New York Times bestselling author Roger Stone and
researcher and alternative historian Robert Morrow through this book reveals
how Bill and Hillary Clinton systematically abused women and others—sexually,
physically, and psychologically—in their scramble for power and wealth. They
together map the arc of Bill and Hillary's crimes and cover ups.


Regards
Team ExamPundit
Sponsored

(adsbygoogle = window.adsbygoogle || []).push({});
Books For 2015 Banking/Insurance Exams


EP Recommends: Practicemock Free Mock Tests