Hello and welcome to ExamPundit. Here are the important current affairs of 7th April, 2015.
Finance/RBI
–
Highlights of RBI 1st
monetary policy review of FY 2015-16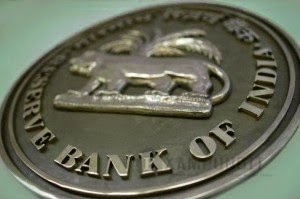 Following are the
highlights of RBI's first bi-monthly monetary policy statement, 2015-16:
Short-term lending
rate (repo) unchanged at 7.5%
Cash Reserve Ratio
unchanged at 4%
Retains Statutory
Liquidity Ratio at 21.5%
Estimates GDP growth
at 7.8% in FY'16, up from 7.5% in FY'15
Forecasts CPI inflation
at 5.8% by March 2016
CPI inflation to dip
to 4% in August 2015
Hailstorms in March
affected 17% of the rabi crop sown area
Future rate cuts will
depend on interest rate reduction by banks
India better prepared
to deal with volatility post US Federal Reserve rate action
State cooperative
banks to be allowed to set up offsite/ mobile ATMs without prior approval from
RBI
RBI to formulate
scheme for market making by primary dealers in semi—liquid and illiquid G—Secs
Second bi-monthly
policy statement on June 2
CII and European Bank
for Reconstruction and Development (EBRD) signed MoU to deepen partnership
Confederation of Indian Industry (CII) on 6 April 2015
signed a Memorandum of Understanding (MoU) with the European Bank for
Reconstruction and Development (EBRD) to deepen partnership between Indian
companies and the bank in those countries where the bank has operations.
It was signed by the CII Director General Chandrajit
Banerjee and EBRD Vice-President Phil Bennett at a session on Inclusive
Business: The Way Forward as part of the National Conference and Annual Session
2015 held by the CII in New Delhi.
Under the MoU, the EBRD countries of operations would
benefit from the transfer of skills from world-class Indian companies. On the
other hand, EBRD will be sharing its strong local knowledge with Indian
companies that are either moving into the EBRD regions for the first time or
which want to expand their operations in those countries.
The bank has already made 1 billion US dollar investment
together with Indian companies and the MoU will help to utilize huge untapped
potential in the Indian private sector.
Cabinet approves
amendments to Real Estate Bill
Amendments to the Real Estate (Regulation and Development)
Bill, 2013, were approved by the Union Cabinet on Tuesday.
The Bill is pending in the Rajya Sabha. The Bill paves the
way for the creation of a regulator to protect home buyer interests as well as
ensure accountability and transparency. With the amendments the provisions of
the Bill are also applicable to commercial real estate.
The Bill envisages setting up of one or more Regulatory
Authorities in each State/UT or one Authority for two or more States/UT by the
concerned Governments. Developers will be required to register their projects
with the Regulatory Authorities and promoters will have to disclose all
information regarding the promoters, project, layout plan, schedule of
development works, land status, among others.
The proposed amendments also dilute the provision that
required the promoter to compulsorily deposit 70 per cent of the amount
collected from consumers in a separate account in a scheduled bank within a
period of 15 days to cover the cost of construction. Now, it has been proposed
that the deposit amount will be 50 per cent of the money collected.
The Bill provides that a promoter will need the consent of
2/3rd of consumers of a project to change plans/structural designs. Also, real
estate agents have been made punishable for non-compliance of the orders of
Regulatory Authority and Appellate Tribunals to be set up, the statement added.
Yuvraj Singh starts
new innings as businessman with YouWeCan Ventures
Yuvraj Singh, the Indian Premier League's costliest player
this season, is starting a new innings as a businessman. He is floating a
venture fund that aims to support young entrepreneurs by investing in startups
across sectors.
Yuvi for millions of his fans, the 34-year-old cricketer
will put about Rs 50 crore – mostly his own money – over a period of three to
five years in the fund, YouWeCan Ventures. The fund is expected to raise around
Rs 300 crore from other investors during the period.
Indian captain Mahendra Singh Dhoni has investments in
several, mostly sports-related, businesses, but not through such a structured
fund. Singh's idol, Sachin Tendulkar, had invested in restaurant business.
Robin Uthappa has part-funded a startup, a Bengaluru-based tiffin service, but
Singh's plan is much more elaborate. YouWeCan Ventures will primarily fund
startups in healthcare, sports products, services and fashion, travel and
tourism, hospitality and e-commerce.
The plan is to offer seed capital ranging from Rs 10 lakh to
Rs 25 lakh.
Steel Companies
partnered with Union Ministry of Steel to set up Steel Research &
Technology Mission
Major Indian Steel Companies on 6 April 2015 signed a
Memorandum of Agreement (MoA) with Union Ministry of Steel for setting up of
Steel Research and Technology Mission of India (SRTMI) in New Delhi.
The primary objective of SRTMI is to promote collaborative
Research and Development (R&D) programmes between the ministry and steel
industries in priority areas of national importance in the steel sector.
Key Features of
SRTMI
The mission aims at increasing investment on R&D in the
steel sector from the present level of 0.2-0.3 to the international benchmark
of 1-2 percent of the industry turnover.
Under the mission R&D will be carried out in the areas
including best usage of available raw materials in the country and conservation
of natural resources, optimum energy conservation and minimum emissions,
innovations and in-house development of design, engineering and manufacturing
facilities of key steel plant equipments.
The mission will be set up with an initial corpus of 200
crore rupees with equal contributions coming from the Steel Development Fund of
the Ministry and the participating industries.
The mission will be formed as a registered society in close
cooperation amongst the participating steel companies, Union Ministry of Steel,
academia and other institutions in the country.
RBI lifts ban on
cross-holding of senior bonds of banks
The Reserve Bank of India has allowed cross-holding of
senior bonds of Indian lenders, subject to certain conditions including that
the proceeds of such bonds should be used for financing of infrastructure and
affordable housing.
The central bank announced the decision in its first
bi-monthly monetary policy statement today. Detailed guidelines will be issued
shortly, the RBI said.
As of today, banks' investment in these senior bonds will
not be treated as "assets with the banking system in India",
according to the RBI's policy statement.
Also, the RBI will limit a bank's participation in a
particular senior bond issue by prescribing certain limits. "Its aggregate
holding of such bonds will also be subject to certain limits in relation to its
own assets", the statement said.
As banks were not allowed to invest in senior bonds, some of
the early issuances faced investor restrictions and closed without exercise of
the greenshoe options.
India
–
IAS Officer Nilam
Sawhney Appointed CVC Secretary
Senior IAS officer Nilam Sawhney has been appointed as
secretary, Central Vigilance Commission, replacing Alok Kumar who has been made
Additional Secretary in Niti Aayog.
Sawhney, a 1984 batch IAS officer, is presently serving in
her cadre– Andhra Pradesh.
She has been appointed in the rank and pay of Additional
Secretary for a period of four years from the date of assumption of charge of
the post, an order issued by Department of Personnel and Training (DoPT) said.
Sawhney replaces her batch-mate Alok Kumar who has been
appointed as Additional Secretary, NITI Aayog for the balance period of his
central deputation tenure i.E. Upto December 13, 2016, it said.
New Delhi Municipal Council (NDMC) chairperson Jalaj
Shrivastava has been appointed as Additional Secretary in Department of
Agriculture and Cooperation.
National Green
Tribunal ruled 10-year old diesel vehicles cannot ply on Delhi roads
National Green Tribunal (NGT) on 7 April 2015 banned all the
diesel vehicles, heavy or light, over 10 years old from plying on Delhi roads.
It asked the governments and concerned agencies to ensure
within 20 hours that all entry points have units to check pollution levels,
weight and age of vehicle.
The ruling was given by a bench headed by NGT chairperson
Justice Swatanter Kumar.
In the order passed, the bench noted that a number of
countries in the world are in the process or have prohibited diesel vehicles or
are in the process of doing away with them by imposing very heavy taxes. Some of these countries include Denmark,
Brazil, China and Sri Lanka.
The first-ever
photograph of vulnerable Chestnut-breasted Partridge clicked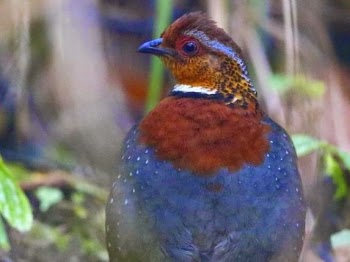 The Chestnut-breasted Partridge (Arborophila mandellii) was
photographed by a Bengaluru-based wildlife photographer Gururaj Moorching in
the first week of April 2015. The bird was spotted in West Kamang district of
Arunachal Pradesh.
The click was the first-ever photograph of the bird endemic
to the Eastern Himalayas whose scientific name was given by an Italian
naturalist and is classified as hill patridge.
Partridges are medium-sized ground-nesting birds of the
pheasant family, Phasianidae. They are a non-migratory Old World group. These
birds are found in about 45 species and is categorised as vulnerable by the
International Union for Conservation of Nature (IUCN).
Piplantri village of
Rajasthan, a village that plants 111 trees for every girl born
Piplantri Village of southern Rajasthan's Rajsamand district
was in news in second week of March 2015. This village not only embraces
daughters but also created a tradition of planting 111 trees every time on the
birth of a girl child. The plants are planted in her honour.
The village came into news, at the time when documentary
India's Daughters created national debate. The documentary portrayed violence
against women like rape and abuse in India.
The tradition was started by village's former sarpanch Shyam
Sundar Paliwal in 2006. He started the initiative in the memory of his daughter
Kiran, who died a few years ago.
World
–
Rand Paul Becomes
Second Republican to Enter US Presidential Race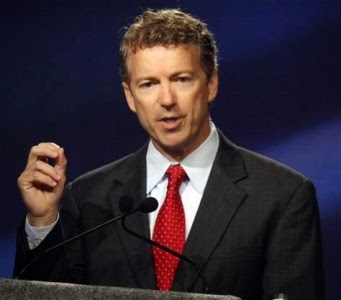 Conservative US Senator Rand Paul announced today that he is
running for his party's nomination for the 2016 presidential race, making him
the second major Republican to join the contest.
Paul, a conservative libertarian who was elected to the
Senate in 2010 with strong support from the Tea Party movement, was expected to
make a more formal announcement later in the day.
He summoned supporters and reporters to a speech at 1600 GMT
in Louisville, Kentucky, where he has served as senator since January 2011.
Paul follows Texan Ted Cruz, who launched his candidacy two
weeks ago with an appeal to religious right, among others.
Jeb Bush, brother of former president George W. Bush, leads
in opinion polls for the primary elections, although he has yet to officially
announce his candidacy.
Sri Lanka and
Pakistan signed Six Agreements
Sri Lanka and Pakistan on 6 April 2015 signed six
agreements. The signing of the agreement was witnessed by the Pakistan Prime
Minsiter Nawaz Sharif and Sri Lanka President Maithripala Sirisena at the PM
House in Islamabad.
The six agreements pertained to advancing cooperation in
disaster management, sports, shipping, socio-economic development, education
and narcotics control.
The list of six
agreements signed between Sri Lanka and Pakistan
Cooperation between Pakistan Atomic Energy Commission and
Atomic Energy Authority of Sri Lanka
Agreement on cooperation against illicit trafficking in
narcotic drugs and psychotropic substances
Academic cooperation agreement on exchange and collaboration
between National Defence University of Pakistan and Lakshman Kadirgamar
Institute of International Relations and Strategic Studies of Sri Lanka
Mutual cooperation in shipping business between Pakistan
National Shipping Corporation(PNSC) and the Ceylon Shipping Corporation Ltd
(CSCL)
Collaboration in the field of Sports
Cooperation on disaster management
Sri Lankan President Sirisena is on a three day visit to
Pakistan and this is Sirisena's first visit to Pakistan since he assumed the
charge of President of Sri Lanka in January 2015.
World's oldest person
dies at 116, held title for 5 days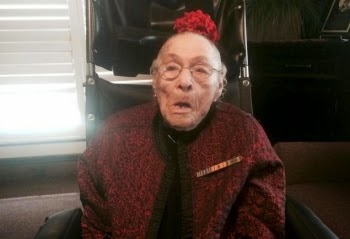 A 116-year-old American woman, who became the world's oldest
person last week, has died after suffering complications from pneumonia.
Gertrude Weaver from Arkansas became next in line to
officially earn the title of oldest person when 117-year-old Misao Okawa of
Japan died on Wednesday.
Weaver fell sick on Saturday and died yesterday at Silver
Oaks Health and Rehabilitation Centre. She is survived by her son, Joe Weaver,
who turns 94 today.
Weaver was fully aware of her unique place in the world and
"knew everything", Washington Post quoted Kathy Langley, administrator at the
rehabilitation centre, as saying.
The world's oldest known person is now Jeralean Talley, who
was born on May 23, 1899 and will turn 116 next month, according to the group.
Appointments
–
Sumit Mazumder takes
over as CII President
Sumit Mazumder, Chairman and Managing Director of TIL Ltd.,
succeeded Ajay Shriram as President of the Confederation of Indian Industry (CII)
for 2015-16 here on Tuesday.
A graduate of St Xavier's College (Kolkata), Mazumder has a
Master's in Business Administration from Sam Houston State University, Texas,
USA. He also undertook the Advanced Management Program at Harvard University.
He is also the Executive Chairman of Tractors India Pvt. Ltd. which is a
distributor for Caterpillar's earthmoving, construction and mining equipment
and power systems in India, Nepal and Bhutan.
Naushad Forbes, Director, Forbes Marshall, takes over as
President-designate of the industry body. He received his Bachelors, Master's
and PhD degrees from Stanford University and has also been a Lecturer and
Consulting Professor at the university in the Science, Technology and Society
program from 1987 to 2004.
Awards
–
Wipro Chief Premji
Conferred CII Award
Padma Vibhushan Azim Premji was conferred with the CII
President's Award at the CII National Conference and Annual Session 2015.
CII recognized Premji for driving nation building across
multiple dimensions of business, technology, community and society and shaping
the human face of Indian industry.
Wipro Group Chairman Premji, who has been at the helm of the
company since the 1960s, has been instrumental in turning what was then a USD 2
million cooking fat company into a USD 7 billion IT/BPO and R&D services
organisation with a presence in 60 countries.
He guided Wipro through four decades of diversification and
growth to emerge as one of the Indian leaders in the software industry, CII
said, adding that Premji is known for striding into the world stage to deepen
the global footprint of Indian business.
Days
–
World Health Day 2015
observed globally with the theme From farm to plate, make food safe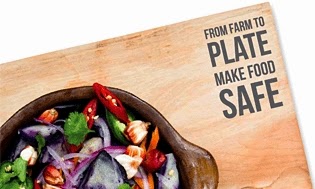 World Health Day (WHD) 2015 was observed globally on 7 April
2015. The theme for the year is From farm to plate, make food safe.
The theme was selected by the World Health Organisation
(WHO) to bring focus on growing global burden of food borne diseases and
underscore the need for coordinated cross-border action across the entire food
supply chain i.e. from farm to plate.
To mark the day, the World Health Organisation (WHO)
conducted various programmes across the world in close cooperation with
government agencies and civil society to spread awareness on food safety issues
related to the entire spectrum of food supply chain.


Regards
Team ExamPundit
Sponsored

(adsbygoogle = window.adsbygoogle || []).push({});
Books For 2015 Banking/Insurance Exams