Hello and welcome to ExamPundit. Here are the Important Current Affairs of 6th November, 2015. These are important for the upcoming RBI Grade B Officer Phase I exam.
Finance/RBI
–
RBI issued Uniform
Guidelines on Internet Banking for Cooperative Banks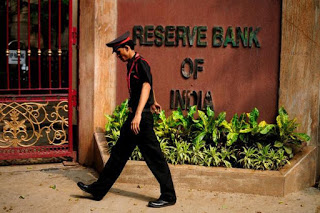 Reserve Bank of India (RBI) on 5 November 2015 issued
revised and uniform guidelines on Internet Banking for all licensed cooperative
banks including Urban Cooperative Banks (UCBs), Cooperative Banks (StCBs) and
Districts Co-operative Banks (DCBs).
These guidelines relate to Internet Banking (View Only)
facility and Internet Banking with Transaction facility.
Revised guidelines
for Internet Banking (View Only) facility
All licensed StCBs, DCCBs and UCBs which have implemented
Core Banking Solution (CBS) and migrated to Internet Protocol Version 6 (IPv6)
may offer Internet Banking (View only) facility to their customers, without
prior approval of RBI.
In case, any service offered under 'view only' facility
requires two-factor authentication or One Time Password (OTP), banks may adopt
the security features related to internet banking as prescribed by RBI, as
appropriate to such services.
The cooperative banks offering this facility to their
customers should ensure that the facility is strictly for non-transactional
services such as balance enquiry and balance viewing among others.
The cooperative banks have to report commencement of the
service to the concerned Regional Office of RBI (and also NABARD in case of
StCBs/DCCBs) within one month of operationalisation of this facility.
Earlier in 2014, only Urban Cooperative Banks (UCBs) were
permitted to offer this facility to their customers.
Revised guidelines
for Internet Banking with Transaction facility
Only those licensed StCBs, DCCBs and UCBs, which have
implemented CBS and have also migrated to IPv6 can offer this facility to their
customers with prior approval of RBI if they fulfill the following criteria:
Credit to Risk Adequacy Ratio (CRAR) of not less than 10 per
cent
Net worth is 50 crore rupees or more as on 31 March of the
immediate preceding financial year
Gross Non-Performing Assets (NPAs) less than 7 % and Net
NPAs not more than 3%
The bank should have made a net profit in the immediate
preceding financial year and overall, should have made net profit at least in
three out of the preceding four financial years.
It should not have defaulted in maintenance of Cash Reserve
Ratio (CRR)/Statutory Liquidity Ratio (SLR) during the immediate preceding
financial year.
Union Cabinet
approved UDAY for financial turnaround and revival of DISCOMS
The Union Cabinet on 5 November 2015 gave its nod to Ujwal
DISCOM Assurance Yojna (UDAY), a new scheme proposed by the Ministry of Power.
The scheme aims at alleviating the financial crunch faced by
Power Distribution companies (DISCOMs) that has impaired their ability to buy
electricity. The scheme targets the revival of DISCOMs. It will also ensure a
sustainable permanent solution to the problem.
The debt on
DISCOMs
As on March 2015, the country's DISCOMs have accumulated
losses of approximately 3.8 lakh crore rupees and outstanding debt of
approximately 4.3 lakh crore rupees.
Outstanding debt of DISCOMs increased from about 2.4 lakh
crore rupees in 2011-12 to about 4.3 lakh crore rupees in 2014-15, with
interest rates of upto 14-15 percent.
Due to the financial hassles, DISCOMs are not able to supply
adequate power at affordable rates, which turned out to be one of the hurdles
in the overall economic growth and development.
How UDAY will
revive the DISCOMS?
UDAY will empower DISCOMs with the opportunity to break even
in the next 2-3 years through four initiatives:
Improving operational efficiencies of DISCOMs.
Reduction of cost of power.
Reduction in interest cost of DISCOMs.
Enforcing financial discipline on DISCOMs through alignment
with state finances.
Key features of UDAY
States will take over 75 percent of DISCOM debt as on 30
September 2015 over two years.
Union Government will not include the debt taken over by the
states n the calculation of fiscal deficit of respective states in the
financial years 2015-16 and 2016-17.
States will issue non-SLR including SDL bonds in the market
or directly to the respective financial institutions holding the DISCOM debt to
the appropriate extent.
Govt to Impose 0.5%
Swachh Bharat Cess on Services From Nov 15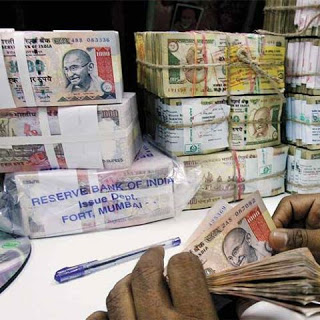 All services, including air travel, telephony, eating out
and banking will become expensive from November 15 as the government today
decided to impose a 0.5 per cent cess on all taxable services to fund the
Swachh Bharat programme.
The additional cess would be over and above the 14 per cent
Service Tax rate which is already being levied and may yield the government an
additional about Rs 400 crore during the remainder of the current fiscal.
"The government has decided to impose, with effect from
November 15, 2015, a Swachh Bharat Cess at the rate of 0.5 per cent on all
services, which are presently liable to service tax," a Finance Ministry
statement said.
Finance Minister Arun Jaitley had in Budget 2015-16 proposed
to levy a Swachh Bharat cess of up to 2 per cent "on all or certain
services, if need arises".
The decision to impose 0.5 per cent cess will translate into
a tax of 50 paise only on every Rs 100 worth of taxable services.
India
–
India, China Ink
Pacts on Water Resources, Culture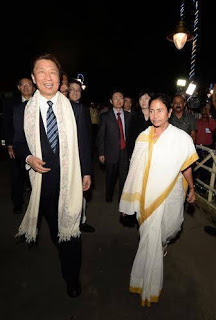 India and China today signed two agreements including one in
the field of water resources on sharing hydrological data on Satluj river after
talks between Vice President Hamid Ansari and his Chinese counterpart Li
Yuanchao here.
Li is the first Chinese Vice president to visit India in
more than six decades.
While the pact in water resources was renewal of an
agreement dealing with sharing hydrological data on Satluj, under the cultural
pact, India will hold exhibition of art from the Gupta period, which was known
as "golden period" in the country and during which famous Chinese
traveller Fa Hien came, the Spokesperson said.
Li has visited Aurangabad and Kolkata before his travel to
the national capital.
In Aurangabad, the Chinese Vice President visited the Ajanta
Caves and also met the city mayor.
Rajasthan government
launched the Agro-Processing and Agri-Marketing Promotion Policy 2015
Rajasthan Chief Minister Vasundhara Raje on 5 November 2015
launched the Rajasthan Agro-Processing and Agri-Marketing Promotion Policy
2015. The policy seeks to promote agro-processing and to reduce post harvest
losses at the farm gate.
The Agriculture Department of Rajasthan Government will be
the nodal department for the policy and Rajasthan State Agricultural marketing
Board will act as nodal agency for the policy.
The policy aims to promote agro-processing and to reduce
post harvest losses at the farm gate thus ensuring maximum prices of farmer's
agri produce. The state government also signed 112 MoUs with private companies
in different sectors during the launch of policy.
MP Government
proposed 1656 crore rupees AMRUT Action Plan
The Madhya Pradesh (MP) Government on 5 November 2015
proposed to improve basic infrastructure relating to water supply, sewerage
network services, storm water drainage, urban transport and parks and green
services.
The plans were proposed for 32 cities and towns under Atal
Mission for Rejuvenation and Urban Transformation (AMRUT) during 2015-16 at a
cost of 1656 crore rupees.
The State Annual Action Plan (SAAP) was submitted by the
State Government to the Union Ministry of Urban Development. SAAP was
formulated based on Service Level Improvement Plans for each of the 32 mission
cities.
Out of the proposed investment of 1656 crore rupees, the
Union Government will invest 672 crore rupees while the state government will
contribute 756 crore rupees. The remaining 228 crore rupees will be met from
the resources of respective urban local bodies.
21st INCOFYRA to be
organised in Bengaluru in 2016
The 21st International Conference on Frontiers in Yoga
Research and its Applications (INCOFYRA) will be held from 3 to 7 January 2016
at Prashanti Kutiram, Bengaluru.
The summit will be organized by the Vivekananda Yoga
Anusandhana Sansthana. The 21st INCOFYRA will bring together the traditional
and modern medical systems.
The theme of the conference is Yoga in Integrated Healthcare
Systems.
The conference targets to promulgate the research findings
in the field of integrative medicine and give directions to future research on
Dialectology, Oncology, Cardiology, Mental Health, and so on.
The Prime Minister of India Narendra Modi will inaugurate
the conference.
Appointments
–
Tanzania's first
female Vice President Samia Suluhu sworn in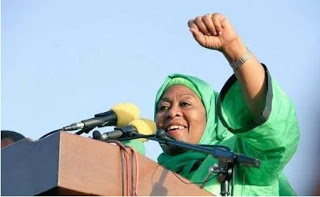 Tanzania's first female Vice President Samia Hassan Suluhu
on 5 November 2015 was sworn into office. She was sworn in along with the new
President John Pombe Magufuli at the swearing-in ceremony held in the country's
economic capital Dar es Salaam.
Magufuli, the ruling Chama Cha Mapinduzi (CCM) party's
candidate, emerged victorious on 29 October 2015 in the presidential elections
of Tanzania. The National Electoral Commission (NEC) declared that Magufuli won
the election with 58.46 percent of votes.
Born on 27 January 1960, Suluhu started her career by
working as a clerk in the Ministry of Planning and Development.
V Sivaramakrishnan
appointed as Managing Director of Oxford University Press India
V Sivaramakrishnan (Siva) was on 5 November 2015 appointed
as the Managing Director of the Oxford University Press India (OUPI) with
regional responsibilities including Bangladesh, Sri Lanka, and Nepal. He will
also join the Asia Education Divisional Board of OUP.
He succeeds Ranjan Kaul, who will retire in November 2015
end after working with OUP for 14 years.
Prior to this appointment, Sivaramakrishnan was working in
Manipal Global Education Services where he has overseen seven years of strong
business development, improved quality assurance, and the effective delivery of
supporting technology platforms.
Awards
& Honors –
Veteran actor Vikram
Gokhale honoured with Vishnudas Bhave Award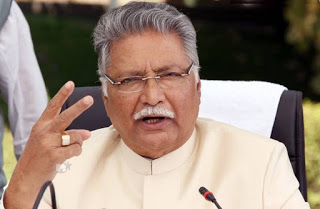 Renowned film, television and stage actor Vikram Gokhale on
5 November 2015 was conferred with the prestigious Vishnudas Bhave Award.
Gokhale was honoured with the award at a ceremony held in
Sangli, Maharashtra on the eve of Marathi Rangbhumi Din. Prominent
actress-singer Faiyaz Shaikh presented the award to him.
The actor was felicitated with the award for his outstanding
contribution to Marathi theatre.
In 2011, Gokhale was awarded with the Sangeet Natak Akademi
Award for his Acting in Theatre. In 2013, he was facilitated with the National
Film Award for Best Actor category for his Marathi film Anumati.
Books
& Authors –
Rebooting India
authored by Nandan Nilekani & Viral Shah released
The book titled Rebooting India: Realizing a Billion
Aspirations authored by Nandan Nilekani and Viral Shah was released on 4
November 2015.
The book talks about the demographic dividend of India,
which is expected to be the world's youngest country by 2020 with 64 percent
(roughly 800 million) of its population of working age.
It also suggests that India may fail to become a global
powerhouse, if it fails to resolve the contradictions and bridge gaps that
distort our society.
Through the book, the authors Nilekani and Shah say that
challenge before us is to enable every one of India's 1.2 billion citizens to
realize their aspirations. According to them, it can be achieved only by using
technology to radically reimagine government itself.


Regards
Team ExamPundit
Sponsored

(adsbygoogle = window.adsbygoogle || []).push({});
Books For 2015 Banking/Insurance Exams