Hello and welcome to ExamPundit. Here are the Important Current Affairs of 3rd September, 2015 along with Daily 5 Expected Questions from Stock GK. These are Important for the upcoming IBPS PO V Mains Exam.
Finance/Industry/Banking
–
Forward Markets
Commission to be merged with SEBI with effect from 28 Sept 2015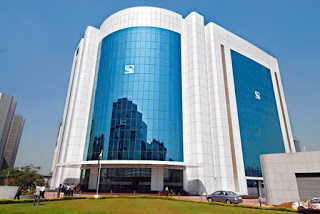 Union Government on 28 August 2015 notified the merger of
commodities market regulator Forward Markets Commission (FMC) with Securities
and Exchange Board of India (SEBI). Its merging will be effective from 28
September 2015.
For this purpose, the government repealed the Forward
Contracts Regulation Act (FCRA) 1952 and made a way to shift the Regulation of
Commodity Derivatives Market to SEBI under Securities Contracts Regulation Act
(SCRA) 1956.
An official press release said, Finance Minister Arun
Jaitley, in his Budget speech, had announced the merger of FMC with the capital
market regulator SEBI to strengthen the regulation of commodity futures market.
A unified regulator for commodities and capital markets will
help streamline monitoring of commodity futures trading and curb wild
speculations.
NSE enters into MoU
with Stock Exchange of Mauritius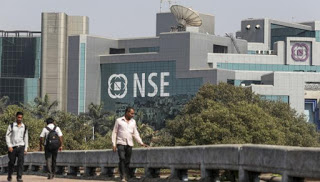 The National Stock Exchange of India Ltd (NSE) has entered
into a Memorandum of Understanding (MoU) with the Stock Exchange of Mauritius
Ltd (SEM) for fostering a deeper and more strategic relationship between the
two bourses.
The MOU would also facilitate the development of channels
for knowledge sharing and developing mutual synergies for the growth and
development of SEM and NSE.
The areas of co-operation under the MOU will encompass
education, training and knowledge transfer in securities markets, product
development and indices creation as well as capacity development in the field
of surveillance and investigation.
ICICI Lombard in
bancassurance tie-up with CSB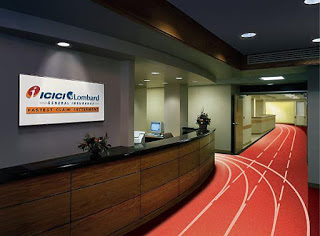 ICICI Lombard General Insurance has tied up with Catholic
Syrian Bank(CSB) for sale of its products through 431 branches of the bank.
Through the bancassurance tie-up, the company will able to
offer general insurance solutions to the bank's customer base in Kerala, Tamil
Nadu, Karnataka and Maharashtra.
The 94-year-old Kerala-based bank has a strong presence in
the southern and western parts of the country. The bank had distribution
network of 431 branches across 15 states and 4 union territories as on December
31, 2014.
ICICI Lombard would be able to offer its risk solutions to
the bank's customer base of 16 lakh clients (as on December 31, 2014). The
bank's focus is on the small and medium enterprises (SMEs) and retail client
segments apart from NRI customers.
PHDCCI launched
Intellectual Property Rights Facilitation Centre for MSMEs in Lucknow
PHDCCI on 2 September 2015 launched Intellectual Property
Rights Facilitation Centre (IPFC) for Micro Small and Medium Enterprises
(MSMEs) in Lucknow, Uttar Pradesh.
The focus of the centre is to nurture innovative activities
in the MSME located in Uttar Pradesh.
PHD Chamber of Commerce and Industry (PHDCCI) is a New-Delhi
based multi-state agency engaged in the promotion of industry, trade and
entrepreneurship.
Appointments
–
Bazmi Husain
appointed as Chief Technology Officer of ABB India Ltd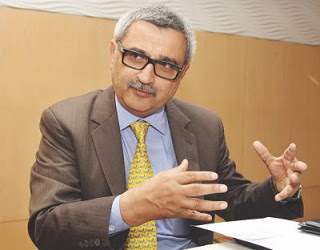 Bazmi Husain was on 2 September 2015 appointed as Chief
Technology Officer (CTO) of ABB India Ltd. Husain is a power and automation
expert and has been with ABB for more than 30 years. Currently, he is working
as Managing Director of ABB in India.
As a CTO, he will report to ABB's CEO Ulrich Spiesshofer and
will begin work as CTO with effect from 1 January 2016. He will be based in
Bangalore office of ABB India along with an office in Switzerland.
He will be responsible for overseeing all aspects of ABB's
global Research and Development, which serves the entire company, its
scientists and engineers.
World
–
Canada entered first
technical recession in six years
Pulled by falling energy prices and economic troubles in
China, Canadian economy entered into the first technical recession in six
years. This was revealed by Canada's national statistical agency Statistics
Canada on 1 September 2015.
Technical recession means negative economic growth by a
country's gross domestic product (GDP) for two consecutive quarters.
From this viewpoint, as revealed by Canada Statistics,
Canadian economy retreated at an annual pace of 0.5 percent during Quarter 2
(April-June 2015) which followed a decline of 0.8 percent in GDP growth during
the Quarter 1 (January – March 2015).
The last time the Canadian economy saw the technical
recession was in 2009, when GDP was pulled back by 8.7 percent in the first
quarter and 3.6 percent in the second.
Low-cost device to
monitor air quality unveiled by UNEP in Nairobi
The United Nations Environment Programme (UNEP) on 31 August
2015 unveiled a low-cost device to monitor air quality in the Kenyan capital
Nairobi. It costs around 1500 US dollars per unit.
It is a low-cost device in the sense that it is expected to
cost up to 100 times less than existing solutions.
Key features of
the monitoring device
It is capable of collecting all the vital parameters of air
quality.
It has built-in Global Positioning System (GPS) that enables
it to connect to the UNEP Live platform that monitors air quality from 2000
stations located across the world on real-time basis.
It can measure the concentration of particulate matter
ranging from 1 to 10 microns in diameter (PM 1 – PM 10), including PM 2.5,
considered by the WHO to have the greatest effect on human health.
It also records the concentration of sulphur and nitrogen
oxides and can be extended to measure other gases such as ozone.
NASA and USAID
launched SERVIR-Mekong to monitor environment in Southeast Asia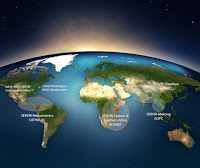 NASA and the United States Agency for International
Development (USAID) on 31 August 2015 launched SERVIR-Mekong, to serve the
countries of the Mekong River Basin: Cambodia, Laos, Myanmar, Thailand and
Vietnam.
It is a joint project that is aimed at strengthening
regional environmental monitoring in the above five countries in the lower
Mekong region of Southeast Asia. The SERVIR-Mekong will aid climate resilience,
food and water security.
The SERVIR-Mekong hub is located at the Asian Disaster
Preparedness Center in Bangkok, Thailand. It joins a growing global community
of scientists and decision-makers using publicly available data from space
assets to address critical regional issues.
Books
& Authors –
Book titled
Globalisation, Democratization and Distributive Justice presented to Hamid
Ansari
Book titled Globalisation, Democratization and Distributive
Justice was presented to Vice President Hamid Ansari on 2 September 2015. The
book has been authored by Mool Chand Sharma, Professor of Law at Delhi
University and presently the Member of 20th Law Commission of India.
The book acknowledges talks about measures like Employment
Guarantee Act, Right to Education Act and Food Security Act. It also says that
some of the recent steps taken on economic and fiscal side like introduction of
Goods and Services Tax, schemes related to financial inclusion and others along
with initiatives like Make in India, Digital India, Skill India and Swachchh Bharat
Abhiyan can prove catalyst in this regard.
Obituaries
–
Disney Star Dean
Jones Dies at 84
Actor Dean Jones, who starred in classic Disney family
comedies like "That Darn Cat!" and "The Love Bug", has
died. He was 84.
Jones died on September 1 of complications from Parkinson's
disease in LA, publicist Richard Hoffman announced, according to The Hollywood
Reporter.
Jones' film grosses exceeded USD 960 million, Hoffman noted.
The actor was inducted into the Disney Legends Hall of Fame in 1995.
A leading man with a light comic touch, Jones also appeared
in the Disney films "The Million Dollar Duck" (1971), "Snowball
Express" (1972) and the sequel "Herbie Goes to Monte Carlo"
(1977) — as well as in the CBS series that it spawned — and in another family
classic, "Beethoven" (1992).
Jones made his Disney debut as an FBI agent in "That
Darn Cat!" (1965), about a wily Siamese who help bring bank robbers to
justice.
Hollywood Actress
Amanda Peterson Dead
Amanda Peterson, best known for her role in the 1987 film
Can't Buy Me Love opposite Patrick Dempsey, died from an accidental overdose of
a deadly combination of multiple drugs including morphine.
The "morphine effect" reportedly caused
respiratory failure, leading to her death, reported TMZ.
The retired actress' body was discovered in her Colorado
apartment on July 5, two days after her death. She was 43.
According to the Weld County Coroner in Colorado, Peterson
had a variety of prescription drugs in her system, including anti-anxiety
medication, anti-psychotic medication, opiates and marijuana.
The '80s star had a long history of substance abuse. She was
allegedly arrested four times over the last 20 years in her hometown of
Greeley, Colo. Most recently, she was booked in May 2012 on a DUI and drug
paraphernalia charge.
Daily
Expected Questions on Stock GK:
1. Indirasagar Dam is
located in which state?
– Madhya Pradesh
2. Birsa Munda
Athletics Stadium is located in which city/state?
– Ranchi, Jharkhand
3. Satkosia Tiger
Reserve is located in which Indian state?
– Odisha
4. Brihadeeswarar
Temple is located in which state?
– Tamil Nadu
5. Lev is the
currency of which country?
– Bulgaria


Regards
Team ExamPundit
Sponsored

(adsbygoogle = window.adsbygoogle || []).push({});
Books For 2015 Banking/Insurance Exams


EP Recommends: Practicemock Free Mock Tests