Hello and welcome to ExamPundit. Here are the Important Current Affairs Update of 2nd and 3rd October, 2015. These are Important for the upcoming IBPS PO V Mains Exam.
India
–
PM Modi Inaugurates
Solar-Powered Court In Jharkhand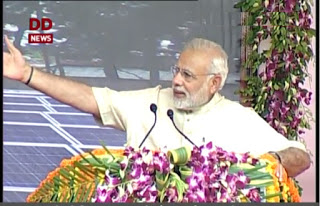 Making an appeal to stop wastage of electricity, the Prime
Minister said that like solar energy, we also need to focus on energy conservation.
He also said that we can not use up all our resources, we
must think about the future.
Stressing on the need for renewal energy in the country, the
Prime Minister said India is moving from Megawatt to Gigawatt.
He added that India will be successful in achieving the
target of 175 Gigawatt of clean energy by 2022.
PM Modi also made an appeal to use LED bulbs to save energy
as well as control the household budget.
On the occasion, Prime Minister Narendra Modi said that
problem of Climate change is a serious concern and India is not at all
responsible for the danger.
He added that India is ready to contribute for future
generations.
INS Sahyadri in
Vietnam on a four-day visit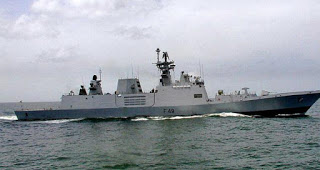 As part of India's Look East and Act East Policy, Indian
Navy's indigenously built multi-role stealth frigate INS Sahyadri entered Da
Nang in Vietnam on Friday on a four-day visit.
The Shivalik Class warship as part of its operational
deployment to South China sea and the North West Pacific region is visiting
Vietnam with a view to strengthening bilateral ties and enhancing
inter-operability between navies of the two countries.
Indian warships had last visited Hai Phong, Vietnam, in
August, 2014. During her stay in harbour, various activities aimed at enhancing
cooperation and interaction between the two navies are planned.
These include official calls and interaction with
dignitaries of the Vietnamese government and the Vietnamese Peoples' Navy
(VPN), reception onboard INS Sahyadri, onboard visits by local populace, guided
tours for Indian naval personnel and professional interaction between personnel
of both the navies, according to a statement issued by the Indian Navy.
INS Sahyadri, inducted into the Indian Navy on 21 July 12,
is a multi-role stealth frigate. It boasts of an impressive array of weaponry
in her arsenal. Long range anti-ship missiles, medium and short range surface
to air missiles augmented by powerful guns of different calibres provide a
formidable shield against all types of surface and air threats.
The capability to carry two integral multi-role helicopters
significantly enhances the potency of this ship. INS Sahyadri is presently
being commanded by Captain Kunal Raj Kumar.
Dabur India to adopt
5 UP villages to support 'Swachh Bharat' campaign
Coinciding with the first anniversary of Prime Minister
Narendra Modi's 'Swachh Bharat' initiative, homegrown FMCG major Dabur India
today said it will adopt five villages in Uttar Pradesh and make them
'Open—Defecation Free' within the current fiscal.
The five villages to be adopted by Dabur India are Nandpur,
Nagla Gajju, Naraina, Nidhawali and Domatikri.
Under the programme, the company will ensure that all
households in these five villages have toilets. Besides, the 20—odd schools in
these villages would get separate toilet blocks for boys and girls, Dabur India
said in a statement.
The company further said that it has also identified five
other villages in Uttar Pradesh, six in Uttarakhand and two in Himachal Pradesh
for construction of household toilets.
Last year, the company had announced plans to construct
nearly 1,000 household toilets as part of the Swachh Bharat mission.
Dabur India said it has already constructed close to 600
toilets under this initiative.
The company has also decided to financially support the poor
households in construction of toilets in their homes.
Appointments
–
Dr Anup K Pujari
assumed additional charge as CMD of Steel Authority of India Limited
Dr Anup K Pujari on 1 October 2015 assumed additional charge
as the Chairman and Managing Director of Steel Authority of India Limited
(SAIL).
At present, he is the Secretary, Government of India,
Ministry of Micro, Small and Medium Enterprise (MSME).
Besides as the CMD of SAIL, he was also given additional
charge of the post of Secretary in Ministry of Steel.
S Mookerjee is new
Financial Commissioner of Railways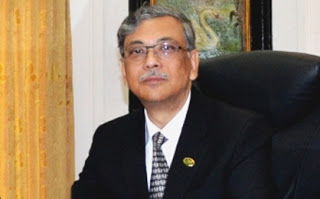 S Mookerjee has taken over as the new Financial Commissioner
— Railways and ex-officio Secretary to the Government of India, said a release.
He succeeds Rajalakshmi Ravi Kumar who retired on attaining superannuation on
Wednesday.
Prior to this, Mookerjee was Director General, National
Academy of Indian Railways (NAIR), Vadodara.
An officer of Indian Railway Accounts Service of 1978 batch,
Mookerjee has worked on various higher and middle-level management posts in
Railways.
His core competence is information technology and computer
applications, financial management and policy.
Shashank Manohar to
be elected unopposed as BCCI president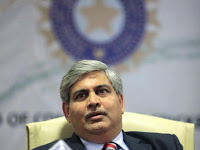 Lawyer-turned-administrator Shashank Manohar is all set to
be elected unopposed as BCCI President tomorrow, bringing in a new era in the
cricket body that was not long ago hit hard by the IPL scandal which saw the
end of strongman N Srinivasan's clout.
Manohar will take over the post at the Board's Special
General meeting here tomorrow as he was the only candidate left in the fray for
the election whose deadline for nomination ended today.
The election was necessitated by the sudden demise of
Jagmohan Dalmiya who had a short term of seven months after his election in
March this year. Earlier he was made the interim President when Srinivasan
"stepped aside" in the wake of revelations that his son-in-law was involved in
betting during the 2013 IPL season.
All the six units of East Zone unanimously proposed
Manohar's candidature for the president's post, reflecting former chief N
Srinivasan's diminishing hold in Board's power politics.
With BCCI's Special General Meeting scheduled tomorrow,
Manohar's anointment to the hot seat is just a mere formality after the
scrutiny of the nomination forms showed that all the six East Zone units have
separately signed as proposers.
Sports
–
Sania—Hingis pair
clinches Wuhan Open WTA title
Ace Indian tennis star Sania Mirza continued her superb run
with Swiss partner Martina Hingis as the duo clinched its seventh title
together by winning the Wuhan Open women's doubles trophy here today.
The top—seeded pair eased past the Romanian team of Irina—Camelia
Begu and Monica Niculescu 6—2, 6—3 in the title clash.
Sania and Hingis had it relatively easy in the second round,
quarterfinals and semi—finals after getting a first round bye in the
tournament.
Sania and Hingis dropped serve three times and fought back
from a 2—0 deficit in the second set to emerge triumphant in the summit clash
today.
With today's win, the Indo—Swiss pairing has seven WTA
doubles titles together this year —— Indian Wells, Miami, Charleston,
Wimbledon, the US Open, Guangzhou and Wuhan.
They have won their last three tournaments and their last 13
matches without dropping a single set.
Days
–
International Day of
Non-Violence observed across the world
The International Day of Non-Violence was observed on 2
October 2015 across the world. It was celebrated to mark the birth anniversary
of Mahatma Gandhi, a pioneer of the philosophy and strategy of non-violence.
On this occasion, governmental and nongovernmental
organizations conducted awareness activities and special talks on the significance
of Non-violence as a political as well as a social practice.
The International Day of Non-Violence was created by the
United Nations by a resolution of the General Assembly on 15 June 2007.
The resolution was aimed at reaffirming the universal relevance
of the principle of non-violence and the desire to secure a culture of peace,
tolerance, understanding and non-violence.
World
–
Microsoft acquires
Irish 3D physics provider Havok from Intel
Redmond-based technology major Microsoft on Saturday said
that it has acquired Irish video game engine and 3D physics provider Havok from
American chip-maker Intel.
Havok, whose business model involves licensing its physics
technology to developers, was founded in 1998 in Dublin, before being purchased
by Intel in 2007 to accelerate its play in the gaming market.
Havok has previously partnered with Activision, EA, Ubisoft,
Nintendo, Sony, Microsoft and many others to create more than 600 games
including Halo, Assassin's Creed, Call of Duty, Destiny, Dark Souls and The
Elder Scrolls.
It also contributed in developing special effects in movies
like "The Matrix" and "Charlie and the Chocolate Factory".


Regards
Team ExamPundit
Sponsored

(adsbygoogle = window.adsbygoogle || []).push({});
Books For 2015 Banking/Insurance Exams


EP Recommends: Practicemock Free Mock Tests