Hello and welcome to ExamPundit. Here are the Important Current Affairs of 3rd November, 2015. These are Important for the upcoming IBPS Clerk 2015 Exam.
Finance/RBI
–
RBI fixes gold bonds
issue price at Rs. 2,684 per gram
The Reserve Bank of India has fixed the public issue price
at Rs. 2,684 per gram for the sovereign gold bonds, for which applications will
be accepted from November 5 to 20.
Aimed at providing an alternative to buying physical gold,
the gold bond scheme will offer investors an interest rate of 2.75 per cent and
a choice to buy bonds worth 2 grams of gold, up to a maximum of 500 grams.
The rate has been fixed on the basis of simple average of
closing price for gold of 999 purity of the previous week (October 26—30, 2015)
published by the India Bullion and Jewellers Association Ltd (IBJA), the RBI
added.
The bonds, which will be sold through banks and designated
post offices, would be issued on November 26.
Applications for the bonds will be accepted from November 5
to November 20, 2015.
India
–
SC issued notice to
Union Government over improper implementation of MGNREGA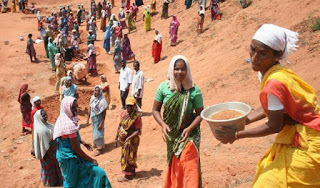 The Supreme Court of India (SC) on 2 November 2015 issued a
notice to the Ministry of Rural Development over improper implementation of
Mahatma Gandhi National Rural Employment Guarantee Act (MGNREGA), 2005.
The notice was issued by a bench comprising Chief Justice H
L Dattu and Justice Amitava Roy while hearing a Public Interest Litigation
(PIL) filed by social activists Aruna Roy, Nikhil Dey and Lalit Mathur.
In the PIL, the petitioners contended that the government
failed to pay wages and compensation to rural workers in a timely manner and at present, dues payable
amounted to around 3100 crore rupees.
Odisha government
banned fishing to protect Olive Ridley turtles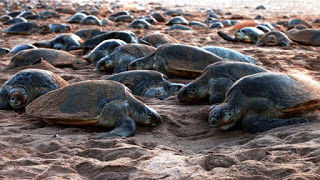 Odisha Government on 2 November 2015 imposed a seven-month
ban on fishing along the coast. The ban will be in force from 1 November 2015
to 31 May 2016.
The forest department of the state imposed the ban with an
aim to protect the endangered Olive Ridley sea turtles that nests along the
coast during winters.
The restriction has been imposed as per Orissa Marine
Fishing Regulation Act (OMFRA), 1982 and provisions of the Wildlife Protection
Act, 1972.
International
Indigenous Terra Madre 2015 started in Shillong
The five day-long unique event, International Indigenous
Terra Madre-2015, which brings over a 100 tribes from 58 countries, kicked off
on 3 November 2015 in Shillong, Meghalaya. The event will run till 7 November
2015.
The theme of the event is The Future We Want: Indigenous
Perspectives and Actions.
International representatives from 14 African countries, 17
Asian countries, 8 European countries, 12 American countries and 7 Oceania
countries will take part in the event.
First International
Film Festival for the persons with disabilities to be held in Delhi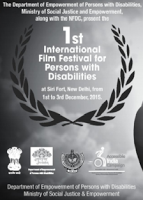 To recognise the spirit of the persons with disabilities,
first international film festival for the persons with disabilities (IFFPD) will
be held in Delhi from 1 December to 3 December 2015.
The announcement with regard to the three-day event was made
by Secretary, Department of Empowerment of Persons with Disabilities, Ministry
of Social Justice & Empowerment, Lov Verma on 2 November 2015.
The film festival will show case cinemas that open our world
to their mind space, and sensitise on issue relating to disabilities.
ICGS Arinjay
commissioned in Kochi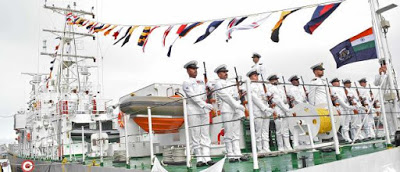 An Indian Coast Guard Ship (ICGS) Arinjay was on 1 November
2015 commissioned by Vice Admiral Sunil Lanba PVSM, AVSM Flag Officer
Commanding-in-chief, Southern Naval Command at a ceremony held at Naval Base in
Kochi.
The ship will be based at Okha under the administrative and
operational control of the commander, coast guard region (north west).
The ship is commanded by Commandant AK Mudgal and has
complement of four officers and 31 enrolled personnel.
The ship is 15th in the series of 20 Fast Patrol Vessels
(FPV).
The 50-metre indigenous FPV has a displacement of 290 tonnes
and can achieve a maximum speed of 33 knots with an endurance of 1500 nautical
miles at economical speed of 13 knots.
Appointments
–
Deepak Singhal
appointed Executive Director of Reserve Bank of India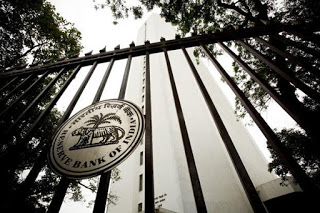 The Reserve Bank of India (RBI) on 2 November 2015 appointed
Deepak Singhal as the Executive Director (ED). The appointment is effective
from the same date.
Singhal replaced K K Vohra who will now look after the
Deposit Insurance and Credit Guarantee Corporation (DICGC).
After the appointment, Singhal will look after Central
Security Cell, Corporate Strategy and Budget Department, Department of
Corporate Services, Human Resource Management Department (including HR
Operations Unit), Rajbhasha Department and Right to Information Act Division.
Prior to his appointment as ED of India's central banking
institution, Singhal worked as the Regional Director in-charge of RBI, New
Delhi.
Suresh N Patel
appointed as MD & CEO of Andhra Bank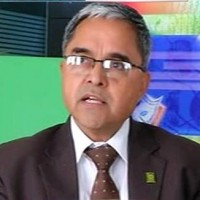 Suresh N Patel was appointed as the managing director &
chief executive officer (MD & CEO) of Andhra Bank. He took charge on 2
November 2015 in New Delhi.
He has around three decades of experience in the banking
sector at various levels and most of it in Gujarat.
He succeeded CVR Rajendran who retired on 30 April 2015 and
became the CEO of Association of Mutual Funds in India.
Patel was the executive director at Oriental Bank of
Commerce since January 2014. Prior to that, he served as the general manager of
Gujarat operations at Dena Bank.
Captain Krishna
Swaminathan took over command of aircraft carrier INS Vikramaditya
Captain Krishna Swaminathan on 2 November 2015 assumed the
charge as the second Commanding Officer of INS Vikramaditya at Karwar.
INS Vikramaditya is Indian Navy's new and formidable
aircraft carrier which was commissioned at Severodvinsk in Russia on 16
November 2013 and was being commanded by Captain Suraj Berry, NM. The ship is
capable of operating MiG 29K/KuB fighters, Sea Harrier, Kamov 31, Kamov 28, Sea
King, Advanced Light Helicopter (ALH) and Chetak Helicopters from its deck.
Ravikumar Sreedharan
appointed as MD of Unisys Corporation India
Ravikumar Sreedharan was on 31 October 2015 appointed as
Managing Director of Indian unit of Information Technology firm Unisys
Corporation with effect from 31 October 2015. Sreedharan succeeds Kumar
Prabhas, who served as MD of Unisys India for last eight years.
In his new role at Unisys India, Sreedharan will be
responsible for leading the company's operations in India which includes more
than 5000 employees working at state-of-the-art sites at Bengaluru, Hyderabad
and Mumbai.
Books
& Authors –
Advantage India-From
Challenge to Opportunity authored by Former President APJ Abdul Kalam and Srijan Pal Singh released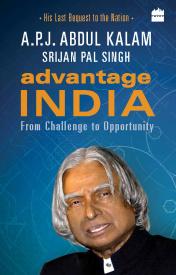 Former President APJ Abdul Kalam's last book about how can
new initiatives like 'Make in India', 'Swachh Bharat' can be used to unleash
country's vast potential, was today launched at the Indian Institute of Management-Ahmedabad(IIMA)
here.
The book 'Advantage India-From Challenge to Opportunity' has
been co-authored by IIMA alumnus Srijan Pal Singh, who along with IIMA director
Prof Ashish Nanda were present on the occasion.
According to Singh, who had earlier co-authored Target 3
Billion with Kalam in 2011, Kalam had completed 99 per cent of the book before
he died in July this year.
In this book, Kalam tried to provide insight into how can
the new initiatives, such as 'Make in India', 'Swachh Bharat', skill
development and 'Smart Cities', can be used to unleash the country's vast
potential, Singh said.
Sports
–
Mana Patel, Virdhawal won best swimmers' award in 69th
senior National Aquatic Championships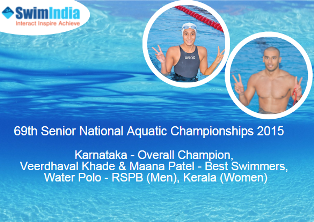 Mana Patel and Virdhawal Khade emerged as the best swimmers
of the 69th senior National Aquatic Championships 2015 that concluded in Rajkot
on 2 November 2015.
Mana from Gujarat was adjudged the best swimmer in the
women's category of the competition. She broke her national record by 13 micro
second in women's 50m backstroke race. She completed the 50m backstroke event
in 30.25 second. Earlier in 2014, she had set a record in the 50m backstroke
event taking time of 30:38 seconds.
Awards
& Honors –
AIR programme on
child labour bagged top prize at ABU Prizes
All India Radio's programme on child labour on 30 October
2015 bagged the first prize under the Community Service Announcement category
at the Asia-Pacific Broadcasting Union (ABU) Prizes 2015.
The prize was announced at a function held at Ankara,
Turkey, on the sidelines of 52nd ABU General Assembly and Associated Meetings.
The award comprises a prize worth 2000 US dollars along with
a certificate and a statuette.
The programme was aired in Malayalam language and was titled
Nilkkam Ivarkkoppam, which means Stand Beside Them. The programme was a part of
an initiative taken up by Biju Mathew, Programme Executive at AIR
Thiruvananthapuram on behalf of All India Radio.
C-DOT's GyanSetu
bagged Recognition of Excellence award at ITU World Telecom Event, Budapest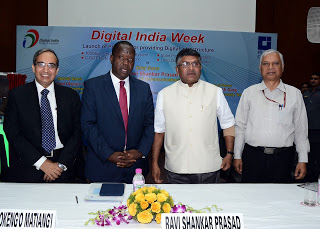 The Centre for Development of Telematics (C-DOT) on 2
November 2015 bagged the Recognition of Excellence award for GyanSetu at the
ITU World Telecom 2015 held at Budapest, Hungary.
GyanSetu seeks to facilitate Prime Minister's Digital India
Initiative and was selected for the award for its innovative approach and
social impact.
It was showcased live at the event as a part of Digital
India Pavilion by the C-DOT under the Ministry of Communication and Information
Technology (IT).
In addition, Terabit Router, 100G OTN Platform, GPON – Fiber
to the Desk Solution and Telecom Geo-Intelligence Solutions were also demonstrated
by C-DOT at the event.
It is an innovative product for rural India. It aims at
overcoming the limiting factors of rural masses and facilitates for connecting
them to internet in local language.
World
–
Nepal, US armies
launched Joint Military training Balance Nail 16-01
To help strengthen bilateral defence tie, the special forces
of the US and Nepalese armies on
launched a month-long joint military training codenamed Balance Nail
16-01 in Nepal's mountainous regions.
According to Nepal Army headquarters, Mahavir Battalion, a
specially trained ranger of the Nepal Army and A Company 1st battalion, 1st SFG
(angel) group of the Special Forces of the US Army started Balance Nail 16-01
training at Nepal Army's training centre Chhauni and Nagarkot area.
Participants of the training will receive training on
tactical combat casualty care, long range marksmanship, breaching, combat
markmanship, demolition, combined culmination exercise among others, during the
training.
Report/Indexes
–
The Legatum
Prosperity Index 2015 released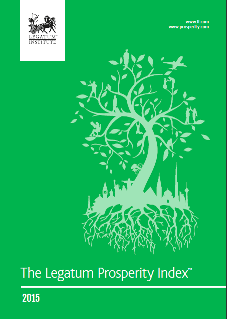 The Legatum Prosperity Index 2015 was released on 2 November
2015 by the Legatum Institute in London. The index offers insight into how
prosperity is forming and changing across the world.
In terms of overall prosperity, While Norway topped the
table consecutively for the seventh year in a row; Central African Republic was
at the bottom among the 142 countries surveyed.
Overall prosperity ranking:
Norway (1), Switzerland (2), Denmark (3), New Zealand (4) and Sweden (5)
topped the table, while Burundi (138), Chad (139), Haiti (140), Afghanistan
(141) and Central African Republic (142) were at the bottom.
Obituaries
–
Former West Bengal
assembly speaker Hashim Abdul Halim died
Former West Bengal assembly speaker Hashim Abdul Halim
passed away on 1 November 2015 following cardiac problems in Kolkata. He was
80. Halim created a record of serving as the Assembly speaker for 29 long years
from 1982 to 2011 during the Left Front rule.
A member of the Communist Party of India (Marxist) (CPI-M),
he was elected as an MLA for the first time in 1977, when the CPI(M)-led Left
Front came to power. He was elected to the state assembly for seven consecutive
terms till 2011.


Regards
Team ExamPundit
Sponsored

(adsbygoogle = window.adsbygoogle || []).push({});
Books For 2015 Banking/Insurance Exams