Hello and welcome to ExamPundit. Here are the Important Current Affairs of 30th September, 2015. These are Important for the upcoming IBPS PO Mains 2015 Exam.
List/Indexes
–
Financial Times
released data on FDI in H1 2015; India emerged most-favoured destination
London-based business daily Financial Times (FT) on 29
September 2015 released Foreign Direct Investment (FDI) data for the period
January – June (H1) of 2015. As per the data, India in the first half of 2015
surpassed China to emerge as the most-favoured destination for FDI.
India received 31 billion dollar of foreign capital inflows
through FDI during January-June 2015 while China with 28 billion dollars is
placed at number two position. India and China are followed by the US with 27
billion dollars at third place.
Main Points with
respect to India
FDI inflow into India grew 47% to 24 billion dollar in 2014,
a year when many other major FDI destinations posted declined.
India has more than doubled its mid-year investment levels,
attracting 30 billion dollars by the end of June 2015 compared to 12 billion
dollars in the first half of 2014.
Ranking of top destinations for greenfield investment
(measured by estimated capital expenditure) in the first half of 2015 shows
India at number one having attracted roughly 3 billion dollar more than China
and 4 billion dollar more than the US.
India up 16 places to
55th on global competitiveness index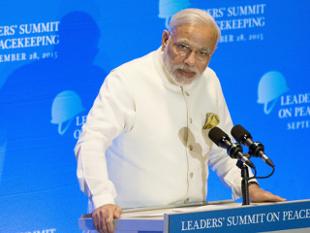 In a big jump, India has moved up 16 positions to rank 55th
on a global index of the world's most competitive economies, where Switzerland
remains on top.
The jump in India's position underlines the country's recent
economic recovery, improvement in the competitiveness of the country's
institutions and its macroeconomic environment and a "slight
improvement" in infrastructure, the World Economic Forum (WEF) said in its
latest Global Competitiveness Report.
Globally, Switzerland has retained its top position as the
world's most competitive economy for seventh year in a row and is followed by
Singapore, the US, Germany and the Netherlands in the top-five.
These are followed by Japan, Hong Kong, Finland, Sweden and
the UK in the top-ten.
Among emerging economies, India has ended five years of
decline with a 16-place jump to 55th position. However, South Africa is ranked
higher and it has re-entered the top 50, progressing seven places to 49th.
WEF said that the most problematic factors for doing
business in India include corruption, policy instability, inflation and access
to finance.
Industry
–
NDTV signed 100 crore
rupees deal with Taboola
NDTV Convergence, the digital wing of NDTV group, on 30
September 2015 signed a strategic deal with the US-based content recommendations
engine Taboola worth around 100 crore rupees for 3 years. The deal is signed to
boost the entire network of desktop and mobile sites of NDTV.
As per the agreement, Taboola will serve as the exclusive,
multi-platform content discovery partner across all the sections of NDTV.
Besides, Taboola will also provide advertisers with an option to target the
premium NDTV audience through native content marketing. Both the companies will
also work together to increase the user engagement.
Appointments
–
Indian Government
appointed four Brand Ambassadors for Digital India Programme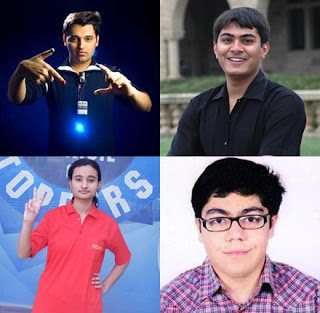 Government of India on 29th September 2015 announced that
four brand ambassadors for Digital India programme were appointed.
The appointments were took place in the first week of July
2015 as part of the Digital India Week campaign.
List of Brand
Ambassadors
Satwat Jagwani, All India IIT-JEE —Advanced Topper -2015
(Student)
Krati Tiwari, All India IIT-JEE —Advanced Girl Topper -2015
(Student)
Ankit Fadia, Author & Ethical Hacker
Pranav Mistry, Samsung USA (Computer Scientist & Author
of 6th Sense)
The services of these Brand Ambassadors will be used for
generating mass awareness for the programme for a period of one year since
their nomination.
Jayant Prasad
appointed as Director General of Institute for Defence Studies and Analyses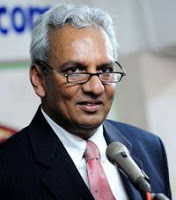 Former Indian ambassador to Nepal Jayant Prasad was on 29
September 2015 appointed as the Director General of Institute of Defence
Studies and Analyses (IDSA), the prestigious New Delhi-based think tank on
strategic affairs.
The post of Director General of IDSA had been vacant since
August 2014. Prasad takes charge at IDSA at a special moment as 2015 marks the
fiftieth year of existence of the think tank.
He began his career by specialising on the South Asian
neighbourhood, he most prominently served in Afghanistan as the Indian
Ambassador during 2008-2010 and as Ambassador to Nepal during 2011-2013.
Praveen Dixit
appointed as Maharashtra DGP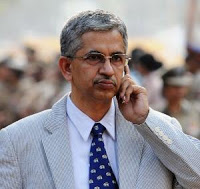 Maharashtra Anti-Corruption Bureau chief Praveen Dixit was
on 29 September 2015 appointed as the state's Director General of Police (DGP).
Dixit, a 1977-batch IPS officer who was heading the
Anti-Corruption Bureau (ACB) will have tenure of just over a year.
Dixit succeeded Sanjeev Dayal who retired from his office on
30 September 2015.
Sportzlive appointed
as official marketing partner for 2nd Indian Badminton League 2016
Sportzlive was on 30 September 2015 appointed as the
official marketing partner for 2nd Indian Badminton League that is scheduled to
be held from 2 January to 17 January 2016. Sportzlive's appointment was
approved by the Badminton Association of India (BAI).
Sportzlive primarily focuses on investing and creating
Sports Intellectual Property Rights (IPR) in the Indian Sub-Continent. Indian
Badminton League 2 will feature six franchisee teams across India who will beef
up their teams with the very best Indian and International Badminton players.
The player auction for the IBL 2 is scheduled for 20
November 2015.
India
–
Maharashtra
Government declared 2017 as Visit Maharashtra Year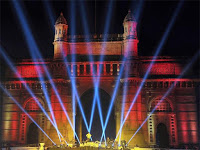 The Maharashtra government on 28 September 2015 declared the
year 2017 as the Visit Maharashtra Year to promote tourism in the state and
thus to attract more tourists.
The government also launched international tourism promotion
project Maharashtra International Travel Mart 2015 (MITM).
For attracting more tourists, the ministry of tourism of
Maharashtra planned a lot of new initiatives to put Maharashtra on the global
tourism map. One such initiative is an international Buddhist Conclave, which
will be a B2B exhibition and will be held in March 2016.
INS Kochi: India's
largest stealth warship commissioned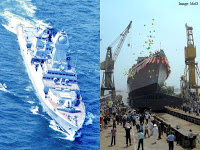 Naval warship INS Kochi was commissioned by Defence Minister
Manohar Parrikar at the Naval Dockyard in Mumbai on September 30, 2015.
INS Kochi is the second ship of the Kolkata-class (Project 15A)
Guided Missile Destroyers.
The warship is designed by the Navy's in-house organisation,
Directorate of Naval Design, and constructed by Mazagon Dock Ship builders Ltd.
in Mumbai.
Although conceived as follow-on of the earlier Delhi class,
the ship is vastly superior and has major advancements in weapons and sensors.
Top features
INS Kochi weighs over 7500 tonnes and is designed to achieve
speeds in excess of 30 knots.
The ship is loaded with long-range BrahMos surface-to-
surface missile.
It has 76 mm Super Rapid Gun Mount (SRGM) and AK 630 Close
In Weapon System (CIWS) designed to take on air and surface targets.
INS Kochi's anti-submarine arsenal consists of Indigenous
Rocket Launchers (IRL), Indigenous Twin-tube Torpedo Launchers (ITTL) and
bow-mounted new generation HUMSA Sonar Dome.
It is equipped to operate two Sea King or Chetak
helicopters.
World
–
First-ever
US-India-Japan Trilateral Ministerial dialogue held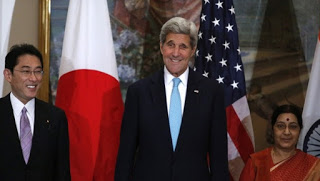 The first-ever US-India-Japan Trilateral Ministerial
dialogue was held on 29 September 2015. It was held on the sidelines of the
70th UN General Assembly session in New York.
The trilateral meet was attended by the Japanese Foreign
Minister Fumio Kishida, US Secretary of State John Kerry and Union External Affairs
Minister Sushma Swaraj.
During the meet, the foreign ministers of Japan, the United
States and India agreed to coordinate policies in addressing China's increasing
maritime activities.
Highlights of the
dialogue
The three leaders agreed that the rule of law should be
observed and that disputes should be settled peacefully to maintain peace and
security in the Asia-Pacific region.
They also agreed to launch a trilateral meeting of experts
to enable joint rescue and relief efforts in the event of major disasters.
The three countries agreed to work together to maintain
maritime security through greater collaboration.
They also underscored the importance of international law
and peaceful settlement of disputes, freedom of navigation and over flight and
unimpeded lawful commerce, including in the South China Sea was also
underscored.
IMF Announces
Disbursement of USD 504 Million to Pakistan
The International Monetary Fund (IMF) has announced
"immediate disbursement" of USD 504.8 million to Pakistan, bringing
the total amount released to bolster the country's struggling economy to USD
4.54 billion.
The decision was announced yesterday after the IMF Executive
Board completed 8th review of a 36-month extended fund facility for Pakistan on
September 28.
The new disbursement brings total disbursements to Pakistan
to about USD 4.54 billion, Dawn reported.
In completing the review, the board also approved the
authorities' request for waivers of non-observance of the end-June 2015
performance criteria on the ceiling on overall budget deficit and the ceiling
on net government budget borrowing from the State Bank of Pakistan.
Awards
& Honors –
Indian-American
environmental engineer Kartik Chandran named MacArthur Fellow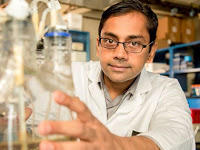 Kartik Chandran, an Indian-American associate professor of
earth and environmental engineering at Columbia Engineering, on 29 September
2015 was named a 2015 MacArthur Fellow. He was also given a genius grant of
625000 US dollars for working on a novel solution to the world's need for food,
clean water and energy.
Chandran has won the prestigious accolade for his work in
transforming wastewater from a pollutant requiring disposal to a resource for
useful products, such as commodity chemicals, energy sources and fertilisers.
Kartik Chandran is an IIT Roorkee graduate who uses microbes
to turn wastewater into fertilizer, energy and potable water.
M.R. Poovamma
(Athletics) and Babita Kumari (Wrestling) Receive Arjuna Award 2015
Minister of State (I/C) for Youth affairs and Sports Shri
Sarbananda Sonowal here today conferred Arjuna Award 2015 to M.R. Poovamma
(Athletics) and Babita Kumari (Wrestling).
Both awardees received statuette, certificate and award
money of Rs.5 lakh each. M.R. Poovamma and Babita Kumari could not receive the
Arjuna Award from President of India on 29August 2015 as both of them were
abroad due to professional commitments.
Days
–
International
Translation Day observed on 30 September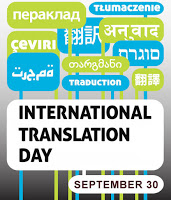 The International Translation Day was observed across the
world on 30 September 2015 with the theme The Changing Face of Translation and
Interpreting.
Established by the International Federation of Translators
(FIT), the annual celebration of the International Translation Day is an
opportunity to pay tribute to the work of translators who endeavour to make the
world a slightly smaller place by breaking down language barriers.
The work of translators is seen as being of growing
importance due to growing opportunities for international travel and
globalisation of trade markets. The event is marked with a series of dedicated
events, seminars and symposiums across the world.
Sports
–
Heena Sidhu, Shweta
Singh win gold and silver at Asian AirGun Championship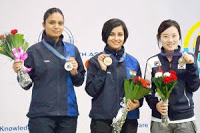 Former world number one Heena Sidhu lived upto the billing
as she clinched the gold medal in women's 10m air pistol to cap off India's
campaign at the 8th Asian AirGun Championship on a winning note on Wednesday.
India also had the silver medal in the kitty as Shweta Singh
stood second on the podium in the day's marquee event, ahead of bronze
medallist Seon A Kim of Korea.
Having topped the qualification with a score of 387
alongside another young Indian shooter Yashaswini Singh Deshwal, former world
champion Heena shot 197.8 to win the top prize in the final. Shweta aggregated 197.0,
while Kim managed 175.8.
In her first international final, Yashaswini finished a
creditable fourth after shooting 155.3.
India, thus, won an impressive haul of 17 medals, including
six gold (two in individual senior), to finish as toppers in the continental
event, which lost some sheen after the pull-out of powerhouse China and Korea's
decision to not send numero uno pistol shooter Jin Jong-oh.
India bagged five silver and six bronze.
Books
& Honors –
Hungry Bengal: War,
Famine, Riots and the End of Empire authored by Janam Mukherjee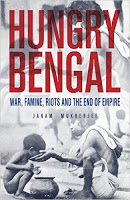 The book titled Hungry Bengal. War, Famine, Riots and the
End of Empire authored by Janam Mukherjee was in news in fourth week of
September 2015.
The book Hungry Bengal highlights the tumultuous period in
the history of Bengal before the independence and after partition of
India. It says that Bengal represented
both as a major front in the Indian struggle against colonial rule, as well as
a crucial front in the British/American conflict with Japan during World War
II.
It highlights that for the British the priority was to save
the empire from imminent collapse, for the majority of the Indian population
the 1940s were years of acute scarcity, violent dislocation and enduring
calamity.


Regards
Team ExamPundit
Sponsored

(adsbygoogle = window.adsbygoogle || []).push({});
Books For 2015 Banking/Insurance Exams