In today's Current Affairs, We have News on:
Highlights of
Economic Survey 2014-15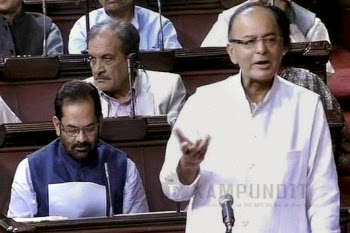 The survey prepared by Chief Economic Adviser Arvind
Subramanian.
Following are the
highlights of Economic Survey 2014-15 presented by Finance Minister Arun
Jaitley in Parliament today:
GDP growth seen at 8.1-8.5 per cent in 2015-16
Double digit growth trajectory; 8-10 pc GDP in coming yrs
Inflation shows declining trend during April-December
CAD to decline to about 1 pc in 2015-16
To adhere to fiscal deficit target of 4.1 pc of GDP, to Aim
for 3%
Committed to fiscal consolidation; to enhance revenue
Generation
More reforms on anvil; GST, expanding direct benefit
Transfers to be game-changers.
Foodgrains production for 2014-15 estimated at 257.07
Million tonnes; will exceed last 5-yr average by 8.5 MT
NITI Aayog, 14th Fin Comm to enhance fiscal federalism
External Sector returning to strength, resilience
Need balance between 'Make in India' and 'Skilling India'
Services sector negotiations at WTO crucial for India in
Removing many market access barriers
Revitalise PPP model to revive investment
Manufacturing and services equally important for growth.
Consumer inflation in 2015-16 to be between 5-5.5 pc
Lower inflation opens up space for more monetary easing
There is scope for big bang reforms
Labour, capital, land, market reform and skills to be
Engines of growth
JAM Trinity – Jan Dhan Yojana, Aadhaar, Mobile – to help
Transfer of funds to poor without leakage
Shield domestic industry to promote 'Make In India'
Borrowings to fund investment, not for meeting expenses
Food subsidy bill in Apr-Jan up 20 pc to Rs 1.08 lakh cr
Reform Railway's structure, commercial practices, Overhaul
of technology
Public investment key growth engine in short-run for
Railways, but not a substitute for private investment
More disinvestments on the anvil in current fiscal
Under-recoveries on petroleum products to come down to Rs
74,664 crore in 2014-15, from Rs 1.39 lakh crore in FY14
4Ds – Deregulation, Differentiation, Diversification,
Disinter (better bankruptcy laws) – to push financial Sector growth
Implementation of GST to boost GDP, exports
Suggests medium to long term fiscal policy to target
Deficit, expenditure
Global commodity prices to remain weak in 2015
Ecommerce sector to witness 50 pc growth in 5 yrs.
SEBI Cancels Sahara
AMC's Registration As Portfolio Manager
In fresh troubles for crisis-hit Saharas, regulator Sebi
today ordered cancellation of Sahara Asset Management Company's registration as
portfolio manager, saying that "antecedents" of Subrata Roy and some
group firms may cause "prejudice to the interests of investors".
Rejecting Sahara AMC's application for renewal of license,
Sebi said it no more meets "fit and proper criteria" to continue as a
portfolio manager in Indian securities market.
Consequently, the Sebi said, it was ordering cancellation of
its portfolio manager registration within 30 days, or transfer of its business
to another portfolio manager, or allow investors to withdraw their funds and
securities.
Sahara AMC, which had applied for this renewal in July 2012,
is part of diversified Sahara group that has been engaged in a long-drawn
battle with Sebi, which had earlier asked it to refund tens of thousands of
crores raised through certain bonds from investors.
NSE signed MoU with
GIFT to establish an international exchange in Gujarat
The National Stock Exchange (NSE) signed a Memorandum of
Understanding (MoU) on 26 February 2015 with the Gujarat International Finance
Tec-City (GIFT) to establish an international exchange in Gujarat. The MoU was
signed in the presence of Gujarat Finance Minister Saurabh Patel.
The GIFT Special Economic Zone is being developed as India's
first International Financial Services Centre (IFSC). It is spread over 886
acres.
The expected investment in this multi-service SEZ is to the
tune of 78000 crore rupees. An estimated five lakh persons are claimed to get
direct employment in this mega commercial centre.
IBM Corporation
tied-up with Tech Mahindra Ltd to accelerate Global Hybrid Cloud adoption
Tech giant International Business Machines Corporation (IBM)
on 23 February 2015 tied-up with IT services major Tech Mahindra Limited to
build a platform for the development of cloud-based apps for its clients to
increase hybrid services adoption.
This will help the company in achieving high network
performance and maintain maximum control over client data.
The platform will be built using IBM's Bluemix Dedicated
cloud infrastructure. Bluemix Dedicated runs on private, dedicated servers and
hardware in an organization's preferred IBM cloud centre, a network spanning
over 40 regions across the globe.
India Placed Orders
Worth Rs 83,858 Cr for Military Hardware
Indian Air Force, Army and Navy have placed orders worth Rs
83,858 crore from 2011 to the last fiscal while domestic defence industries
have earned Rs 69 crore by export of military hardware.
Defence Minister Manohar Parrikar said foreign vendors got
orders worth Rs 55,406 crore from IAF between 2011-12 and 2013-14 followed by
Navy's Rs 25,454 crore and Rs 2,998 crore from Army.
Replying to questions in the Lok Sabha, Parrikar also said
that Foreign Direct Investment amounting to Rs 24.36 crore has been received
after government opened the defence industry for private sector.
STEP Scheme Benefits
Over 24,000 Women This Fiscal
Government's STEP scheme, aimed at providing employability
skills to women, has covered over 24,000 beneficiaries so far in the current
fiscal, Lok Sabha was informed today.
The Support to Training and Employment Programme (STEP) was
being implemented as per guidelines formulated, Minister of Women and Child
Development Maneka Gandhi said during Question Hour.
However, she said the Ministry did not maintain records of
how many of the beneficiaries of the scheme had secured jobs, though she
acknowledged that having such information would be important to understand the
scheme's effectiveness.
Zoological Society of
London enters in Asiatic lion Conservation
The Gujarat Forest department has gone Smart. The department
will use smart software which will be used for tracking the movement of their
staff and even the lions. The software has been developed jointly by the
Zoological Society of London and the Gujarat forest department.
The two ZSL and forest department have entered into
memorandum of understanding for the protection of Asiatic lion and its habitat
which was inked on Thursday.
The forest officials said that the ZSL which has expertise
in managing the zoo will provide its technical assistance to the state not only
to manage its rescue and treatment centres but also to manage the Sakarbaugh
Zoo.
Principal Chief Conservator of Forest CN Pandey said that
the ZSL has not only expertise in managing the zoos, but they also have managed
Asiatic lions successfully for 40 years. The still have three lions.
US Federal
Communications Commission approved Net Neutrality Rules to protect Open
Internet
The Federal Communications Commission (FCC) of the United
States (US) on 26 February 2015 voted to implement the Net Neutrality Rules.
In the five-member FCC, three commissioners voted in favour
of rules whereas two commissioners voted against it. The Rules were proposed by
the FCC Chairman Tom Wheeler.
The rules seek to make sure that Internet Service Providers
(ISPs) in the US treat all legal content equally so as to preserve the Internet
as a platform for innovation, free expression and economic growth.
FBI announced 3
million US dollar award for information on Evgeniy Mikhailovich Bogachev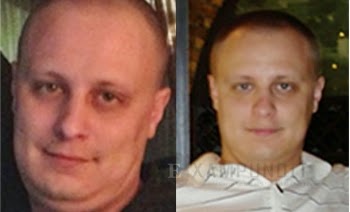 Evgeniy Mikhailovich Bogachev, one of the world's most
prolific cyber criminal from Russia, was in news recently.
He was in news because the US State Department, the
Department of Justice and Federal Bureau of Investigation (FBI) on 24 February
2015 announced a reward of 3 million US dollars for information on him.
Bogachev, currently is one of the FBI's most wanted criminal.
Gameover ZeuS is a peer-to-peer botnet based on components
from the earlier ZeuS trojan. It is believed to have been spread through use of
the Cutwail botnet.
According to a report by Symantec, Gameover Zeus has largely
been used for banking fraud and distribution of the CryptoLocker ransomware.
Parliament of Jamaica
passed a law to decriminalise marijuana for personal use
Parliament of Jamaica on 25 February 2015 passed a law to
decriminalise the possession of small amount of marijuana up to 57 grams for
personal use.
Marijuana is widely grown in Jamaica and has cultural roots
there. The country is also the biggest exporter of marijuana to the United
States among Caribbean countries.
US blogger hacked to
death in Bangladesh
A prominent US blogger has been hacked to death and his wife
seriously injured in Bangladesh by unknown attackers, days after receiving
threats from Islamists for writing against religious fundamentalism.
Avijit Roy, 44, had come to the country on February 16 to
attend the a book fair where three of his books have been published this year.
He was to fly back to the US on March 4, said his younger brother Anujit Roy.
Roy, a Bangladesh-born US citizen, was killed and his wife,
Rafida Ahmed Bonna, was seriously injured in the attack yesterday.
Roy recently received threats from militants for his
progressive books and blog posts, Dhaka Tribune reported.
AB De Villiers hits
fastest ODI 150 in South Africa World Cup win
AB de Villiers hit the fastest ever 150 in one-day
internationals as South Africa condemned West Indies to a crushing 257-run
defeat in Sydney.
De Villiers took 64 deliveries to reach 150, beating the
previous best, set by Australia's Shane Watson, by 19 balls.
He finished 162 not out from 66 balls as South Africa made
408-5, the second-highest total in World Cups.
Imran Tahir took 5-45 as West Indies were 151 all out to
equal the heaviest World Cup defeat by runs.
Only last month, De Villiers hit the fastest-ever ODI
hundred against the same team in Johannesburg, from 31 balls.
In that same innings, South Africa's captain also set the
record for the fastest fifty in ODIs, from 16 balls.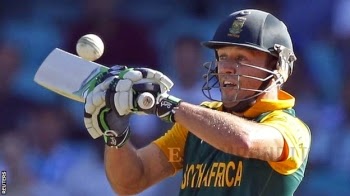 The records in
full
AB de Villiers scored the fastest 150 in one-day internationals,
from 64 balls. It beat the previous best by 19 balls
De Villiers's 52-ball ton was the second-fastest in World
Cups. Ireland's Kevin O'Brien made a 50-ball ton against England in 2011
De Villiers's 73 from the last five overs was the most by a
batsman in this period of a one-day international
South Africa's 408-5 was the highest team total in one-day
internationals by any side in Australia
South Africa's total was the second-highest in World Cups.
India made 413-5 against Bermuda in 2007
West Indies seamer Jason Holder conceded the most runs in a
10-over spell in World Cups, finishing with 1-104
Holder conceded the most runs in two consecutive overs in
one-day internationals – 64
South Africa's 257-run victory was the joint-biggest by runs
in World Cups, equalling India's win over Bermuda in 2007
Justice Amitava Roy
sworn in as Supreme Court judge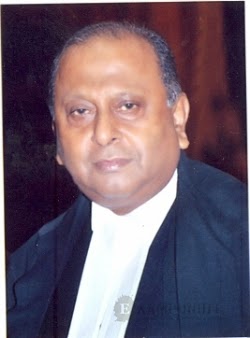 Justice Amitava Roy was sworn in as a judge of the Supreme
Court (SC) on 27 February 2015. Prior to this, he served as the Chief Justice
of Odisha High Court.
With his elevation, the strength of the SC judges has gone
up to 29. SC has a sectioned strength of 31 judges.
He will have tenure of three years.
On 2 January 2013, he was appointed as Chief Justice of the
Rajasthan High Court.
Gopinath Pillai appointed
as Special Envoy to Andhra Pradesh by Singapore government
Singapore government on 26 February 2015 appointed Gopinath
Pillai as its special envoy to Andhra Pradesh. Pillai, a senior policy
strategist, was appointed to speed up construction of new capital in the state.
Pillai's appointment as special envoy to Andhra Pradesh was
announced by Singapore's Minister for Foreign Affairs and Law K. Shanmugam and
Andhra Pradesh Chief Minister N Chandrababu Naidu at the secretariat in capital
Hyderabad.
Kshatrapati Shivaji
takes over as new CMD of SIDBI
Kshatrapati Shivaji, a 1986 batch IAS officer, has taken
over as the Chairman and Managing Director of Small Industries Development Bank
of India (SIDBI).
Shivaji has been appointed on deputation basis for a period
of three years from the date of his taking over the charge, a Finance Ministry
release said.
Shivaji is currently Principal Secretary (Expenditure),
Finance Department in Maharashtra government.
Download Daily Current Affairs PDF From Here:
function download(d) {
if (d == 'Select document') return;
window.location = 'https://drive.google.com/uc?export=download&id=' + d;
}
Choose From Here to Download
Economic Survey 2014-15 PDF
27 February, 2015 PDF

Books For 2015 Banking/Insurance Exams