Hello and welcome to ExamPundit. Here are the important current affairs for 27th April, 2015.
Banking/Finance
–
Parliament Passes
Payments and Settlement Bill
Parliament today passed a bill that seeks to address the
problem of insolvency in the payment and settlement system by increasing
transparency and stability and bring India's banking payment system in sync
with international practices.
"The Payments and Settlement Systems (Amendment) Bill,
2014" was passed today by Rajya Sabha by voice vote, with members cutting
across party lines extending their support to the bill. The bill was earlier
passed by Lok Sabha.
Moving the amended bill, Finance Minister Arun Jaitley said
it was needed to address the issue of insolvency so that there is protection
for payments.
The amendment to the Payment and Settlement Systems Act,
2007, was proposed to update the regulations in line with globally accepted
standards.
The amendment seeks to protect funds collected from the
customers by the payment system providers and to extend the Act to cover trade
repository and legal entity identifier issuer. A Legal Entity Identifier is an
unique ID associated with a single corporate entity.
FDI soars 63 per cent
to USD 3.28 billion in February
Foreign direct investment (FDI) in India jumped about 63 per
cent to USD 3.28 billion (about Rs. 20,820 crore) in February, 2015.
In February 2014, the country had received FDI of USD 2.01
billion.
During the April-February period of 2014-15, the foreign
fund inflows have grown by 39 per cent, year-on-year, to USD 28.81 billion,
according to the data of Department of Industrial Policy and Promotion (DIPP).
The inflows were at USD 20.76 billion during the same period
a year ago.
Amongst the top 10 sectors, services received the maximum
FDI of USD 2.88 billion in the 11-month period of 2014-15, followed by
telecommunication (USD 2.85 billion), automobiles (USD 2.42 billion), computer
software and hardware (USD 2.04 billion) and pharmaceuticals (USD 1.30
billion).
During the period, India received the maximum FDI from
Mauritius (USD 8.44 billion), followed by Singapore (USD 6.42 billion), the
Netherlands (USD 3.29 billion), Japan (USD 1.72 billion) and the US (USD 1.69
billion).
Bank of Baroda tied
up with UAE Exchange for instant money transfer
Bank of Baroda (BoB) on 25 April 2015 tied-up with UAE
Exchange to offer instant money transfer facility to its Non-resident Indian
(NRI) customers. In this regard, an agreement was signed between both the
firms.
This agreement will allow the customers to send money to
their desired bank accounts in BoB within minutes in India. This facility will
also be supported by SMS alert which will notify the moment the amount is
credited in the bank account of desired customer.
Currently, Bank of Baroda (BoB) has a network of more than
5000 branches across United States, Europe, Africa, Australia and Asia. Its
financial centres are located in cities like New York, London, Hong Kong,
Singapore and Dubai.
UAE Exchange is a global remittance and foreign exchange
(FOREX) company. Currently, it serves over 7.9 million customers worldwide and
has presence in 32 countries with over 750 branches across 32 countries.
Muthoot Group ties up
with Wiki Tech for US-India payment corridor
The Muthoot Group has announced a partnership with Wiki
Technologies Inc of the US to open a US-India payment corridor by leveraging
the power of the WikiPay platform.
Under the partnership, the group will initially market the
WikiPay platform to its 22,000 employees and subsequently to its 6 million
customers in India. Through the platform, people residing in the US can use the
WikiPay online platform to send payments to friends and family to any bank
account in India and more than 8,000 cash pick-up locations across the country.
The association with WikiTechnologies will expand Muthoot
Group's reach in the US, while allowing Wiki Technologies to leverage the
international money transfer licence of the group's wholly-owned subsidiary,
Royal Exchange USA Inc, for transactions to India, K.R. Bijimon, CGM, The
Muthoot Group, said.
According to Ted DeFeudis, Co-founder and President, Wiki
Technologies, this agreement is an important step in the evolution of Wiki
Technologies into a company focused on serving the needs of enterprise level
organisations.
YES Bank opens first
overseas office in Abu Dhabi
YES Bank, India's fifth largest private sector bank, on
Monday announced its international foray by opening its first overseas
representative office in Abu Dhabi, UAE.
The bank has opened its door to NRI population residing in
the UAE with this new representative office. "It will provide services for
unique investment needs of the Indian diaspora in the Gulf city through its
flagship Global Indian Banking programme," YES Bank said in a statement.
The office will facilitate services such as NRE/NRO savings
account and fixed deposits, foreign currency fixed deposit (FCNR), portfolio
investment scheme (PIS) to transact in the Indian secondary market and YES First
wealth management programme.
The bank is keen to expand in some of the key international
financial markets to serve the large sections of NRI population, the bank
statement added.
Awards
& Honors –
Bharatiya Mahila Bank
won the Asian Banker Achievement Award 2015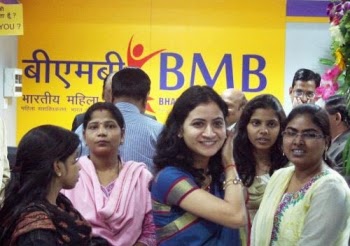 Bharatiya Mahila Bank (BMB) Ltd on 23 April 2015 won the
Asian Banker Achievement Award 2015. It was awarded for Technology
Implementation in the category of Best Outsourcing Project (New Bank).
The award was received by Usha Ananthasubramanian, the
Chairman and Managing Director (CMD) of BMB at a function held in Hong Kong
during the Asian Banker Summit 2015.
Awards in other
category and winners
The Best ATM and Kiosks Project: Cathay United Bank &
NCR System, Taiwan
The Best Branch Automation Project: Standard Chartered Bank
(Hong Kong), Avaya Hong Kong and GRG Banking Solutions
The Best Cloud Based Project: Philippine Business Bank and
IBM
The Best Core Banking Implementation Project for Mid-Sized
Bank: ING Vysya and FIS
The Best Core Banking Implementation Project for Emerging
Bank: Kanbawza (KBZ) Bank and Oracle Financial Services Software Limited
The Best Corporate Payment Project: Axis Bank and Arteria
Technologies
The Best CRM Project: IndusInd Bank and Talisma Corporation
The Technology Leadership Achievement Award for the Year:
Amit Sethi, Chief Information Officer, Axis Bank
The Asian Banker Vendor Satisfaction Survey Gold Award:
Infosys
India/World
–
India launched
Operation Maitri in quake-hit Nepal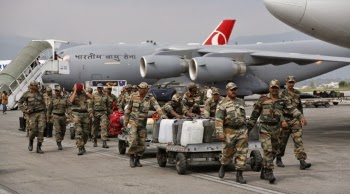 India on 27 April 2015 launched a relief and rescue
Operation named Maitri in earthquake hit Nepal. The operation will involve two
dozen military aircraft and choppers along with bus services through road
route.
India also pressed nearly 1000 trained personnel of the
National Disaster Response Force (NDRF) into service after Nepal on 25 April
2015 was struck by the worst earthquake in 80 years in which more than 2500
people were killed.
Under the operation, more than 1000 people have been flown
from Nepal.
Parts of the
Operation Maitri
A Multi National Coordination Centre has been set up
In PPO Pokhra, Head quarters are being established for
relief operations
Besides, an inter-ministerial team headed by a top Home
Ministry official will also leave for Nepal to coordinate the rescue and relief
efforts as part of Operation Maitri.
South Asia has
world's most skewed gender wage gap: UN report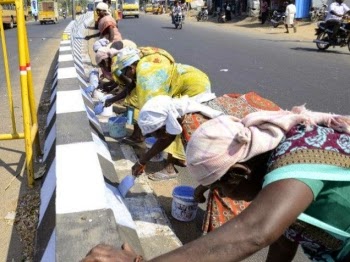 South Asia has the world's most skewed gender wage gap and
is among the few regions where the gender labour force participation gap is
both large and growing, a new report from UN Women has found.
The Progress of the World's Women 2015-2016 report comes 20
years after the landmark Fourth World Conference on Women in Beijing. "Since
the Beijing Conference, significant advances have been made by many societies,
particularly in advancing women's legal rights. However, as [the report]shows,
in an era of unprecedented global wealth, millions of women are still consigned
to work in low paid, poor quality jobs, denied even basic levels of health care,
without access to clean water and decent sanitation," the report finds.
Globally, only half of women participate in the labour
force, compared to three quarters of men; in India only a third of women are in
the labour force. "In developing regions, up to 95 per cent of women's
employment is informal, in jobs that are unprotected by labour laws and lack
social protection," the report says.
Simultaneously, women shoulder the bulk of the burden of
unpaid care work; in India, for instance, women do nearly six hours of unpaid
care and housework every day as compared to half an hour for men, UN Women
found. While on average globally, women are paid 24 percent less than men, the
gaps for women with children are even wider. In South Asia, the gender pay gap
is 35 per cent for women with children compared to 14 per cent for those
without.
Sports
–
BCCI nominates Rohit
Sharma for Arjuna award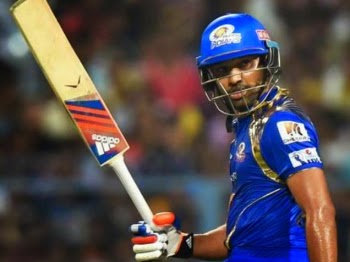 Indian batsman Rohit Sharma on Monday expressed delight
about the BCCI's decision to recommend his name for the government's prestigious
Arjuna Award and said that he felt "honoured".
BCCI took the decision to put forth Roihit's name to the
government for the Arjuna Award at its working committee meeting in Kolkata on
Sunday.
The 27-year-old Mumbaikar scored a brilliant 264 against Sri
Lanka last season — the highest score by anyone in the world in ODI cricket —
at the Eden Gardens, Kolkata. He is the only batsman to have scored two ODI
double hundreds — his first one coming against Australia in 2013.
Rohit, who is leading Mumbai Indians at this year's Indian
Premier League cricket event, said though the team's performance has not been
good so far, the squad members are hoping to carry the momentum they got after
having successfully defended a small total against SunRisers Hyderabad two days
ago.
India crowned
champions for the first time at 22nd President's Cup Boxing Tournament
India was crowned champions at the 22nd President's Cup Open
International Boxing Tournament on 27 April 2015. This is for the first time
that India was crowned champions at the President's Cup which was held at
Palembang, South Sumatra, Indonesia.
India finished the tournament on top with 33 points that
included 4 Gold and 1 Bronze. Mongolia was placed second in the tournament.
The Gold for India in women's category was won by
Shamjetsabam Sarjubala and Pinki Jangra in the 48 kg and 51 kg category
respectively. Sarjubala, a World Championships silver-medallist, defeated
Russian pugilist Iseva Joya while Pinki defeated Mongolia's Nandintsetseg to
win the Gold.
In the men's category, the Gold was won by Rakesh Kumar and
Harpal Singh in 69 kg and 75 kg category respectively. Rakesh defeated Hiroaki
Kinjo of Japan while Harpal defeated Jee Deok-Seong of Korea to win the Gold.
Business
MoUs & Deals –
Capgemini to Acquire
US-Based Outsourcer IGATE for $4 Billion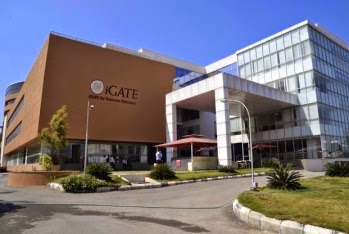 French IT services firm Capgemini today said it will acquire
US-based outsourcer IGATE for USD 4 billion, a move that will help the former
strengthen its foothold in the North American market.
Under the merger agreement, Capgemini will acquire the
Nasdaq-listed firm for a cash consideration of USD 48 per share and the
transaction will amount to USD 4 billion, Capgemini said in a statement.
The combined revenue of the merged company is estimated at
12.5 billion euros in 2015 and around 1.9 lakh employees.
Interestingly, IGATE had bought India's Patni Computer
Systems in 2011 in partnership with private equity giant Apax Partners in a USD
1.2 billion deal.
In November, Apax converted its debt in the company into
equity and made a filing with the US Securities and Exchange Commission to have
the option to sell its entire stake.
This transaction, which is expected to close in the second
half of 2015, will be financed through a combination of cash and equity.
Obituaries
–
Telugu film
choreographer K Vijay dies in Nepal
A young Telugu movie choreographer K Vijay died in the wee
hours today in Nepal when the SUV in which he was travelling with other crew
members overturned due to rain and aftershock of earthquake.
The film unit members were returning to Kathmandu from
Kokhra in the early hours today, Maharishi, one of the lead actors of the film
'Etakaram.com' told PTI here.
The vehicle met with the accident as it was raining and an
aftershock of the earthquake was felt in the wee hours today at around 2 am, he
said.
The film unit, comprising nearly 20 members, reached Nepal
on Friday, a day before the massive quake struck the country.
All the members of the film unit were reported safe in the
quake as they were shooting in the open, he said, citing information received
from the crew members.
Vijay, who is related to the producer of the film, Kishan,
died in the tragedy, he said.


Regards
Team ExamPundit
Sponsored

(adsbygoogle = window.adsbygoogle || []).push({});
Books For 2015 Banking/Insurance Exams