In today's Current Affairs, we have news on:
Railway Budget 2015 –
Highlights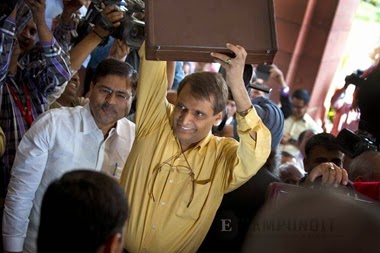 The key themes of the Budget were in line with Prime
Minister Narendra Modi's initiatives – Swachch Bharat Mission, Make in India
and Digital India.
Key Highlights:
The most-expected part about this year's railway Budget –
there is no increase in rail fares.
Rs.8.5 lakh crore will be invested in Railways in next 5
years.
'Operation 5 mins', wherein passengers travellling
unreserved can purchase a ticket in 5 minutes.
Bio toilets and airplane-type vaccum toilets in trains.
Surveillance cameras in select coaches and ladies
compartments for women's safety without compromising on privacy.
Rail tickets can now be booked 120 days in advance.
Speed on nine railway corridors to go up to 200 km per hour.
Wi-Fi in more stations, mobile phone charging facilities in
all train compartments.
Facility of online booking of wheelchair for senior
citizens.
Satellite railway terminals in major cities.
Centrally managed Rail Display Network is expected to be
introduced in over 2K stations over the next 2 years.
All india 24/7 helpline – 138 from March 2015 ; Toll free
No.182 for security.
917 road under-bridges and over-bridges to be constructed to
replace 3,438 railway crossings; at a cost of Rs. 6,581 crore.
Four Railway Research Centres to start in four universities.
No new trains announced in 2015 Railway Budget.
Kisan Yatra — a special travel scheme for farmers finds
mention in Rail Minister Suresh Prabhu's speech
Mumbai University signed
MoU with Indian Railways to set up Rail Innovation and Technology Centre
Mumbai University on 23 February 2015 signed a memorandum of
understanding (MoU) with the Indian Railways to set up a Rail Innovation and
Technology Centre to train students for expertise in Railway Engineering.
Highlights of the MoU
Indian Railways will allocate 142.89 crore rupees budget for
the centre over the next five academic years.
Mumbai University will provide education, distribution of
facilities for higher education, effective administration and financial
control.
The university will impart practical training to candidates
at university's Kalina, Ratnagiri and Kalyan sub campus.
The university will also start specialized courses at the
Post Graduate level related to rail technology.
This institute will help the Indian Railways in developing
cutting-edge indigenous technologies and turn as a net exporter of such
technologies.
Insurance/Banking/Finance
–
IRDA releases India
Insurance Vision 2025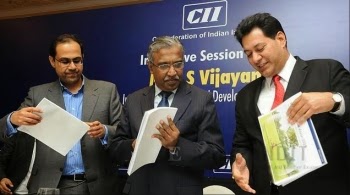 Additional tax incentives and simple products are key to
insurance industry, according to a survey of the Confederation of Indian
Industry (CII).
The study, India Insurance Vision 2025, done by McKinsey for
CII, was formally released by TS Vijayan, Chairman of Insurance Regulatory and
Development Authority of India (IRDA), here on Thursday.
The industry has a potential to reach $250 billion mark by
2025, it said.
Insurance Regulatory and Development Authority of India
(IRDA) today said insurance companies can appoint individual agents on their
own without license from the regulator from April 1.
IRDA chairman T S Vijayan said the regulator also plans to
make health insurance, so far considered as part of non-life sector, a
standalone entity.
Forbes released Asia's 50 Power Businesswomen 2015 list
Forbes on 26 February 2015 released Asia's 50 Power
Businesswomen 2015 list. The list features six Indian women CEO and Managing
Director (MD).
The Asia's 50 Power Businesswomen list showcases a year of
accomplishments by the region's female entrepreneurs and executives.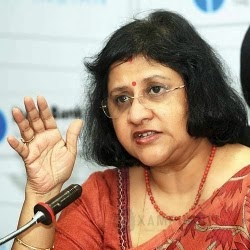 The list includes
following Women from India
Arundhati Bhattacharya, CMD, State Bank of India
Chanda Kochchar, CEO, ICICI Bank,
Akhila Srinivasan, MD/Non-Executive Director, Shriram Life
Insurance/Shriram Capital
Kiran Mazumdar Shaw, Founder, Chairman and MD, Biocon
Shikha Sharma, CEO and MD, Axis Bank
Usha Sangwan, MD, Life Insurance Corp. of India
The first time entrants to the list include Maggie Wu and
Lucy Peng, Alibaba's top female decision-makers.
For the first time, two women Garamjav Tseden and Win Win
Tint are included from developing nations Mongolia and Myanmar.
Union Cabinet
approved creation of two additional benches of the Authority for Advance
Rulings
Union Cabinet on 25 February 2015 approved the creation of
two additional benches of the Authority for Advance Rulings (AAR). Two
additional benches of the AAR will be established in New Delhi and Mumbai.
For these two benches, there will be a creation of two posts
of Vice-Chairmen in the Apex scale and four posts of Members (two posts of
Revenue Members and two posts of Law Members) in the Higher Administrative
Grade (HAG+).
Moreover, two posts of Secretary at the level of
Commissioner of Income Tax or Joint Secretary will also be created.
Significance of
two additional benches of the AAR
The creation of two additional benches of the Authority will
dispose of increased number of cases and pendency of cases will be reduced
benefitting the tax payer and the Government.
This will operationalise the facility of advance ruling for
resident tax payers. The benches will facilitate the cause of the resident tax
payers in obtaining tax clarity in certain situations.
About Authority
for Advance Rulings (AAR)
In order to provide the facility of ascertaining the
Income-tax liability of a non-resident, a scheme of Advance Rulings was
introduced in the Chapter XIX-B of the Income-Tax Act, 1961 and the Authority
for Advance Rulings (AAR) was constituted in 1996.
Zoomcar tied-up with
Tata Motors Limited to expand its fleet
Self-drive car rental service Zoomcar on 25 February 2015
tied-up with automaker Tata Motors Limited to add 50 more new Nano cars to its
fleet. These new cars will be split between Pune and Bengaluru.
Zoomcar currently offers cars like the Ford Ecosport, Tata
Safari, Mercedes GLA and Honda City among others which lets customers rent them
across Bangalore, Pune and the Delhi-NCR region.
About Zoomcar
Founded by Greg Morgan and David Back in 2013, Zoomcar is a
Self-Drive car rental service which allows you to rent cars by the hour, day,
week or month.
Andhra Pradesh signed
MoU with Wipro for building and implementing APSEA
Andhra Pradesh (AP) Government on 23 February 2015 signed
Memorandum of Understanding (MoU) with Wipro for building and implementing the
AP State Enterprise Architecture (APSEA).
The APSEA is aimed at bringing transformational change in
the way government services are conceived, designed, delivered and consumed.
Characteristics
features of APSEA
It intends to make the state government future-ready by
changing from departmental stovepipes to a citizen-centred approach to
government services achieved through transformation of the front, middle and
back office operation.
It would prove to be an essential tool for the development
of Andhra Pradesh. The vision of the state of Andhra Pradesh is to use
e-governance as a tool to provide integrated services to its citizens through a
free flow of information.
Union Ministry of
Chemicals & Fertilizers declared 2015 as Year of Active Pharmaceutical
Ingredients
Union Ministry of Chemicals & Fertilizers on 25 February
2015 declared the year 2015 as the Year of Active Pharmaceutical Ingredients
(API). It was declared by the Union Minister of Chemicals & Fertilizers
Ananth Kumar.
The aim is to bring about self-sufficiency in the field of
Active Pharmaceutical Ingredients (API) which is also consistent with the
avowed objective of the Union Government Make in India initiative.
In this regard,
the Department of Pharmaceuticals will
take measures to facilitate the growth of the sector;
interact with the industry on a more regular basis to
improve G2B interactions;
promote better and more coordinated efforts to achieve the
objective of Make in India for the API sector
India bans ISIS under
Unlawful Activities (Prevention) Act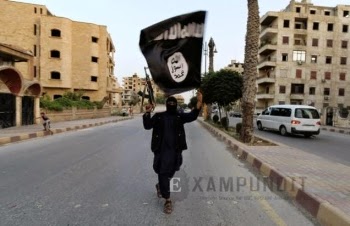 Dreaded terror group ISIS and all its affiliate
organisations, responsible for series of savage attacks and killings in Iraq
and Syria, have been banned in India under the Unlawful Activities (Prevention)
Act.
Recruitment of youths to the outfit from India and their
radicalisation is a matter of serious concern for the country especially with
regard to its likely impact on national security when such youth return to
India, the Home Ministry said while banning the terrorist group.
The Islamic State/Islamic State of Iraq and Levant/ Islamic
State of Iraq and Syria/Daish and all its manifestations have been declared as
outlawed in India under UAPA, a notification issued by the Ministry said.
Home Minister Rajnath Singh had said in Parliament on
December 16, 2014 that the West Asian group had already been declared banned in
India under a United Nations Schedule.
In its 20th year, The
Hindu website wins major award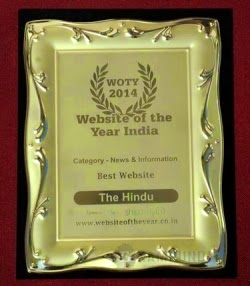 The Hindu's website has won the Website of the Year (WOTY)
India award for 2014 in the News and Information category.
The selection of the Website of the Year India is done in an
online public process that seeks to identify the best and most popular websites
in 21 categories. It is organised by MetrixLab, a global provider of consumer
insights and marketing analytics.
The WOTY awards have been organised for a decade in the
United Kingdom, the Netherlands, Germany, France, Spain, Brazil and China.
The Hindu has won this award out of 252 websites that were
nominated in 21 categories. More than 344,000 votes were cast between October
27 and December 5, 2014. A maximum of 12 nominations were made for each
category.
As the winner, The Hindu has been given a trophy and gets to
display the WOTY winner logo on the website throughout 2015.
Government to give
digital boost to MGNREGA scheme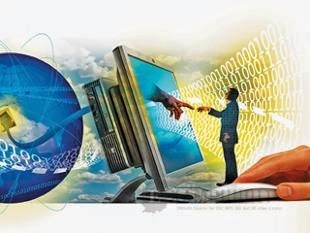 Government will roll out a pilot project to give a digital
boost to the flagship rural job scheme MNREGA in gram panchayats to ensure its
better implementation through mobile monitoring system.
Under the scheme expected to be functional from April this
year, a total of 35,000 gram panchayats will be covered which would be given a
mobile/tablet, Minister of State for Rural Development Sudarshan Bhagat said in
a written reply in Lok Sabha.
An amount of Rs 35 crore have been sanctioned as each
mobile/tablet would be costing Rs 10,000.
Union Cabinet
approved the implementation of 15000 MW Grid-connected SPV Projects under NSM
The Union Cabinet on 25 February 2015 approved the
implementation of the scheme for setting up of 15000 Mega Watt (MW) Grid-connected
Solar Photo Voltaic (SPV) Power projects under the National Solar Mission
(NSM).
The scheme will be implemented through National Thermal
Power Corporation (NTPC) and NTPC Vidyut Vyapar Nigam Limited (VVNL) in three
tranches.
The three tranches are:
Tranche 1: 3000 MW of SPV plants will be completed under
mechanism of Bundling of solar power (3000 MW) with Unallocated Coal based
Thermal Power (1500 MW) in the ration of 2:1.
Tranche 2: 5000 MW will be completed with some support from
Government to be decided after getting some experience while implementing
Tranche-l.
Tranche 3: remaining 7000 MW will be completed without any
financial support from the Government.
TRAI issued 6th
Amendment to Telecommunication Mobile Number Portability Regulation, 2009
The Telecom Regulatory Authority of India (TRAI) on 25
February 2015 issued 6th Amendment to the Telecommunication Mobile Number
Portability Regulation, 2009. This amendment will facilitate full MNP
(Pan-India Portability) across India with effect from 3 May 2015.
With this, subscribers will be able to retain the same
mobile number on relocating to anywhere in India although they can change their
service provider.
At present, number portability within a telecom circle is
only possible and the subscriber has to pay roaming charges plus applicable STD
call rates when he carries the number outside the home circle.
Russia and Cyprus
signed an agreement to allow Russian navy ships to use Cypriot ports
Russia and on 25 February 2015 signed an agreement to give
Russian navy ships access to Cypriot ports in the Mediterranean Sea. Russian
ships that will dock at Cypriot ports would mostly be used in counter-terrorism
and anti-piracy efforts.
The agreement was signed in Moscow after talks between
Russian President Vladimir Putin and Cypriot President Nicos Anastasiades.
The military deal also included the possibility of Russia
using an air base on Cyprus for humanitarian relief missions.
Scientists discovered
quasar SDSS J0 100+2802 with central black hole mass of 12 billion solar mass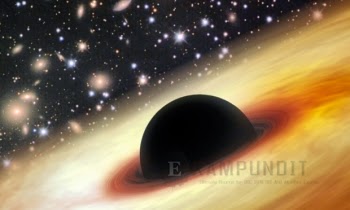 The international team of scientists led by astronomers from
Peking University in China and from the University of Arizona discovered the
brightest quasar SDSS J0 100+2802 with the most massive black hole of 12
billion solar-mass.
The findings were published in the journal Nature on 26
February 2015 and Prof. Xue-Bing Wu at Peking University is the lead author of
the study.
The world's first
3D-printed jet engine unveiled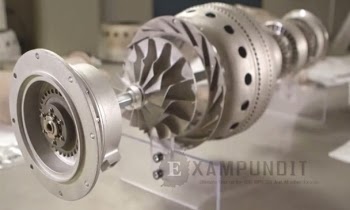 Australian researchers unveiled the world's first 3D-printed
jet engine on Thursday, a manufacturing breakthrough that could lead to
cheaper, lighter and more fuel-efficient jets.
Engineers at Monash University and its commercial arm are
making top-secret prototypes for Boeing Co, Airbus Group NV, Raytheon Co and
Safran SA in a development that could be the saviour of Australia's struggling
manufacturing sector.
3D printing makes products by layering material until a three-dimensional
object is created. Automotive and aerospace companies use it for producing
prototypes as well as creating specialized tools, moldings and some end-use
parts.
Indian Consulate at
Houston to Partner with HISD for Hindi Language School
One of the largest public school system in the US is
planning to introduce Texas's first Hindi dual language school, a move that
could benefit the country's significant Indian-American population.
With over 200,000 students and 276 schools, Houston Independent
School District (HISD) will partner with the Consulate General of India (CGI)
here for the Hindi Dual Language Immersion Programme.
Consul General Harish Parvathaneni expressed his readiness
to assist HISD with teaching and curricular materials and with an ongoing
partnership to provide appropriate cultural milieu to the students of the
proposed programme.
Clemson University
honoured Ratan Tata with Doctorate of Automotive Engineering
Ratan Tata was honoured on 26 February 2015 with an honorary
Doctorate of Automotive Engineering by the Clemson University at the South
Carolina Automotive Summit.
He was awarded for his contributions to the global
automotive industry.
Ratan Tata is the ex-chairman of the Tata Group. He was
named Chairman of Tata Industries In 1981, where he was responsible for
transforming it into a group strategy think tank and a promoter of new ventures
in high technology businesses.
Irom Sharmila gets
Sthree Shakti award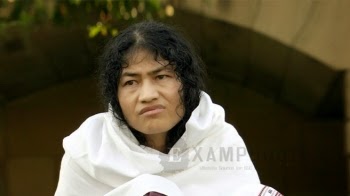 Activist Irom Sharmila, who has been on an indefinite fast
since November 4, 2000, demanding the repeal of the Armed Forces (Special
Powers) Act, has been conferred with the Sthree Shakti award.
The award is in recognition of her extraordinary courage and
determination, M.L. George, managing trustee of Smaraks Sthree Trust, Kochi,
told reporters here on Tuesday.
She is also known as Iron Lady of Manipur.
Former Haryana CM
Hukam Singh Dead
Former Haryana Chief Minister Hukam Singh today passed away
after a brief illness at a private hospital in Gurgaon. He was 89.
Haryana Chief Minister Manohar Lal Khattar has expressed
grief over the death of the leader. The state government has declared a holiday
tomorrow to condole the death.
Singh was chief minister of the state in 1990-91. He had
been elected MLA thrice from Charkhi Dadri before 1990.
The state government has declared three-day mourning
starting today.
Download From Here:
function download(d) {
if (d == 'Select document') return;
window.location = 'https://drive.google.com/uc?export=download&id=' + d;
}

Choose From Here to Download
February 26 Current Affairs
Railway Budget-2015

Books For 2015 Banking/Insurance Exams