Hello and welcome to ExamPundit. Here are the Important Current Affairs of 24th and 25th September, 2015. These are Important for the upcoming IBPS PO V Mains Exam.
Finance/Industry/Banking
–
Reserve Bank of India
relaxed Change in Ownership Norms of Borrowing Entities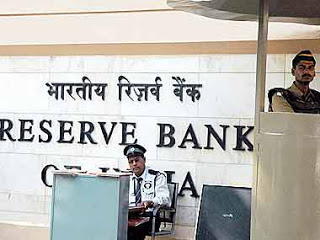 The Reserve Bank of India (RBI) on 24 September 2015
announced relaxation in norms that allow banks to upgrade credit facilities
extended to borrowing entities upon a change in ownership, only if the
ownership has been changed outside Strategic Debt Restructuring Scheme (SDR).
The Banker's bank announced that the banks can treat loans
to stressed companies that have undergone ownership changes as standard loans,
provided the stress was due to operational or managerial inefficiencies.
The relaxation will offer more flexibility to banks to bring
in a change in ownership of borrowing entities which are under stress due to
operational/ managerial inefficiencies despite substantial sacrifices made by
the lending banks.
However, RBI
announced that the upgrade in the asset classification is subject a few
conditions:
As per the announcement, the new promoter should not be a
person/entity/subsidiary/associate etc. (domestic as well as overseas),
from/belonging to the existing promoter/promoter group.
The new promoter should have acquired at least 51 per cent
of the paid up equity capital of the borrower company.
If the new promoter is a non-resident, and in sectors where
the ceiling on foreign investment is less than 51 per cent, the new promoter
should own at least 26 per cent of the paid up equity capital or up to
applicable foreign investment limit, whichever is higher, provided banks are
satisfied that with this equity stake the new non-resident promoter controls
the management of the company.
Centre Announces Rs
1000 Cr Special Assistance to AP
The Centre has announced a further 'Special Assistance' of
Rs 1000 crore to Andhra Pradesh during 2015-16 as per its decision to continue
to support the programmes for the development of backward districts of the
state.
The funds will also be used to provide assistance for
creation of the new capital, including the Raj Bhavan, High Court, Government
Secretariat, Legislative Assembly, Legislative Council, and such other
essential infrastructure.
This includes special assistance of Rs 350 crore at the rate
Rs 50 crore per district for the development of seven backward districts
covering Rayalaseema and North Coastal region, Rs 350 crore for the new capital
of the state and Rs 300 crore for Polavaram irrigation project, a Central
government release said today.
A tax incentive has also been provided in Finance Act, 2015.
The Andhra Pradesh Reorganisation Act, 2014 bifurcated the
state, and the state of Telengana came into being, effective from June 2, 2014.
Having regard to the resource availability, the Centre is required to make
appropriate grants and also provide adequate benefits and incentives in the
form of special assistance to the backward areas of states, it said.
Ex-Penguin India
publisher Chiki Sarkar launched publishing company Juggernaut
The former publisher of Penguin India and editor-in-chief of
Random House India, Chiki Sarkar, on 23 September 2015 launched her own
publishing company, Juggernaut.
Sarkar has founded the company in collaboration with ex-CEO
of Web18, Durga Raghunath. At presnt, Raghunath is the CEO and co-founder of
news portal, Firstpost.
Newly formed publishing firm Juggernaut will publish 50
titles each year starting from April 2016.
They will be distributed and stocked by Hachette India.
Uninor re-branded as
Telenor India
Telenor Group on 23 September 2015 announced that it had
changed its brand identity along with legal company name from Uninor, its
subsidiary in India, as Telenor India Communications Pvt. Ltd.
Telenor in its release said that the renaming will not
change its commitment to bring the best value to its 40 million customers.
Telenor Group is one of the leading mobile operators in the
world, with 189 million mobile subscriptions. It has mobile operations in 13
markets, as well as an interest of 33% in VimpelCom Ltd., operating in 14
markets.
The company headquartered in Oslo, Norway provides tele,
data and media services in the Nordics, Central and Eastern Europe and Asia. In
Asia it is operational in Thailand, Malaysia, Bangladesh, Pakistan, India and
Myanmar.
Appointments
–
Ministry of External
Affairs appointed envoys for Pakistan, China, UK and other countries
The Ministry of External Affairs (MEA) on 24 September 2015
appointed new Indian envoys to Pakistan, China, the United Kingdom (UK) and the
United Nations (UN) in a major reshuffle.
These appointments
are:
Navtej Sarna: Secretary (West) in the Ministry, will be the
new High Commissioner to the United Kingdom with effect from November 2015. He
succeeded Ranjan Mathai.
Gautam Bambawale: India's Ambassador to Bhutan will take
over as High Commissioner to Pakistan. He succeeded TCA Raghavan, who will
retire on 31 December 2015.
Syed Akbaruddin: Additional Secretary in-charge of
Indo-Africa Summit to be held in October 2015 will be the next Permanent
Representative of India to the United Nations, New York. He will replace Asoke
Mukerji.
Vijay Gokhale: India's Ambassador to Germany will be the
Ambasador to China. He succeeded Ashok Kantha.
Anil Wadhwa: Secretary (East) will be the new Ambassador to
Rome.
Pankaj Saran: He will replace PS Raghavan as the Ambassador
of Moscow.
Harsh V Shringla: Indian Ambassador to Bangkok will now be
serving as High Commissioner to Bangladesh.
Sujan Chinoy: Indian Ambassador to Mexico will now be the
Ambassador to Japan and replace Deepa Wadhwa.
Arvind Panagariya
appointed as Sherpa for G-20 Summit
The Union Government on 24 September 2015 decided to appoint
Arvind Panagariya, Vice President of NITI Aayog, as the Sherpa for the 2015
G-20 Summit. The Summit will take place in Antalya, Turkey in November 2015.
Sherpa is a senior official responsible for preparing the
agenda for leaders to consider during the summit.
Panagariya will be replacing Railway Minister Suresh Prabhu
who was appointed Sherpa for the G-20 Summit in 2014.
Earlier, the Deputy Chairman of the erstwhile Planning
Commission used to be the Prime Minister's Sherpa for G-20 talks.
Former Indian Cricket
Captain Sourav Ganguly appointed President of Cricket Association of Bengal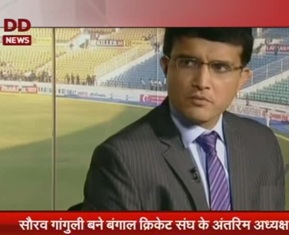 Former Indian Cricket captain Sourav Ganguly was on 24
September 2015 appointed as the President of Cricket Association of Bengal
(CAB). The announcement regarding this was made by the West Bengal Chief
Minister Mamata Banerjee at the state secretariat building in Kolkata.
He succeeded Jagmohan Dalmiya and at the time of appointment
Ganguly was serving CAB in the capacity of Joint-Secretary.
The post had fallen vacant after the sudden demise of
Dalmiya at the age of 75 on 20 September 2015.
West Bengal Governor
KN Tripathi got additional charge of Governor of Tripura
West Bengal Governor Keshari Nath Tripathi was appointed as
Governor of Tripura by the President Pranab Mukherjee on 24 September 2015.
He will discharge the functions of the Governor of Tripura,
in addition to his own duties, during the absence of Tathagata Roy, Governor of
Tripura who has gone on leave.
Keshari Nath Tripathi was appointed as the 22nd Governor of
Bengal in July 2014. Earlier in November 2014, he was also appointed as
Governor of Bihar to perform the tasks of Governor of Bihar in addition to his
own duties of West Bengal.
He was relieved from his previous additional charge of Bihar
in August 2015, after Ram Nath Kovind was on 8 August 2015 appointed as
Governor of Bihar.
Stuti Narain Kacker
appointed Chairperson of National Commission for Protection of Child Rights
A 1978 batch IAS officer, Stuti Narain Kacker, on 23
September 2015 was appointed as the head of National Commission for Protection
of Child Rights (NCPCR). She was appointed by the Union Women and Child
Development Ministry.
Kacker is a former Secretary at the Department of Disability
Affairs in the Ministry of Social Justice and Empowerment. She looked after the
management committee of the Central Adoption Resource Authority (CARA).
Before the appointment of Kacker, the panel had remained
headless for almost a year. The position was vacant from October 2014 when
former UPA appointee Kushal Singh's tenure ended. Recently, the Supreme Court
even commented over a long delay in appointing a chairperson for the panel.
Abdul Bari Siddiqui
elected Bihar Cricket Association President
Abdul Bari Siddiqui, a senior leader of Rashtriya Janata Dal
(RJD) was on 23 September 2015 elected as President of Bihar Cricket
Association (BCA). He was chosen as the President after an election, which was
held in accordance to direction of the Supreme Court of India.
BCA elections were held in August 2015 under the direction
of the apex Court which had appointed former Patna High Court judge Justice
Dharampal Sinha as electoral officer-cum-observer for the polls.
A statement issued by Justice Dharampal Sinha said that
Siddiqui defeated Vinod Kumar, a former president of BCA, by a margin of 30
votes in the election.
Alexis Tsipras sworn
in as PM of Greece for second time in 8 months
Alexis Tsipras of Syriza party on 21 September 2015 was on
sworn in as the Prime Minister of Greece by the President of Greece Prokopis
Pavlopoulos.
It was the second sworn in for him as his party stood
victorious in the general elections held to the parliament in January 2015
also.
In the recent elections held on 20 September 2015, Syriza
secured 35 percent of total votes resulting in 144 seats in the 300-seat
Parliament.
Syriza formed a coalition government with the Independent
Greeks Party, a partner in the previous government as well.
The snap polls were called after Syriza lost its majority in
August 2015 in the Parliament.
Filmmaker Rahul
Rawail resigned from Oscar Selection Jury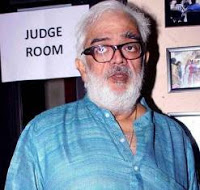 Filmmaker Rahul Rawail on 23 September 2015 resigned from
the Oscar Selection Jury. He resigned from his post citing differences with
chairperson of the Jury Amol Palekar.
He resigned following the selection of National
award-winning Marathi film Court as India's official entry for Oscars 2016 (88th
Academy Awards) by the jury.
Court was selected to officially represent India at the 88th
Oscars in the Best Foreign Film category. Court directed by debutant Chaitanya
Tamhane is a commentary on India's judicial system.
India
–
NITI Aayog
constituted T Haque Expert Group on Land Leasing
Agriculture Division of National Institution for
Transforming India (NITI) Aayog in the fourth week of September 2015
constituted an Expert Group on Land Leasing. The expert group will be headed by
former Commission for Agricultural Costs and Prices (CACP) chairman T Haque.
The 10-member committee was formed in pursuance to decision
taken in the meeting held under the chairmanship of Vice Chairman, NITI Aayog,
on 24 August 2015.
The committee comprises of members from Andhra Pradesh,
Uttarakhand, Punjab, Maharashtra, Assam, Rajasthan, Meghalaya and Joint
Secretary HS Meena from the Department of Land Resources. While JP Mishra, the
Adviser (Agriculture) in NITI Aayog will act as the member secretary.
Census 2011 data on
Households with or without Educational level of matriculation and above
released
The Registrar General & Census Commissioner of India on
24 September 2015 released the Census 2011 data on Households with at least one
member aged 15 years and above with or without educational level of
matriculation and above by Household Size.
The released data showed an increase of 10 percent in the
decade 2001-2011 over the decade 1991-2001.
Key Findings from
all over India
Around 122.9 million, which is 49.5 percent of the total
households in India, with at least one member of age 15 years and above, had
one matriculate or more in the decade 2001-2011. During the decade 1991-2001,
there were 39.4 per cent of households in India with at least one matriculate
and above.
The number of households with at least one graduate and
above was 41.4 million (16.7 per cent) in India in 2011. There were around 23.6
million (12.2 per cent) households with at least one graduate and above in
2001.
There are 21.9 million (8.8%) households with at least one
female graduate and about 33.2 million (13.4%) households with at least one
male graduate and above.
Haryana Government
increased the pension given to World War Soldiers
Haryana Government on 23 September 2015 increased the
pension given to the ex-servicemen or widows of soldiers who took part in World
War I and World War II. The pension has been increased by 1500 rupees.
The Finance Department approved the increased pension. It
has been decided that 4500 rupees per month will be given to the war-widows and
ex-servicemen who participated in the World Wars. Earlier, the amount of
pension was 3000 rupees per month.
The state government will have to bear an additional burden
of 8.57 crore rupees due to the raise in pension.
Earlier on 8 May 2014, the pension was doubled from 1500
rupees to 3000 rupees per month.
CCS cleared 8000
crore rupees Integrated Air Command & Control System
The Cabinet Committee on Security (CCS) on 23 September 2015
approved the proposal for Indian Air Force's Integrated Air Command and Control
System (IACCS) worth around 8000 crore rupees. The system aims at integrating
all air and ground sensors.
The proposal was sanctioned by the Defence Acquisition
Council in November 2014.
Once set-up, the system will offer a composite air situation
picture to the air headquarters as it will be integrating Air Force, Army and
civilian radars.
MoEF Committee gave
environmental clearance for Ramagundam Urea plant
A committee under the Union Ministry of Environment and
Forests (MoEF) on 24 September 2015 gave environmental clearance for the
proposed 5465 crore fertiliser plant in Ramagundam, Telangana.
Earlier in January 2015, National Fertilizers Limited (NFL),
Engineers India Limited (EIL) and Fertilizer Corporation of India (FCIL)
together formed a joint venture company (JVC) for setting up two new Ammonia
and Urea plants at the existing site of Ramagundam Fertilizer plant.
The JVC is named as Ramagundam Fertilizers and Chemicals
Limited. The gas-based plant will have the capacity to produce 1.1 million
tonnes of urea per annum. It is expected to be commissioned in 2018-19.
PM
Visits Ireland –
Prime Minister
Narendra Modi visited Ireland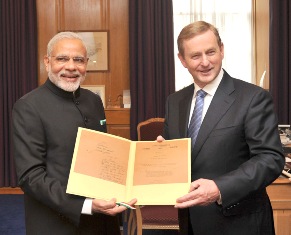 Prime Minister Narendra Modi visited Ireland on 23 September
2015. He is the first Prime Minister of India to visit Ireland in 59 years.
Last Prime Minister to visit Ireland was Jawahar Lal Nehru in 1956.
During his visit, Modi held discussions with Prime Minister
Enda Kenny of Ireland, who also hosted a Working Lunch in honour of the
visiting dignitary.
At present, Modi is on a two-Nation tour namely Ireland (23
September 2015) and the United States of America (23 September to 28 September
2015).
Important events
that happened during Modi's visit to Ireland includes
The two nations agreed to develop closer partnership and
cooperation.
The two nations agreed to chart out a roadmap for
collaboration in the digital world and for this they agreed to held talks
between Joint Working Group on Information Technology soon.
To help the professionals from the two countries they
displayed interest in concluding social security agreement.
The two nations agreed to have direct air services by
airlines of both countries. The stance would help in promoting business links
along with tourism ties, which is growing at 14 percent per year.
Sports
–
Indian Air Force won
2015 Baba Farid Gold Cup hockey title
Indian Air Force (IAF) on 23 September 2015 won the 2015 All
India Baba Farid Gold Cup hockey title in Faridkot, Punjab.
IAF defeated the Army XI 2-1 to lift the 24th edition of the
championships.
Incidentally, all the three goals were scored in the first
half of the match. The second half of the play went goaless despite both the
teams getting several opportunities.
Army XI was the first to open the account with a goal by
Bachittar in the ninth minute.
Government
Chawngfiang Middle School won U-14 sub-junior Subroto Cup Football Tournament
Government Chawngfiang Middle School of Mizoram on 24
September 2015 won the sub-Junior (Under-14) title of the 56th Subroto Cup
International Football Tournament. In the final held at the Ambedkar Stadium in
New Delhi, it defeated Esteqalal School of Afghanistan 3-2.
With this win, Chawngfiang Middle School claimed the purse
of 2.5 lakh rupees while Esteqalal School claimed 1.25 lakh rupees and a
trophy.
Air Marshal BBP Sinha presented the trophy to the winners
while Mizoram Chief Minister Lalthawala presented the cheque to them.
WADA and China signed
MoU on Performance Enhancing Drugs
The World Anti-Doping Agency (WADA) and the General
Administration of Sport of China (GASC) on 22 September 2015 signed a
Memorandum of Understanding (MOU) on Performance-Enhancing Drugs (PEDs).
The purpose of the MoU is to enhance the cooperation between
the WADA and Chinese authorities in eliminating illegal manufacture and supply
of PEDs.
Key features of
the Agreement
It will help track and eliminate the illegal manufacture and
supply of PEDs and also raw materials for the production of PEDs in China.
WADA and INTERPOL will be instrumental in providing
information to Chinese law enforcement about illegal manufacturers and
suppliers of PEDs across China.
Awards
& Honors –
Assam Conservationist
First Indian to Get Harry Messel Award
Conservationist Goutam Narayan has become the first Indian
to get Harry Messel Award for Conservation Leadership in recognition of his
pivotal role in leading the Pygmy Hog Conservation programme in the North-East.
The award was announced during the IUCN Species Survival
Commission Leaders' meeting held in Abu Dhabi last week, a release issued by
the Pygmy Hog Conservation Programme (PHCP) said today.
The award citation mentions that Narayan has been awarded
"in recognition of his pivotal role in leading the Pygmy Hog Conservation
Programme in north eastern India since 1995, thus saving a whole genus from
extinction and his long service to the Wild Pig Specialist Group."
The Harry Messel Award recognises exemplary service to IUCN
Species Survival Commission, especially from individuals who have made a
specific contribution to species conservation on the ground or through their
leadership.
The award, instituted since 2004, is usually given at an
interval of two to four years with 18 individuals and an organisation receiving
the award so far.
EPFO won Skoch Award
for Smart Governance Initiatives
Employees' Provident Fund Organisation (EPFO) on 23
September 2015 won the Skoch Award for Smart Governance. It was awarded at the
India Habitat Centre, New Delhi for its initiatives on UAN Programme and
Transformation of Social Security Agenda in India.
EPFO was also awarded two SKOCH Order-of-Merits, one for
launching UAN for EPFO members and another for transformation of Social
Security Agenda in India.
Skoch Smart Governance Award is an initiative recognising
top performing government organisations and organisations working with the
government, operating at local, state and national level.
List
–
Forbes released list
of India's 100 Richest People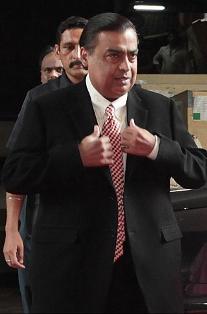 Forbes on 23 September 2015 released the Forbes list of
richest Indians. The list contains names of 100 wealthiest people of India with
a collective wealth amounting to 345 billion dollars.
Industrialist Mukesh Ambani has retained the tag as India's
richest for the ninth year in a row with a net worth of 18.9 billion dollar.
| | | |
| --- | --- | --- |
| Rank | Name | Net Worth |
| 1 | Mukesh Ambani | 18.9 Billion dollars |
| 2 | Dilip Shanghvi | 18 Billion dollars |
| 3 | Azim Premji | 15.9 Billion dollars |
| 4 | Hinduja Brothers | 14.8 Billion dollars |
| 5 | Pallonji Mistry | 14.7 Billion dollars |
| 6 | Shiv Nadar | 12.9 Billion dollars |
| 7 | Godrej Family | 11.4 Billion dollars |
| 8 | Lakshmi Mittal | 11.2 Billion dollars |
| 9 | Cyrus Poonawalla | 7.9 Billion dollars |
| 10 | Kumar Birla | 7.8 Billion dollars |
India's 100 richest list include names of four women who
have a collective wealth of 9.2 billion dollar, which accounts to nearly three
percent of the total net worth of all in the list. The four women in the list
are
Savitri Jindal – Chairperson of the OP Jindal group was
ranked at 23th position with net worth of 3.8 billion dollars
Leena Tewari – Chairperson of generic drugs maker USV Pharma
group was ranked at 54th position with net worth of 1.9 billion dollars
Indu Jain – Chairperson of India's largest media group,
Bennett, Coleman & Co. Ltd group was ranked at 57th position with net worth
of 1.9 billion dollars
Vinod Gupta – Wife of Havells founder Qimat Rai Gupta was
ranked at 74th position with net worth of 1.6 billion dollars
Daily
Expected Questions on Stock GK
1. Moin-ul-Haq
Stadium is located in which city/state?
– Patna, Bihar
2. Kuno Wildlife
Sanctuary is located in which state?
– Madhya Pradesh
3. Dhuvaran Thermal
Power Station is located in which state?
– Gujarat
4. The Chennakesava
Temple is located in which state?
– Karnataka
5. Yerevan is the
capital city of which country?
– Armenia


Regards
Team ExamPundit
Sponsored

(adsbygoogle = window.adsbygoogle || []).push({});
Books For 2015 Banking/Insurance Exams