In Today's Current Affairs News on:
Indian Army and State
Bank of India inked MoU on Defence Salary Package
The Indian Army and State Bank of India (SBI) on 23 February
2015 signed a Memorandum of Understanding (MoU) on the Defence Salary Package.
The MoU is tailor-made to suit the requirements of serving
soldiers, pensioners and families. The revised MoU has incorporated a number of
additional facilities and basic features of the MoU include
Number of free/concessional services like free drafts, free
cheque books, free funds transfers to any bank in India through RTGS / NEFT,
free ATM cards and others
The provision also includes the Nepal Express Remittance
Scheme which enables instant fund transfers to Nepal for the benefit of the
Nepali Domicile Gorkha Soldiers serving in the Indian Army.
Personal Accident Insurance (PAI) was enhanced and was
linked to the Savings account instead of the debit card.
Exemption percentage of margin money for house and car loans
was enhanced while the processing charges on the loans were waved off.
SBI experiments with
daily instalment loans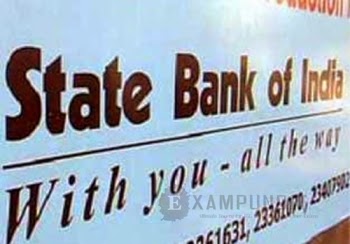 In a bid to keep bad loans in check, State Bank of India is
now trying a new collection model that allows borrowers to pay back on a daily
instalment basis. SBI has started offering this loan product to cab hailing
service company Olacabs.
This is a departure from the existing loan servicing model
where borrowers repay by way of equated monthly instalments.
Under the tie-up, cab owners associated with Olacabs can
avail themselves of car loans from SBI on a preferential basis, with faster
loan turnaround time. Since repayments will be on a daily basis, the loans
could come a tad cheaper. Each time the driver makes a payment to Olacabs, a
part of it will automatically go to SBI towards loan servicing, through
Olacabs' pre-paid wallet.
According to B Sriram, Managing Director & Group
Executive (National Banking), SBI is increasingly trying to push risk mitigated
products within the small and medium enterprises segment. Through the daily
collection cycle, the bank's officials will be able to keep track of the borrower's
financial situation.
Any break in the daily collection cycle will serve as an
early warning signal and the bank can quickly intervene and resolve the matter,
ensuring that the loan does not become non-performing.
IRCTC Ties Up With
Jubilant to Deliver Pizza at Train Seats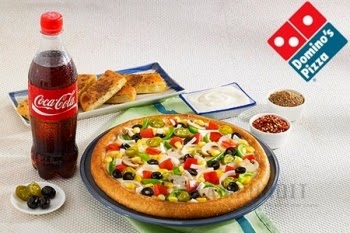 Now a train passenger can also order and enjoy hot pizza at
his or her seat while travelling.
They can order their pizza either online or through a phone
call and delivery will be made at 12 selected stations including New Delhi and
Jaipur to begin with.
As part of its endeavour to offer wide variety to passengers
to choose from and to make available the popular food brands in market under
its newly launched e-catering services, IRCTC has tied up with Jubilant Food
Works Ltd, the parent company of Domino's Pizza, on a trial basis.
As per the arrangement, a passenger travelling in a train
without pantry car will be able to place an order for a pizza of his choice
either online (www.Ecatering.Irctc.Co.In) or through a phone call which would
be served at his seat in the train enroute, said a senior IRCTC official.
Happay, Ratnakar Bank
launch debit card with expense mgmt system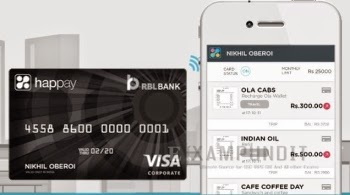 Happay Card is a product of start-up Happay, founded by
IITians from Kharagpur, Anshul Rai and Varun Rathi in 2012. It is one of its
kind, business expense management solution that streamlines an organization's
expense workflow from end-to-end (expense reporting to accounting) and gives
real-time visibility and control over business spending. All purchases done
from this card are auto-captured on the Happay platform. Employees can snap
photos of receipts, record cash expenses and submit expense reports in minutes,
on-the-go without bothering about collecting or forgetting to submit the bills
on time.
Happay has exclusively tied up with Ratnakar Bank for these
co-branded Happay Business Expense VISA Card. Happay's Anshul Rai said, "The
initial results from our pilot customers has been very encouraging and we're
pleased to now take this solution to the broader market. We hope to tap more
SMEs as our solutions are far cheaper than the already present ERP solutions
used by large corporates."
Hitachi announced to
acquire Finmeccanica Rail Businesses for 2 billion US dollar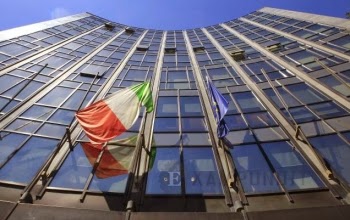 Hitachi Limited on 23 February 2015 announced to acquire
Finmeccanica Rail Businesses for 2 billion US dollar.
An Italy based company Finmeccanica has agreed to sold its
rail car unit AnsaldoBreda and Ansaldo STS to the vast Japanese
conglomerate. It holds a roughly 40
percent stake in Ansaldo STS.
Under the deal, Hitachi plans to first acquire all shares
held by Finmeccanica in the two companies and then make a tender offer to turn
the Milan Stock Exchange-listed Ansaldo STS into a wholly owned subsidiary as
well.
Oil ministry suspends
ONGC technical director Shashi Shankar
The oil ministry has suspended ONGC director (technical)
Shashi Shankar over allegations of irregularities.
The ministry on Tuesday wrote to Oil and Natural Gas
Corporation that a disciplinary proceeding against Shankar is being
contemplated.
Indo-Nepal joint
military exercise Surya Kiran VIII started in Nepal
The Eighth India-Nepal Battalion level Combined Military
Training named Exercise Surya Kiran-VIII, commenced on 23 February 2015 at
Integrated Army Training Centre, Saljhandi, Nepal. The exercise will end on 8
March 2015.
The two week long exercise started with unfurling of the
National Flags of the two countries. The Nepalese Contingent was represented by
a Battalion from an Infantry Division of Nepalese Army while Indian side was
represented by an equivalent strength from a Mountain Brigade.
Objective of Exercise Surya Kiran-VIII include
To carry out Counter Insurgency and Counter Terrorist
Operations in mountainous and jungle terrain
To practice facets of Humanitarian Assistance and Disaster
Relief including actions to be taken during pandemic, epidemic and various
other humanitarian assistance situations
3rd Tortoise Festival
organised at Hajong Lake in Assam
3rd Tortoise Festival was organised at Hajong Lake in Dima
Hasao district of Assam on 21 February 2015. The festival was organised to
create awareness among people on the endangered tortoise species by Environment
and Forest Department of Dima Hasao.
The day-long festival saw various activities like
discussions, presentation and others aimed at protection of the species.
Union Ministry of
Youth Affairs revised the National Sports Awards Schemes
The Union Ministry of Youth Affairs and Sports on 23
February 2015 revised the National Sports Awards Schemes. The ministry revamped
the Schemes of Rajiv Gandhi Khel Ratna Award, Arjuna Award, Dhyan Chand Award
and Dronacharya Awards.
Amendments made in
Arjuna Award scheme
Selection Committee for Arjuna Award will now be headed by
the Retired Judge of Supreme Court/High Court.
A sportsperson of eminence or sports administrator or a
sports expert belonging to Para sports will be a member in Selection Committee
for Arjuna Awards.
Not more than one sportsperson of eminence or a coach from a
particular sports discipline shall be a member of the Selection Committee to
avoid any bias in favour of a particular discipline.
Nomination agencies are expected to send nominations of most
deserving sportspersons and coaches irrespective of whether
sportspersons/coaches have applied to them for awards.
Chris Gayle became
first cricketer to score Double Century in Cricket World Cup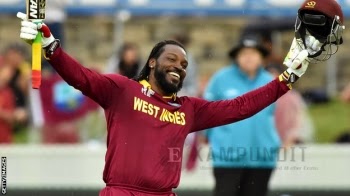 Chris Gayle, the Cricketer of West Indies on 24 February
2015 became the first person to make double century in any Cricket World Cup.
He struck 202 off 138 balls in a match against Zimbabwe in World Cup 2015.
The match was played at Canberra's Manuka Oval and by the
end of match Gayle scored 215 off 147 balls.
This is the fastest double century in any ODIs, the previous
record was held by Virender Sehwag of India who scored a double century off 140
balls. Sehwag scored a double century in a match played against West Indies at
Holkar Cricket Stadium, Indore in December 2011.
Apart from this, Gayle is the first cricketer outside India
to smash a double-century in ODIs.
Ranchi Rays crowned
Champions of Hero Hockey India League 2015
Ranchi Rays on 23 February 2015 crowned champions of Hero
Hockey India League 2015 (HHIL) by defeating Jaypee Punjab Warriors.
The HHIL 2015 was held at the Major Dhyan Chand National
Stadium, New Delhi from 22 January 2015 to 22 February 2015. The Grand Finale
was witnessed by the eminent personalities. This is the third season of the
professional field hockey tournament, Hockey India League.
The city franchise earlier called Ranchi Rhinos had also
grabbed the inaugural title in 2013. Despite the overhaul in stakeholders, the
team has almost maintained the same squad as earlier. India Cricket Captain
Mahendra Singh Dhoni co-owns the franchise with Sahara Group.
Rohit Sharma Joins
PETA Call to Get Cats and Dogs Sterilised
Indian cricketer Rohit Sharma has joined the People for
Ethical Treatment of Animals (PETA) to support sterilisation of homeless cats
and dogs.
Sharma will star in a new PETA campaign that shows him and a
small dog peering into the camera next to the caption "Bat for Animals!
Sterilise Cats and Dogs".
The campaign image was shot by ace photographer Gaurav Sawn
and Sharma's make-up and hair were done by Neha Kamra.
Sharma discussed his thoughts on the campaign in an
exclusive PETA interview.
India Set to Host AFC
Awards for the First Time
India is set to host the star-studded Asian Football
Confederation (AFC) Awards function for the first time in November, according
to the president of the national body of the game.
All India Football Federation chief Praful Patel today told
at a press conference here that the annual gala event is expected to be held
during the second season of the Indian Super League (ISL).
Last year, the Awards Night was held in Manila and former
India captain Bhaichung Bhutia was presented with the AFC Hall of Fame Award by
incumbent FIFA chief Joseph Blatter.
Patel said that MoU with the JFA will enable India to seek
help from Japan on technical matters, exchange visits by youth teams of the two
countries.
Rana Bhagwandas, the
first Hindu Chief Justice of Pakistan died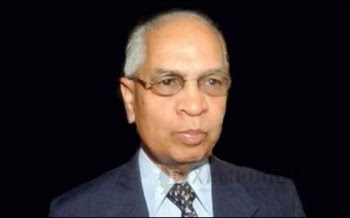 Rana Bhagwandas, the former acting Chief Justice of Supreme
Court of Pakistan died on 23 February 2015 in Karachi, Pakistan. He was 72.
Bhagwandas was the first Hindu and second non-Muslim to head
the Supreme Court of Pakistan. First non-Muslim Chief Justice was Alvin Robert
Cornelius (a Christian).
Pioneer of mobile
theatre in Assam Adya Sharma passed away
Adya Sharma, a cultural icon and pioneer of mobile theatre
in Assam, passed away on 23 February 2015 in Nalbari town, Assam following a
brief illness. He was 86.
Adya Sharma was famously known for bringing innovation in
the technical aspects of mobile theatre which made it more attractive and
capable of staging more complex themes.
He was awarded Bishnu Prasad Rabha Award by Assam Government
and Pranab Barua Award for his contributions to the cultural world. Moreover,
the Assam government had honoured him with artiste's pension.
He was the founder of Ranghar, an organisation dedicated to
promote painting in Nalbari. He was also a well known painter and sculpture
artist in Assam.
Maria Golovnina,
Reuters bureau chief for Afghanistan and Pakistan, found dead
Maria Golovnina, Reuters bureau chief for Afghanistan and
Pakistan on 23 February 2015 found dead in Islamabad. She was 34.
She was found collapsed and unconscious in the bureau and
was rushed to hospital, but medical teams were unable to save her.
However, the cause of Golovnina's death could not be
determined immediately and the authorities have launched an investigation to
ascertain the facts of the case.
Veteran Tamil
director RC Sakthi passed away
Popular Tamil director R.C. Sakthi passed away on 23
February 2015 in Chennai, Tamil Nadu following a brief illness. He was 76.
Sakthi is survived by two daughters and a son.
He was mentor of the famous actor Kamal Haasan and had
launched him as lead role in his Tamil directorial debut Unarchigal in 1972.

Books For 2015 Banking/Insurance Exams

We are sorry that this post was not useful for you!
Let us improve this post!
Tell us how we can improve this post?
EP Recommends: Oliveboard Mock Tests