Hello and welcome to ExamPundit. Here are the important current affairs update of 24th April, 2015.
Finance
–
Govt allows investing
5% of EPFO corpus in stock markets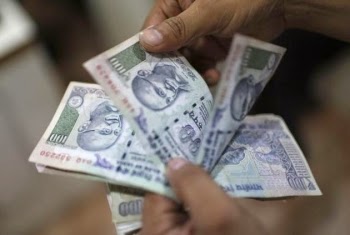 Government has allowed retirement fund body EPFO to invest 5
per cent of its corpus in exchange traded funds which will result into an
inflow of around Rs. 5,000 crore into the stock markets during this fiscal.
Labour Ministry has notified new investment pattern for the
Employees' Provident Fund Organisation which allows the body to invest 5 per cent
of its funds into ETFs.
As per estimates, the EPFO's incremental deposits for
2014-15 would be around Rs 80,000 crore.
During the current fiscal, the incremental deposits could be
around Rs 1 lakh crore as the body had increased the monthly wage ceiling for
coverage under its social security schemes to Rs 15,000 from Rs 6,500 in
September last year.
Unionists had opposed any investment in equity or equity—related
instruments during the meeting of Central Board of Trustees — EPFO's apex decision
making body — on March 31.
The Finance Ministry has been pitching to park a part of EPFO
corpus in the stock market.
It had recently notified an investment pattern for
non-government provident funds to enable them to park a part of their funds in
stock market.
Indian petrochemicals
sector to touch $100 b turnover by 2020: Assocham
The Indian petrochemicals industry is likely to touch $100
billion by 2020 from $40 billion presently after having grown at around 13-14
per cent, according to a study by industry body Assocham released here on
Friday.
The study, titled 'Indian Petrochemical Industry: An
Overview', noted that the domestic sector had been growing faster than a
stagnant global growth rate of 6 per cent.
Petrochemicals currently contribute about 30 per cent to
India's $120 billion chemical industry which is likely to grow at 11 per cent
over the next few years. Globally, the contribution of petrochemicals to the
chemicals sector is 40 per cent, while in India it accounts for around 25-30
per cent.
The country's per capita consumption of polymers, at 5.2 kg,
is still in a nascent stage as compared to developed markets like the US and
China which is about 30 kg. India's total consumption of polymers is about 6.2
million tonnes (mt), around 3 per cent of global consumption of 200 mt.
India
–
India Delivers Three
Cheetal Helicopters to Afghanistan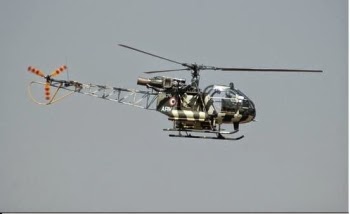 India has delivered three multi-role Cheetal helicopters
along with allied equipment and spares to Afghanistan, Lok Sabha was informed
today.
Minister of State for Defence Rao Inderjit Singh, in a
written reply, told Lok Sabha, "The helicopters were dispatched to
Afghanistan on April 9. These helicopters have been test flown and accepted by
Afghanistan pilots on April 15."
He said the three Cheetal helicopters were based on an
agreement with the Ministry of External Affairs.
Cheetals are the upgraded version of Cheetah light utility,
multi-role helicopters built by state-run Hindustan Aeronautics Limited.
Cheetal helicopter is equipped with a Turbomeca TM 333-2M2
free turbine turboshaft engine. Compared to the 560 km of the Cheetah
helicopter, Cheetal has a range of about 640 km.
Cheetal also provides a higher payload capacity of 90 kg, compared
to the 50 kg of Cheetah.
The helicopters can be used for personnel transport,
evacuation, reconnaissance and aerial survey. It is also capable of operating
in the high-altitude areas.
Indo-French Naval
exercise VARUNA commenced at Goa
The fourteenth edition of Indo-French Naval Exercise named
VARUNA-15 commenced on 23 April 2015 off the coast of Goa. The 10-day long
joint naval exercise will end on 2 May 2015.
It is aimed at further deriving mutual benefit from the
experiences of the two navies and strengthening the bilateral ties between
India and France.
The French Navy is represented by Aircraft Carrier Charles
de Gaulle, two destroyers Chevalier Paul and Jean de Vienne, replenishment
tanker Meuse and a maritime patrol aircraft Atlantique 2. The Aircraft Carrier
Charles de Gaulle is carrying its complement of fighter aircraft Rafale M,
Strike Aircraft Super Etendard, E2C Hawkeye AWACS and helicopters Dauphin and
Alouette 3.
The Indian Navy is represented by Aircraft Carrier INS
Viraat, destroyer INS Mumbai, stealth frigate INS Tarkash, guided missile
frigate INS Gomati, replenishment tanker INS Deepak, submarine INS Shankul and
a few Fast Attack Craft. Aviation assets of the Indian Navy participating in
VARUNA-15 include carrier-borne fighter aircraft Sea Harriers, maritime
reconnaissance aircraft P-8 I and Dornier along with integral helicopters
Seaking 42B and Chetak.
Days
–
National Panchayati
Raj Day observed on 24 April 2015
National Panchayati Raj Day was observed across India on 24
April 2015. The day is observed to mark the passing of the Constitution (73rd
Amendment) Act, 1992 that came into force with effect from 24 April 1993.
The Amendment institutionalized Panchayati Raj through the
Village, Intermediate and District levels Panchayats. This registers a defining
moment in the history of decentralization of political power to the grassroots
level.
On the day, the best performing Gram Panchayats and Gram
Sabhas were honoured with Panchayat Sashaktikaran Award 2015 and Rashtriya
Gaurav Gram Sabha Award 2015.
Besides, the Prime Minster Naredra Modi also addressed a
national conference to highlight the steps taken by the government for real
devolution of administrative and financial powers.
Report/Indexes
–
India Ranks 117 Out
Of 158 Nations on World Happiness Index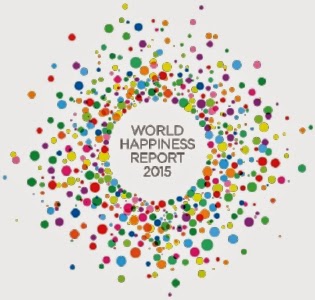 The World Happiness Report 2015 was released on 23 April
2015. The report was published by the Sustainable Development Solutions Network
(SDSN) an initiative under the United Nations.
India ranked 117 out of 158 nations in the list.
The report was topped by Switzerland followed by Iceland,
Denmark, Norway and Canada. The World Happiness Report examined 158 countries
and is aimed at influencing government policy.
Togo, Burundi, Benin and Rwanda, with civil-war wracked
Syria, were least happy.
The study based its rankings on data from the Gallup World
Poll and takes into account variables such as real GDP per capita, healthy life
expectancy, corruption levels and social freedoms.
The SDSN is comprised of people from academia, government
and the private sector and was first launched in 2012.
World
–
China, Pakistan
signed an agreement on Economic Corridor plan worth 46 billion US dollars
China and Pakistan on 21 April 2015 signed an agreement on
China Pakistan Economic Corridor (CPEC) plan worth 46 billion US dollars. The
agreement was signed by China's President Xi Jinping and Pakistan Prime
Minister Nawaz Sharif.
As part of the agreement, China will provide up to 37
billion US dollar in investment for energy projects to generate 16400 MW of
power. Concessional loans will cover nearly 10 billion US dollar of
infrastructure projects.
China's government and banks, including China Development
Bank and the Industrial and Commercial Bank of China Ltd, will lend to Chinese
companies, which will invest in projects as commercial ventures.
The planned Chinese spending exceeds that of the United
States, which has given 31 billion US dollars to Pakistan since 2002.
Jordan's Crown Prince
Becomes Youngest to Chair UN Council Meet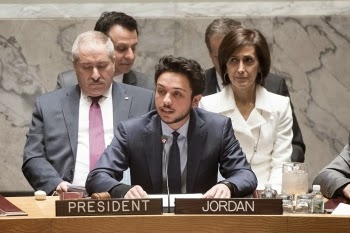 Jordan's 20-year-old crown prince today called for measures to
prevent the world's youth from being "lured into the dark world" of
Islamic extremists as he became the youngest person ever to chair a Security
Council meeting.
Crown Prince Hussein bin Abdullah presided over the debate
on the role of youth in countering violent extremism during Jordan's monthly
presidency of the 15-member council.
Jordan will host an international conference in August to
encourage young peacemakers to confront extremism and terrorism, he said.
The eldest son of King Abdullah II argued that young people
must be empowered through education, job opportunities and "a decent
living," and said social media can serve as a tool.
Jihadist groups in Syria and Iraq have recruited thousands
of disenfranchised young people into their ranks from Europe and the Arab
world.
Loretta Lynch Becomes
First Black Woman in US Attorney General Post
The US Senate confirmed Loretta Lynch as the nation's first
black female attorney general today, installing an aggressive counter-terrorism
prosecutor as the top law enforcement official for President Barack Obama's
final 21 months in office.
Lynch was confirmed in a 56-43 vote — with 10 Republicans
crossing the political aisle to lend their support — following weeks of
gridlock after her confirmation process was dragged into a bitter partisan
battle over abortion.
She takes over from outgoing Attorney General Eric Holder,
whom Republicans had criticized as being a rubber stamp for Obama's policies.
Lynch's confirmation brought to an end a months-long process
that Democrats noted took longer than the confirmation of the seven previous
attorneys general combined.
Sports
–
Indian Motor Sports
Finally Gets Govt Recognition
The Indian government has finally recognised motor sports as
a sport by including governing body FMSCI in the list of sports ministry-backed
National Sports Federations (NSF).
The development comes at a rather quiet period for Indian motorsports
and at a time when efforts are being made to bring Formula 1 back to the
country after the Grand Prix was dropped owing to tax and bureaucratic hurdles.
The ministry has included motor sports in its latest
revision of sports disciplines, albeit in the 'Others' category, meaning no
financial assistance will be provided to the Federation of Motor Sports Clubs
of India (FMSCI).
However, the government support to FMSCI does not help the
F1 Indian Grand Prix much as getting the race back is primarily down to
promoters Jaypee Group and its commercial rights holder Formula One Management
(FOM).
Vicky Chandhok, former FMSCI president and currently its
member representing Madras Motor Sports Club, welcomed the government's move
after years of wait.
Awards
& Honors –
Indian-Origin Soldier
Adiel Yosef Awarded President's Medal in Israel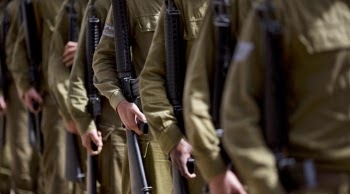 A 22-year-old Indian-origin soldier with Israeli army has
been awarded the President's Medal of Excellence for his outstanding service.
Adiel Yosef, who immigrated to Israel from Mumbai four years
ago, got the award for serving in the Israel Defence Forces (IDF).
Following an exemplary service record in the combat unit,
including his participation in Israel's war in Gaza last year, the Indian
Jewish soldier is now all set to join the officer's course for which he was
recently accepted.
President's Medal of Excellence is awarded every year based
on recommendations from commanders of various IDF units for the significant
service and outstanding contribution to the Israeli army and the State of
Israel.
Regards
Team ExamPundit
Sponsored

(adsbygoogle = window.adsbygoogle || []).push({});
Books For 2015 Banking/Insurance Exams