Hello and welcome to ExamPundit. Here are the Important Current Affairs for 23rd April, 2015.
RBI
–
RBI Revises Priority
Sector Norms, Includes More Categories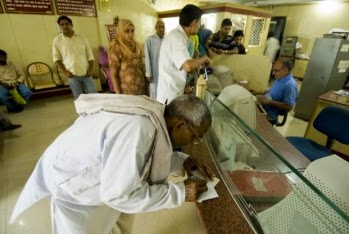 The Reserve Bank today revised priority sector lending
norms, asking banks to give 8 per cent of the total credit to small and
marginal farmers.
It also widened the definition of priority sector by
including medium enterprises, social infrastructure and renewable energy while
retaining the lending target to the sector at 40 per cent.
Changes have however been made in certain sub-categories by
fixing lending targets. Also, the distinction between direct and indirect
agriculture has been dispensed with and loans to food and agro processing units
will form part of agriculture.
Eight per cent of total bank credit prescribed for small and
marginal farmers within the agriculture segment has to be achieved in a phased
manner — 7 per cent by March 2016 and 8 per cent by March 2017, RBI said.
Overall target for agriculture has been kept unchanged at 18
per cent.
For micro enterprises, 7 per cent lending by March 2016 and
7.5 per cent by March 2017 has been prescribed.
However, there will be no change in the 10 per cent loan
target for weaker sections.
Existing categories in priority sector include agriculture,
micro and small enterprises, export credit, education and housing loan.
RBI said foreign banks with less than 20 branches will have
to move to total priority sector target of 40 per cent, on par with other banks
by 2019-20.
RBI said overdrafts extended by banks for up to Rs 5,000 in
case of PMJDY accounts would be considered as priority sector lending (PSL).
It would however qualify only if borrowers' household annual
income does not exceed Rs 1 lakh for rural areas and Rs 1.60 lakh for non-rural
areas.
RBI further said that bank loans of up to Rs 10 lakh
extended to individuals for educational purposes, including vocational courses,
will be eligible for PSL.
Limits for housing loans and MFI loans qualifying under PSL
have also been revised.
Industry,
Business MoUs & Deals –
Zomato extends the
service, ties up with Uber to arrange the cab as well!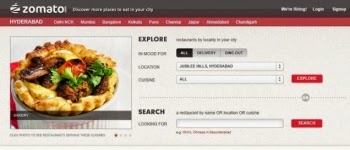 Now driving down to a restaurant becomes all the more easy
for Zomato users.
Global restaurant search and discovery app Zomato has
partnered with the San Francisco-based hail-a-taxi app, Uber, to bring in more
users onto their respective platforms across the globe.
In a statement here today Zomato said the partnership has
been rolled out to Zomato users in 27 cities across 13 countries — India,
Australia, Canada, the UK, South Africa, Indonesia, New Zealand, the
Philippines, Portugal, Qatar, Turkey, UAE, and the US.
Zomato and Uber will provide users a seamless experience by
enabling them to book cabs to the restaurant they are planning to eat at.
The feature has already been made available to Zomato users
in London and South Africa, and will now be rolled out to users in these other
key markets, the release said.
Google India tops
Randstad survey for 'Most Attractive Employer'
Google India has bagged the Randstad Award 2015 for Most
Attractive Employer in India, while Sony India has been adjudged the runner-up.
The sector-specific special recognition awards this year
were awarded to Tata Steel (manufacturing), P&G (FMCG), and Honda India
(Automobile). The 5th edition of the Randstad Awards event will be held in
Delhi later today.
In line with the Randstad Award philosophy, Microsoft India
has been inducted into the Hall of Fame category this year for winning the
coveted Randstad Award title for four consecutive years.
The Randstad Award is hosted each year to encourage best
practices for talent attraction and to identify the best 'Employer Brand' in
the country based on the perceived attractiveness of a company. Globally, this
research covered 23 countries, capturing the views of over 225,000 respondents
(8,500 in India).
UST Global signs $30
million deal with MP govt
UST Global, an information technology solutions and services
company, has signed a $30 million deal with the Madhya Pradesh government to
digitise its urban local bodies. Under the seven-year deal, the company will
digitise the State's 377 urban local bodies.
As part of the deal, UST Global will help these bodies
provide facilities such as electronic bill payments and online filing of
grievances to its citizens. Overall, it will support the state's projects in
water, electricity, public health and transportation outlined in the Chief
Minister's infrastructure development manifesto, 'Vision 2018', the company
said in a statement.
UST Global will also train and hire 10,000 differently-abled
individuals across the country over the next three years, under its 'Impact
India' programme. This is apart from the 5,000 people that the company plans to
hire for expansion during the same period.
India
–
Rural Internet Users
to Surge to 28 Crore by 2018: Report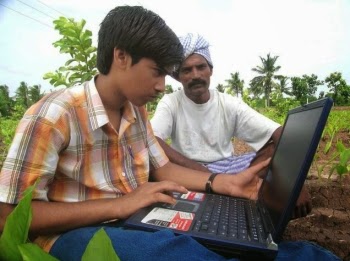 The share of rural internet users will increase nearly
fivefold to touch 28 crore by 2018, signalling higher online purchasers going
forward from rural India, says a research report.
By 2018, the country will have "as many as 55 crore
internet users, of which 28 crore would be from smaller towns and cities,
expanding at close to 40 per cent a year from six crore in 2014,"
forecasts a report on digital consumption by Boston Consulting Group (BCG).
The report said that the shift will open up significant
growth opportunities for marketers and service providers keeping in mind the
dynamics of rural markets in India.
Around 70 per cent of rural users access the internet from
their mobile handsets, the report said.
Three factors including expanding reach, affordable access
and improved awareness will be the primary driver of online growth, the report
pointed out.
By 2018, women will account for a third of all internet
users from 25 per cent in 2013.
Union Cabinet
approved agreement between India and Jordan on maritime transpor
The Union Cabinet on 22 April 2015 gave its approval for
signing of a shipping agreement between India and Jordan. The agreement aims at
strengthening cooperation and providing sustained mutual assistance on merchant
shipping and other related maritime matters.
The nod was given in a Cabinet meet chaired by Prime
Minister Narendra Modi in New Delhi after recognizing the significant mutual
benefit which can be derived from cooperation in area of shipping between the
two countries.
Main benefits of
India-Jordan shipping pact
It will help the two nations to encourage and facilitate
development of their maritime relationship.
It will help the two nations to cooperate in the task of
enhancing and stimulating steady growth of maritime traffic.
It will help in exchange and training of staff and students
from various maritime establishments, exchange of information necessary for
accelerating and facilitating flow of commercial goods at sea and at ports.
Union Ministry of
Information and Broadcasting received ISO 9001:2008 certification
The Union Ministry of Information and Broadcasting (I&B)
on 22 April 2015 received the ISO 9001:2008 certification from the British
Standards Institute (BSI). The ISO certification was granted in respect of
various licences issued by ministry for the broadcasts, print media and films.
In this regard, the Ministry has put in place a well-defined
procedure and measures in order to ensure quality of services offered to the
customers on the basis of ISO 9001:2008. This certification will also ensure
delivery of services by the Ministry in a qualitative manner.
Awards
& Honors –
IOC President Thomas
Bach named ambassador of HeForShe by UN Women
Thomas Bach, the president of International Olympic
Committee (IOC), was on 22 April 2015 named as ambassador of HeForShe campaign
by UN Women.
HeForShe is a solidarity campaign for gender equality
established by United Nations (UN) Women.
The campaign was launched by the UN Women Global Goodwill
Ambassador Emma Watson in September 2014. HeForShe encourages men and boys to
join in on the fight for women's rights and gender equality all over the glove.
Their goal is to enlist one billion men and boys to become advocates for
women's rights worldwide.
Hundres of thousands of men have voiced their commitment to
gender equality, since the campaign's launch, and gave their full support for
the program.
Shah Rukh Khan
honoured with Dadasaheb Phalke Film Foundation Award 2015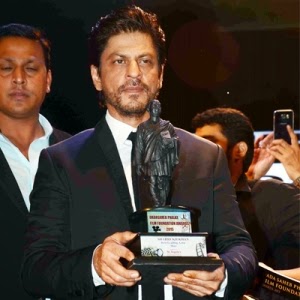 Bollywood actor Shah Rukh Khan was on 21 April 2015 honoured
with the Dadasaheb Phalke Film Foundation Award 2015 for his performance in the
movie Happy New Year. The award ceremony was held in Mumbai.
Other Awardees
Actor Rajkummar Rao won the prestigious award for his
performance in the critically acclaimed film Citylights, which was released in
2014.
Actress Huma Qureshi bagged an award for her memorable
performance in the movie Dedh Ishiqya.
Bollywood actors Shreyas Talpade, Tiger Shroff, actress Jaya
Prada, singer Udit Narayan and Pankaj Udhas were also felicitated with the
award.
Several television celebrities were also conferred with the
award including actors Rubina Dilaik, comedian Bharti Singh and actor Ravi
Dubey.
Sports
–
Bangladesh won
3-match ODI series against Pakistan, 3-0
Bangladesh on 22 April 2015 won the three-match One Day International
(ODI) Series against Pakistan in Dhaka by 3-0. This was Bangladesh's first
series whitewash against an Asian Test-playing nation.
Man of the Series award went to Tamim Iqbal.
Now, both teams will play a T-20 match at Shere Bangla
National Stadium in Dhaka on 24 April
2015. It will be followed by a 2-match Test series which will began on 28 April
2015 at Sheikh Abu Naser Stadium in Khulna and end on 10 May 2015 at Shere
Bangla National Stadium in Dhaka.
Union Sports Ministry
suspended recognition of Paralympic Committee of India
The Union Sports Ministry on 22 April 2015 suspended the
recognition of Paralympic Committee of India (PCI) with immediate effect. It
was suspended for poor management and conduct of 15th National Para-Athletics
Championships held in Ghaziabad in March 2015.
The action of Union Government came a week after PCI was
indefinitely suspended by the International Paralympic Committee (IPC) for
infighting and poor treatment of the para-athletes during the event. IPC had
suspended PCI on 15 April 2015.
The government took the action in the backdrop of the report
of the inquiry conducted by the Sports Authority of India (SAI). SAI in its
report found that the PCI failed miserably in providing adequate facilities to
the para-athletes during the National Para Athletics Championships 2015 held
from 20 March to 22 March 2015.
Appointments
–
Indian-American Vivek
Murthy Takes Oath As US Surgeon General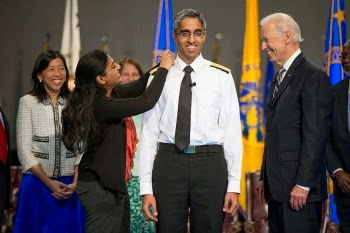 Indian-American Vivek Murthy was today administered the oath
for the top post of US Surgeon General by Vice President Joe Biden at a
ceremonial ceremony here, becoming the youngest-ever in charge of the country's
public health.
37-year-old Vivek Hallegere Murthy is now the highest
ranking Indian-American in the Obama Administration.
Attended by eminent Indian-Americans, who flew in the
military bastion from across the country to attend the Commissioning and Change
of Command Ceremony, Murthy took the oath on the holy Gita.
As the US Surgeon General, Murthy carries the rank of Vice
Admiral.
The Health Secretary Sylvia Burwell also participated in the
event.
Days
–
World Book and
Copyright Day celebrated on 23 April with the theme "Read the World"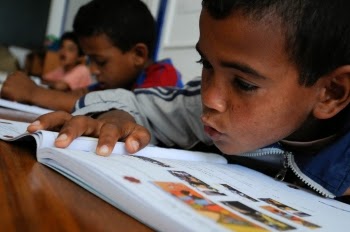 World Book and Copyright Day – marked around the world on 23
April – was proclaimed by UNESCO in 1995 and is observed by millions of people
in over 100 countries by schools, public organizations and private businesses.
As global symbols of social progress, books have always been
targets for those who reject freedom and tolerance, the United Nations agency
mandated with promoting education said today on World Book and Copyright Day,
calling the occasion an opportunity to recognize the power of books to change
lives for the better.
Each year, UNESCO and the international organizations
representing the three major sectors of the book industry – publishers,
booksellers and libraries – select the World Book Capital for a one-year
period, effective 23 April each year.
This year the city of Incheon in Republic of Korea was
chosen in recognition of its programme to promote reading among people and
underprivileged sections of the population.
Regards
Team ExamPundit
Sponsored

(adsbygoogle = window.adsbygoogle || []).push({});
Books For 2015 Banking/Insurance Exams