Hello and welcome to ExamPundit. Here are the Important Current Affairs of 20th November, 2015. These are Important for the upcoming Insurance AOs and Bank Exams.
Insurance
–
Kotak General
Insurance gets IRDAI licence to commence business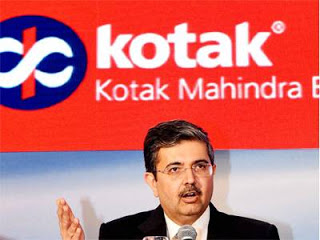 Kotak Mahindra General Insurance Company (Kotak General
Insurance) announced it has been granted certificate of registration (R3) by
Insurance Regulatory and Development Authority of India (IRDAI) to commence
business as an Indian insurance company.
The insurer has received permission to underwrite all
classes of general insurance business (Including health insurance).
Kotak General Insurance will initially focus on the retail
side of the business comprising motor insurance, health Insurance, home Insurance
and travel insurance.
The company will soon expand into the commercial lines of
business, which includes fire, burglary and marine among others. At inception,
the general insurer has been capitalised at Rs 135 crore.
In November 2014, Kotak Mahindra Bank had announced that it
will foray into the general insurance business.
Finance/Industry
–
TCS, Intel launched
Centre of Excellence for IoT in Hyderabad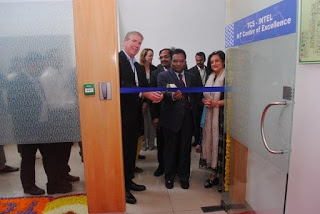 Tata Consultancy Services (TCS), India's largest software
exporter, on 18 November 2015 launched a new Centre of Excellence (CoE) for
Internet of Things (IoT) in collaboration with Intel.
The CoE is located at the TCS campus in Hyderabad.
Features of the
CoE for IoT
Its focus is to integrate IoT solutions developed by TCS on
Intel IoT platforms and to fast-track creation of end-to-end solutions.
It will augment developing new use cases for various
industries for global customers in manufacturing, retail, hi-tech,
semiconductors, healthcare and telecom industries.
ED serves Rs 2,030
crore notice on NDTV for FEMA violations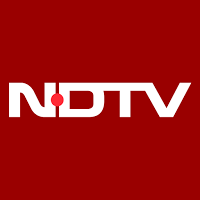 The Enforcement Directorate (ED) has served a show-cause
notice of regulatory foreign exchange rule violations involving Rs 2,030 crore
against private broadcaster NDTV.
The notice has been issued in a case being pursued under the
Foreign Exchange Management Act (FEMA) since 2011.
It has been alleged that NDTV did not follow the required
rules and regulations in connection with companies set up in various countries,
including the U.K., the Netherlands, Sweden and Mauritius.
Appointments
–
Nitish Kumar sworn-in
as Bihar Chief Minister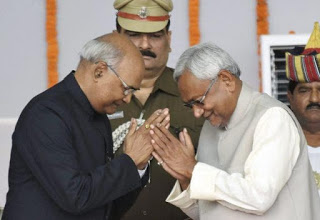 Senior JDU leader Nitish Kumar was sworn-in as Chief
Minister of Bihar for the fifth time on 20 November 2015. The swearing-in
ceremony was held at the Gandhi Maidan in Patna.
Governor Ramnath Kovind administered the oath of office and
secrecy to Nitish Kumar. He also administered the oath of the office to other
council of ministers belonging to RJD, JD(U) and Congress parties.
RJD president Lalu Prasad's sons, first time MLA Tejaswi
Prasad Yadav and Tej Pratap Yadav, were also sworn in.
Arun Kumar Kapoor
appointed new CEO of Dish TV
Direct-to-home (DTH) service provider Dish TV today
appointed Arun Kumar Kapoor as its Chief Executive Officer (CEO) with effect
from November 23.
Kapoor has also been nominated as a 'Key Managerial
Personnel' of the company under the applicable provisions of the Companies Act,
2013 and Listing Agreement.
Prior to joining Dish TV, Kapoor was the CEO of Raj
Television handling subscription revenues of Zee and Turner channels.
He also worked at major brands such as Pepsi, Gillette,
Airtel and Hutch.
World
–
23rd APEC Economic
Leaders Summit held at Manila
23rd Asia-Pacific Economic Cooperation (APEC) Economic
Leaders Summit was held at Manila, Philippines from 18 November to 19 November
2015. The summit was chaired by Philippines President Benigno S. Aquino III.
The theme of the Summit was Building Inclusive Economies,
Building a Better World. After the conclusion of the summit, the leaders from
21 member-countries issued the 2015 Leaders Declaration titled Building
Inclusive Economies, Building a Better World: A Vision for an Asia-Pacific
Community
Peru will chair APEC throughout 2016 and host the 24th APEC
Economic Leaders' Meeting.
Egypt, Russia signed
deal to build a nuclear power plant in Egypt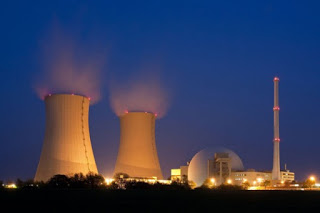 Egypt and Russia on 19 November 2015 signed an agreement to
build a nuclear power plant in Egypt. As per the agreement, Russia will extend
a loan to Egypt to cover the cost of construction.
The plant is expected to be completed by 2022.
Highlights of the
deal
The plant will be the first in Egypt and will be built at
Dabaa in the North of the country.
The project would involve the building of a third-generation
plant with four reactors.
Egypt will not bear the cost of building this plant. It will
be paid back through the actual production of electricity that will be
generated by this plant.
Awards
& Honors –
University of East
London awarded honorary doctorate to Ashok Amritraj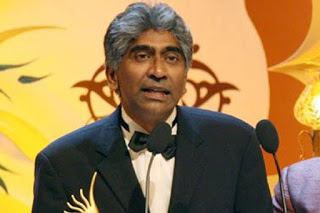 Tennis champion-turned Hollywood filmmaker Ashok Amritraj on
19 November 2015 was awarded with an honorary doctorate of Arts by the
University of East London.
Amritraj was honoured for promoting talented moviemakers
from across the world, including India.
Born on 22 February 1956 in Chennai, Amritraj started his
career as a tennis player who represented India on an international level.
He competed in doubles at Wimbledon and the US Open.
UNHCR chosen for
Indira Gandhi Prize for Peace, Disarmament and Development for 2015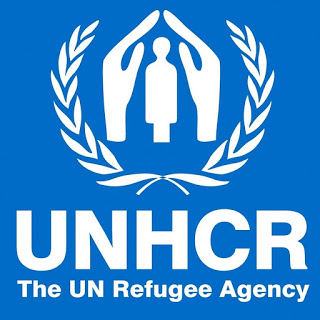 The United Nations High Commissioner for Refugees (UNHCR)
was on 19 November 2015 chosen for the Indira Gandhi Prize for Peace,
Disarmament and Development for 2015.
A decision in this regard was taken by the international
jury of the prize, headed by Vice President of India Mohammad Hamid Ansari on
the occasion of birth annniversary of Indira Gandhi.
The UNHCR was chosen for the award in recognition of its
immense contributions in assisting millions of refugees in their rehabilitation
and resettlement.
Its headquarters is in Geneva, Switzerland and operates in
123 countries across the world.
Sports
–
Srishti Pandey won
Indiana FIDE Rating Chess Tournament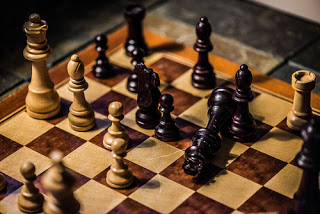 Maharashtra's chess player Srishti Pandey on 18 November
2015 clinched the second Indiana All India FIDE Rating Chess tournament.
The tournament was organised by Nagpur Taluka Chess
Association, which concluded at Dr Hedgewar Smarak Samiti Hall, Reshimbagh,
Nagpur.
Fourteen years old Pandey shared points with Avadh Chaitanya
from Madhya Pradesh playing on the top board and ended with seven and half
points each at the end of the ninth and last round of the Swiss-league
tournament.
Obituaries
–
RK Trivedi, the
former Gujarat Governor and CEC, died
Former Gujarat Governor Ram Krishna Trivedi died on 19
November 2015 after prolonged illness in Lucknow. He was 94.
Trivedi served, who served as the Chief Election
Commissioner from 18 June 1982 to 31 December 1985, was the first person to
introduce the voter ID cards in Indian Elections.
Trivedi served Gujarat as its Governor from 26 February 1986
to 2 May 1990.


Regards
Team ExamPundit
Sponsored

(adsbygoogle = window.adsbygoogle || []).push({});
Books For 2015 Banking/Insurance Exams