Hello and welcome to ExamPundit. Here are the Important Current Affairs of 20th April, 2015.
Banking
–
ICICI Bank, Tech
Mahindra launch tap and pay service
ICICI Bank, India's largest private sector bank, has
partnered with Tech Mahindra to launch contactless payment service to 'tap and
pay'.
Based on the Near Field Communications (NFC) technology,
this payment service enables anyone (account holder of ICICI Bank or not) to
make over-the-counter payments without using cash. It allows users to just tap
the NFC enabled tag or mobile phone at the merchant's point-of-sale device to
make payments, ICICI Bank said in a statement.
'Tap n Pay' is a prepaid account, which can be availed by
customers of any bank by registering for it and transferring money online from
any bank account.
ICICI Bank customers can also transfer money to the Tap-n-Pay
account through an SMS.
The bank has started to offer this solution at large
campuses of corporate offices. ICICI Bank and Tech Mahindra have plans to
extend this service across the country, the bank further said.
Business
MoUs & Deals –
Coal, Railway
Ministries, Odisha Govt sign MoU to form new joint venture
The Coal Ministry, Railway Ministry and Government of Odisha
signed a memorandum of understanding on Monday to form a joint venture which
identify and execute railway line projects for evacuation of coal in the State.
Coal India will hold 64 per cent stake in the joint venture
while the Indian Railways will hold 26 per cent and the Odisha Government will
hold 10 per cent.
"Speedier execution of projects through an independent
corporation is the way forward. This is purely profit making venture which will
help Coal India produce more and sell more coal," said Minister for State
(Independent Charge) Power, Coal and New and Renewable Energy, Piyush Goyal.
Coal Secretary, Anil Swarup added that the basic structure
of the MoU will be used for similar collaboration with other states. Another
MoU with Jharkhand is expected to be signed shortly.
Yuvraj Singh's
Youwecan Ventures invests in Vyomo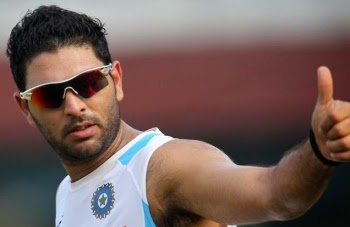 Cricketer Yuvraj Singh's start-up fund Youwecan Ventures has
invested an undisclosed amount in mobile beauty and wellness platform Vyomo, in
a seed funding round.
This is the first investment of the Youwecan Ventures, which
has a corpus of Rs. 50 crore.
Vyomo aims to create a solution for beauty professionals to
grow their business through smartphones, and customers to book appointments
instantly through their mobile devices.
According to a KPMG report released in 2014, the beauty and
wellness industry in India would nearly double to Rs. 80,370 crore by FY18 from
Rs. 41,224 crore in FY13.
In the next two years, Vyomo expects to bring more than 10
lakh stylists on the platform and improve their earnings by allowing millions
of customers to instantly access and book a hassle free salon and spa
experience.
India
–
Navy launches stealth
destroyer INS Visakhapatnam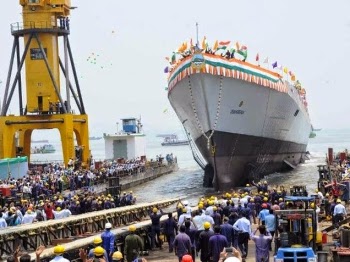 India Navy's new stealth destroyer, Visakhapatnam, designed
indigenously and fitted with advanced features, was launched here today,
boosting the maritime force's firepower capability.
The Kolkata-class warship, the first of P15-B stealth
destroyers, was launched by Minu Dhowan, wife of Chief of Naval Staff Admiral R
K Dhowan, at Mazgaon Docks Ltd (MDL).
The ship, weighing approximately 3,000 tons during the
launch, is slated to be christened as 'INS Visakhapatnam' on commissioning.
The 163-metre-long vessel will be propelled by four gas
turbines, and is designed to achieve a speed of over 30 knots at a displacement
of approximately 7,300 tons.
The indigenously designed stealth destroyer will have
state-of-the-art weapons, sensors, an advance Action Information System, in
Integrated Platform Management system, sophisticated Power Distribution System
and a host of other advanced features.
World
–
India and South Korea
held high level defence talks in Seoul
India and South Korea on 18 April 2015 held high level
defence talks in Seoul. The talks were held on the sidelines of four day visit
of Indian Defence Minister Manohar Parrikar to South Korea.
The meeting was held with South Korean Defence Minister Han
Min-koo at the Ministry of Defence of Korea in Seoul.
Parrikar also met Admiral Choi, Chairman of the Joint Chiefs
of Staff; Minister Chang of the Defence Acquisition Program Administration
(DAPA); National Security Advisor Kim Kwan-jin.
In all his meetings, the Defence Minister offered sincere
condolences on the first anniversary of the Sewol ferry disaster that happened
in April 2014, in which over 300 lives were lost.
During the meeting with Admiral Choi, the two sides
discussed existing bilateral defence relations.
13th UN Congress on
Crime Prevention and Criminal Justice held in Doha
The 13th UN Congress on Crime Prevention and Criminal
Justice was held from 12 April 2015 to 19 April 2015 at Qatar National
Convention Centre in Doha, Qatar. The Summit concluded with the adoption of
Doha Declaration.
The Doha Declaration aims at integrating crime prevention
and criminal justice into the wider United Nations (UN) agenda to address
social and economic challenges and to promote the rule of law at the national
and international levels, and public participation.
During the conference, delegates pledged action to promote
justice for all, underline link between rule of law, sustainable development
and by adopting a statement to that effect participants committed themselves to
integrating crime prevention and criminal justice into the wider UN agenda.
Chhurim Sherpa, first
woman to climb the Everest summit twice in a week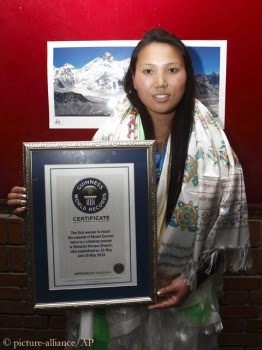 Chhurim Sherpa, first woman to climb the 8850 metre (29035
feet) Mount Everest summit twice in a week was in news on 19 April 2015. Sherpa
was in news as during her third ascent to Mount Everest she will take a cricket
bat and two jerseys of deceased Australian cricketer Phil Hughes.
The belongings of Hughes are being carried to the summit as
a mark of tribute to the player. He died in November 2014 after he was hit on
the back of his head by a ball while batting during a domestic match in Sydney.
Chhurim under this expedition will carry the items to the
top and back to Kathmandu, where they will be kept at the Australian embassy.
Sports
–
Three Indian race
walkers Khushbir, Manish, Sandeep qualified for 2016 Rio Olympics
Three Indian race walkers, Khushbir Kaur, Manish Rawat and
Sandeep Kumar on 19 April 2015 qualified for 2016 Rio Olympics. They qualified
for the Olympics during the IAAF Race Walking Challenge at Rio Maiorin Portugal.
Khushbir Kaur, the National women's 20km walk record holder
clocked 1 hour 33 minute and 58 seconds to better Rio Olympic qualification
time of 1 hour and 35 minutes. She finished 13th in the race.
Manish Rawat, in the men's 20km race walk clocked his
personal best performance with a timing of 1 hour 22 minutes and 50 seconds. He
finished in top 10 in the list.
Sandeep, the National 50km race walk record holder, in the
men's 20km race walk category clocked 1 hour 23 minute and 32 seconds. He
finished 14th-place finish in the race.
Obituaries
–
Former Bengal U-19
captain Ankit Keshri passed away after an on-field injury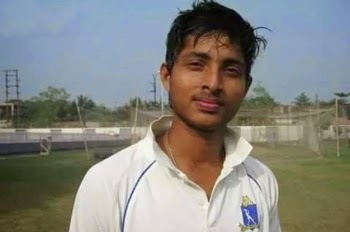 In another tragic on-field incident after Phillip Hughes'
death last November, a promising Bengal batsman Ankit Keshri today passed away
owing to an injury sustained during a Cricket Association of Bengal's Senior
one-day knock-out match on April 17.
Keshri was in hospital for the past three days and was
showing signs of recovery till yesterday evening when he was given oral food.
However, in the early hours of this morning, Keshri suffered a massive cardiac
arrest and was put on ventilator before he was declared dead.
The 20-year-old, a talented right-hander, had captained the
Bengal U-19 team in Cooch Behar Trophy and was in the 30-member India U-19
probables list for the 2014 Colts World Cup in the United Arab Emirates. He was
also playing for Bengal A (U-23 side) in CK Nayudu national Championship.
In what can be considered a cruel twist of fate, Keshri was
not a part of the playing XI and was the 12th man of the side in the fateful
match. He came to replace Railways Ranji all-rounder Arnab Nandi, who had taken
a break.
The incident happened at the Salt Lake ground during a one
day match between local giants East Bengal and Bhowanipore club.
We, the entire family of Exam Pundit are saddened by the
sudden demise of Ankit and our heartfelt condolences to his family.
Regards
Team ExamPundit
Sponsored

(adsbygoogle = window.adsbygoogle || []).push({});
Books For 2015 Banking/Insurance Exams


EP Recommends: Practicemock Free Mock Tests