Hello and welcome to ExamPundit. Here are the Important Current Affairs of 1st September, 2015. These are Important for the upcoming IBPS PO V Exam. We are also providing 5 Stock GK Expected Questions.
Finance/Banking/RBI
–
RTGS will not operate
on 2nd, 4th saturdays: RBI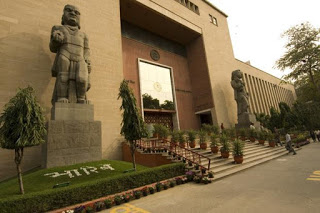 The RTGS system, which allows real time transfer of large
funds, will not be operated on second and fourth Saturdays with banks observing
public holiday on that days, the Reserve Bank said on Tuesday.
However, the system will operate for full days on other
Saturdays of a month, RBI said in a notification.
Banks are observing public holiday on every second and
fourth Saturdays of a month.
RBI has also effected changes in RTGS time window.
As per the new time schedule for regular days, including
Saturdays except second and fourth, business opening would be at 0800 hours
while initial cut off (customer transactions) would be 1630 hours. The final
cut-off (inter-bank transactions) will be at 1945 hours and IDL reversal
between 1945-2000 hours.
The close of business is at 2000 hours.
As per earlier timings for Saturdays or short days, the
initial cut-off was at 1400 hrs and final cut off at 1500 hours.
The close of business was at 1530 hours.
RTGS means Real Time Gross Settlement which refers to
continuous or real time settlement of funds.
It is primarily meant for large value transactions. The
minimum amount to be remitted through RTGS is Rs 2 lakh. There is no upper
ceiling for RTGS transactions.
At 7 per cent, India
remains fastest growing major economy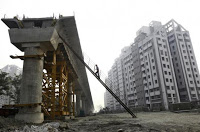 India remained the fastest growing major economy of the
world for a second straight quarter, with GDP growing at 7 per cent during
April-June 2015 against 6.7 per cent in April-June 2014. Growth in the previous
quarter, January-March 2015, was, however, higher at 7.5 per cent.
Data released the Central Statistics Office (CSO) on Monday
showed marginal improvement in private consumption expenditure but gross
capital formation rate — a barometer for investments — continued to decline. It
was down to 27.8 per cent from 29.2 per cent in April–June 2014.
A source at the CSO explained that growth would have been
better had it not been for the poor rabi crop.
Growth during the quarter was driven primarily by the
services sector. The manufacturing and construction industries recorded
favourable growth too. The agriculture sector saw a decline, growing at a mere
0.6 per cent. Growth also slowed in the sectors 'mining and quarrying' and
'electricity, gas, water supply and utility services'.
In terms of the gross value added, (GVA) growth was 7.1 per
cent against 7.4 per cent in April-July 2014. The revised methodology for GDP
(Gross Domestic Product) calculation subtracts subsidy and adds taxes to the
GVA to arrive at the GDP.
The Modi Government's budget announcement of higher public
spending this financial year did not reflect in the data released as at growth
was low at 2.7 per cent in 'public administration, defence and other services'.
Union Government
approved Smart National Common Mobility Card model for seamless travel across
India
The Union Ministry of Urban Development on 1 September 2015
gave approval for Smart National Common Mobility Card (NCMC) model for seamless
travel across India.
The model will enable commuters to travel by different
metros and other transport systems across the country besides retail shopping
and purchases.
Features of Smart
National Common Mobility Card (NCMC)
It is based on EMV Open Loop Card system with stored value
model.
It meets travel needs based on stored value of money and can
be used for travelling by any means of transport and also enables account based
retail applications.
The model is an improved version of nationwide common card
prevalent in Singapore.
The National Payments Corporation of India (NPCI) will be
involved in indigenous development and management of Clearing and Settlement of
payments, Simulating Cards, Terminals and network, a support base of vendors
for providing certified tools, cards, terminals and other services.
The Centre for
Development of Advanced Computing (C-DAC) will develop the standards and
hardware for Metro gates/validators along with related ecosystems.
Funding of 4.47 crore rupees approved by the ministry for
developing the model.
Reliance
Entertainment ties up with French studio Pathe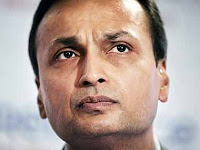 Anil Ambani's film production and distribution outfit
Reliance Entertainment has tied up with French film production and distribution
house Pathe to distribute director Gurinder Chaddha's next movie titled
Viceroy's House.
This is the first time that Pathe has collaborated with an
Indian outfit for the distribution of a film.
Pathé will distribute the film in the UK and France and will
handle sales throughout the rest of the world while Reliance Entertainment will
distribute the film in India.
The company holds leadership position in the art-house and
indie film distribution space in the UK and France.
Apart from producing and distributing films (in cinema and
home video), the company also owns cinema halls in France, Netherlands and
Switzerland (total of 1,000 screens).
Appointments
–
Anjali Duggal takes
charge as Financial Services Secretary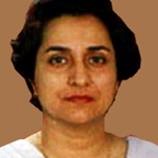 Anjuly Chib Duggal, a Punjab cadre IAS officer, has assumed
charge as Secretary in the Department of Financial Services in the Finance
Ministry.
She has replaced Hasmukh Adhia, who has taken over as
Revenue Secretary in the same Ministry.
Prior to taking over as Financial Services Secretary, Anjuly
was holding the charge of Corporate Affairs Secretary.
She had also earlier worked in various capacities including
Joint Secretary, Additional Secretary and Special Secretary in the Department
of Expenditure in Finance Ministry.
A K Jha takes charge
as NTPC interim CMD
NTPC's Director (Technical) A K Jha today took additional
charge of Chairman & Managing Director of the company as an interim
measure.
After refusing to give extension to Arup Roy Choudhury as
CMD of NTPC, the government has decided to give additional charge to Jha for
three months from September 1 as an interim arrangement.
A search committee headed by Power Secretary P K Pujari is
currently looking for a full-time CMD for NTPC.
The committee will send the list of short-listed candidates
to the Appointments Committee of the Cabinet for a final call.
Jha, 58, is a graduate in Mechanical Engineering from BIT
Sindri, Ranchi University, and holds LLB from the Delhi University.
He joined NTPC in 1977 as an Executive Trainee and was
directly associated with its flagship project — Singrauli (5×200 MW).
Sports
–
India beat Sri Lanka
by 117 runs to win series 2-1 in Sri Lanka after 22 years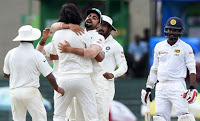 India today clinched their first Test series victory on Sri
Lankan soil in 22 years with an emphatic 117-run win over the hosts in the
third and final cricket Test despite a valiant century by rival skipper Angelo
Mathews.
After setting a daunting victory target of 386, India
managed to dismiss the Sri Lankans for 268 on a wicket which slowed down
considerably to wrap up the series 2-1, their first overseas series victory
since June, 2011 against the West Indies.
It was new captain Virat Kohli's first series win ever since
he took over reins of the team from Mahendra Singh Dhoni.
The last time an Indian team won a series in Sri Lanka was
way back in 1993 under Mohammed Azharuddin's leadership when they sealed the
series with 1-0 scoreline.
The fifth day's action was not devoid of drama as more
on-field altercation took place with Kusal Perera being involved in a heated
exchange with Indian players.
Ashwin took the last wicket of Nuwan Pradep to bring about
India's moment of glory, triggering scenes of wild celebrations in the dressing
room as the players hugged each other and picked up the stumps as mementos.
Ishant Sharma, three
Sri Lankans charged for misconduct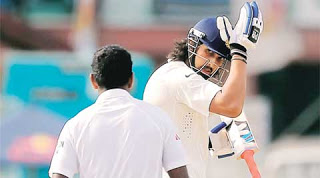 India paceman Ishant Sharma and three Sri Lankan players
have been charged for misconduct during the ongoing third test between the
neighbours, the International Cricket Council (ICC) said on Tuesday.
Sharma, who was fined 65 per cent of his match fees for
giving send-offs to Lahiru Thirimanne and Dinesh Chandimal in the second test,
landed in trouble with the Sri Lankans in the final contest as well.
Thirimanne, Chandimal and paceman Dhammika Prasad, who had
an animated altercation with Ishant on Monday, have also been charged with code
of conduct breaches, the ICC said.
World
–
Highest mountain of
North America Mt McKinley renamed as Denali
The highest mountain of North America was on 28 August 2015
renamed as Denali instead of its existing name Mt McKinley by US President
Barack Obama. This designation will now recognize the sacred status of Denali
to generations of Alaska Natives.
The mountain, which sits in the 6 million-acre Denali
national park, has been known as Denali in Alaska since 1975. Now officially,
the Denali name will be used by all and it will also take effect for all
federal usage and on all official maps.
The change comes after a debate between lawmakers from
Alaska and Ohio. In January 2015, Republican Senate Lisa Murkowski of Alaska
introduced legislation that sought to officially call the mountain what
Alaskans and indigenous people called it Denali or The High One.
The historic change came during Obama's three-day
presidential trip to Alaska. It is the latest bid by the President to fulfill
his 2008 campaign promise to improve relations between the federal government
and the nation's Native American tribes.
Tejinder Pal Singh
named as Australian of the Day by Commonwealth Bank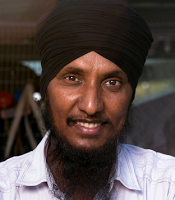 An Indian-origin driver in Australia Tejinder Pal Singh was
on 31 August 2015 named as Australian of the Day by Commonwealth Bank of
Australia for feeding the homeless in Darwin for the past three years.
He dedicated the last Sunday of every month to feed the poor
and homeless in northern Darwin after his night shift as a cabbie. He cooked
around 30 kg of Indian food to feed the homeless. The free lunch comprises
chickpeas, rice and vegetarian curry.
His van itself carries the sign Free Indian food for hungry
and needy people, Provide Sikh family.
The Commonwealth Bank has been sponsoring the Australian of
the Day campaign for over 35 years. The campaign recognises the extraordinary
Australians who have made a big difference to the country.
Books
& Authors –
30 Women in Power:
Their Voices, Their Stories by Naina Lal Kidwai
The book 30 Women in Power: Their Voices, Their Stories was
in news in August 2015. It was written and edited by Naina Lal Kidwai.
It is a collection of narratives on modern Indian women who
have been pioneers and led large organizations – in banking, law, the media,
advertising, government services, health care, consulting, the fast-moving
consumer goods sector and the not-for-profit space.
She is an executive director on the board of HSBC
Asia-Pacific and the chairman of HSBC India.
She is also a non-executive director of Nestle SA and was
the first woman president of the Federation of Indian Chambers of Commerce and
Industry (FICCI).
Daily
Expected Questions on Stock GK:
1. Dada Dhuniwale
Thermal Power Plant is located in which state?
– Madhya Pradesh
2. Sri Penusila
Narasimha Wildlife Sanctuary is located in which state?
– Andhra Pradesh
3. Kanaka Durga Temple
is located in which state?
– Andhra Pradesh
4. Captain Roop Singh
Stadium is located in which city/state?
– Gowalior, Madhya Pradesh
5. Which of the
following is the capital city of Paraguay
– Asuncion


Regards
Team ExamPundit
Sponsored

(adsbygoogle = window.adsbygoogle || []).push({});
Books For 2015 Banking/Insurance Exams