Hello and welcome to ExamPundit. Here are the Important Current Affairs of 18th September, 2015. These are important for the upcoming IBPS PO V Exam.
India
–
Pradhan Mantri Khanij
Kshetra Kalyan Yojana (PMKKKY) launched by Union Government
To transform the lives of people living in the areas which
are affected directly or indirectly by mining, the Union Government on 17
September 2015 launched the Pradhan Mantri Khanij Kshetra Kalyan Yojana
(PMKKKY).
The programme is meant for the welfare of areas and people
affected by mining related operations, using the funds generated by the
District Mineral Foundations (DMFs).
DMFs were created under the Mines and Minerals (Development
& Regulation) Amendment Act, 2015 in all the districts of the country
affected by mining related operations.
The objective of
PMKKKY
To implement various developmental and welfare
projects/programs in mining affected areas that complement the existing ongoing
schemes/projects of State and Central Government
To minimize/mitigate the adverse impacts, during and after
mining, on the environment, health and socio-economics of people in mining
districts
To ensure long-term sustainable livelihoods for the affected
people in mining areas by including all aspects of living, to ensure
substantial improvement in the quality of life.
The aspects include
a) High priority areas like drinking water supply, health
care, sanitation, education, skill development, women and child care, welfare
of aged and disabled people, skill development and environment conservation
will get at least 60 % share of the funds.
b) For creating a supportive and conducive living environment,
balance funds will be spent on making roads, bridges, railways, waterways
projects, irrigation and alternative energy sources.
PM Launches Rs 45K-Cr
Scheme to Strengthen Power Distribution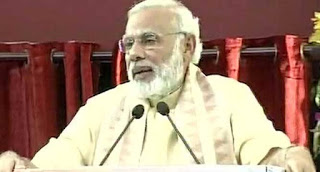 Prime Minister Narendra Modi today launched here the Rs
45,000-crore Integrated Power Development Scheme (IPDS) which will strengthen
distribution networks and ensure 24X7 power supply to all by 2022.
"In the entire country, about Rs 45,000 crore will be
spent under IPDS. This scheme will address many issues, including fraud,
related to the power sector especially in the urban areas," Modi said
after launching the scheme.
He further said that one of the important tasks of the
government is to provide 24X7 power supply to all by 2022 and this scheme is an
effort in that direction.
The IPDS will cover works relating to strengthening
sub-transmission and distribution system, including provisioning of solar
panels, metering of distribution transformers/feeders/consumer in urban areas
and IT enablement of distribution sector.
Modi said, "Power supply is available for four to six
hours in some remote areas of the country. It is our target to provide 24X7
power supply to all by 2022, even in remote areas. This is a tall order but
there is no other ways but to strengthen power distribution networks."
The Prime Minister said he used to see dangling electricity
wires everywhere in the city during his earlier visits to Varanasi. This scheme
will be one of the efforts to make Kashi a smart city.
64 Netaji secret
files released, Mamata wants Centre to follow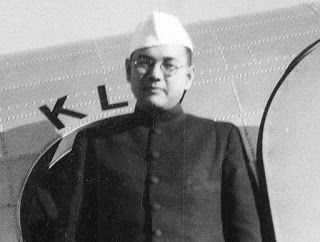 Sixty-four secret files relating to Netaji Subhas Chandra
Bose that could help throw light on his mysterious disappearance – an enduring
enigma for seven decades – were today released by West Bengal government with
Chief Minister Mamata Banerjee asking the Centre to follow suit.
Fulfilling a long-standing demand, Banerjee described as
"historic" the declassification of the closely guarded files on one of the
country's foremost nationalist leaders and said people should know the truth.
The Centre has 130 files.
Hidden in police and government lockers for years, the 64
files containing 12,744 pages were declassified here in the presence of Bose's
family members who have been demanding that information on the leader of the
Azad Hind Fauj (Indian National Army-INA) be made public.
The files displayed in glass cascades in Kolkata Police
Museum would be made accessible to the public from Monday, City Police
Commissioner Surajit Kar Purakayastha said.
Of the 64 files, 55 were with Kolkata Police while another
nine were with the state police.
Purakayastha handed over a DVD containing the files in
digitised format to the family members of Netaji who welcomed its release.
Madhya Pradesh
Government launched M-Shiksha-Mitra mobile app for teachers
To provide various services and teaching-related work to
teacher in a simple and easy way, Madhya Pradesh Government in September 2015
launched M-Shiksha-Mitra mobile app. With this, Madhya Pradesh became the first
state to develop such mobile app for teachers.
The app developed by NIC that carries several facilities can
be downloaded from Google Play Store in android mobile phone.
Expert Group on
tackling cyber crimes submitted its report to Ministry of Home Affairs
An Expert Group on tackling cyber crimes submitted its
report to the Ministry of Home Affairs (MHA) on 15 September 2015.
The report was titled Roadmap for Effectively Tackling Cyber
Crimes in the Country and was prepared after examining the global practices on
cyber crime prevention.
Among the other measures suggested by the expert panel,
establishment of a Indian cyber crime coordination centre or I4C was the most
prominent that will have following features
It will monitor, analyze and counter cyber crimes and
facilitate online reporting of cyber offences.
It will have real-time analytics of various categories of
cyber crimes along with their place of origin and incidence of occurrence.
It will facilitate India's cooperation from global internet
giants like Google, Facebook, etc that having servers abroad in tackling crimes
such as child pornography and fake identity.
India, US created
Joint Challenge Coin to mark partnership
India and the United States (US) on 17 September 2015
jointly created a Joint Challenge Coin to symbolise their unique partnership in
creating a next-generation aircraft carrier for the Indian Navy.
One side of the coin reads Forward Together We Go and Chale
Saath Saath in Hindi, which is the vision statement of US President Barack
Obama and Prime Minister Narendra Modi.
The other side of this coin which is golden in colour has
the flags of India and the United States and an aircraft carrier floating on
blue water.
Awards & Honors –
Union Government
presented Vishwakarma Rashtriya Puraskar and National Safety Awards 2013
The Union Minister of Labour and Employment Bandaru
Dattatreya on 17 September 2015 presented the Vishwakarma Rashtriya Puraskar
(VRP) and National Safety Awards (NSA) for the Performance Year 2013.
This year, 28 Vishwakarma Rashtriya Puraskar were shared by
132 individuals. These winners were selected out of a total of 193 applications
received from different industries for the Performance Year 2013.
For the Performance year 2013, the total number of NSA Award
Winners and Runners-up in the ten schemes adds up to 98 (53 winners and 42
runners-up). They were selected out of 199 applications received under various
schemes.
Senior Journalist
Shekhar Gupta Feted With V. Krishnamurthy Award
Senior journalist Shekhar Gupta was presented the annual 'V
Krishnamurthy award for excellence' by Tamil Nadu Governor K Rosaiah here
today.
The award was instituted by the Centre for Organisation
Development (COD).
The function was attended by Wockhardt Group
founder-chairman and Chairman of the Board of Governors, COD, Habil F
Khorakiwala, a release stated.
Gupta, chairperson, Mediascape, delivered the oration
lecture.
The 'award for excellence' was established by the Centre for
Organisation Development in 2000 to honour individuals who have set high
standards of achievement in pursuit of excellence in their respective
professions, according to the release.
Shivnarine
Chanderpaul received Icon Award by the Indo-Caribbean Alliance
Veteran Test cricketer of West Indies Shivnarine Chanderpaul
was on 12 September 2015 honoured with the Icon Award by the Indo-Caribbean
Alliance.
The 41-year-old left-handed batsman was given the award in
New York along with three others, namely television personality Lakshmee Singh,
New York City council member Eric Ulrich and businessman Dave Kadernauth.
Icon Award is the highest award given by the New York
City-based Indo-Caribbean Alliance.
Books & Authors –
Two Years Eight
Months and Twenty Eight Nights written by Salman Rushdie released
The book titled Two Years Eight Months and Twenty Eight
Nights authored by the British Indian novelist Salman Rushdie was released on 8
September 2015.
The book can be easily called as an update to Rushdie's
ancient eastern classic, A Thousand and One Nights and is a work of fiction,
blends history, mythology, and a timeless love story.
The book opens in the 12th century Spain. The story revolves
around the great Spanish-Muslim philosopher Ibn Rushd, languishing in exile for
his enlightened views, and an evil genie in disguise Dunia. The story jumps to
New York City where Ibn Rushd and Dunia's distant descendants discover that
they have special powers.
Appointments
& Resignations –
Mahesh Rangarajan
resigned as Director of Nehru Memorial Museum and Library
Mahesh Rangarajan on 17 September 2015 resigned as the
Director of the Nehru Memorial Museum and Library (NMML).
He was appointed as the Director of NMML in June 2014 by the
then UPA government headed by Prime Minister Manmohan Singh.
Rangarajan is a teacher, author and historian with a special
interest in environmental history and colonial history of British and
contemporary India.
Sunil Duggal new CEO
of Hindustan Zinc
In a significant change in Hindustan Zinc, Sunil Duggal, the
current Deputy CEO will take over as CEO and Whole-time-Director of Hindustan
Zinc from October 1. 2015 and the current CEO Akhilesh Joshi will take over as
President – Global Zinc Business.
This decision was taken at Hindustan Zinc's Board of
Directors meeting held today.
Sunil Duggal, an alumni of IMD, Lausanne, Switzerland and
IIM, Kolkata brings with him 32 years of rich manufacturing industry experience
in project management, operations, HR and Supply chain.
Sunil Duggal joined Hindustan Zinc in 2010 as Executive
Director and became COO in 2012. In the year 2014, Sunil Duggal was designated
as Deputy CEO of Hindustan Zinc.
Academician
Sachidananda Mohanty nominated as UNESCO member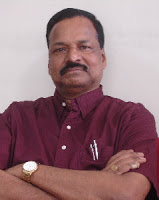 Sachidananda Mohanty, a noted academician and present
Vice-Chancellor of the Central University of Orissa has been nominated as a
member for Commission on Education for UNESCO by the President of India.
The tenure of the membership is for four years. Set up in
1949, the functions of the Commission is to promote understanding the objects
and purposes of UNESCO among the Republic of India, to serve as liaison agency
between the Govt. of India and the institutions concerned with the working for
the advancement of education, science and culture.
Mohanty, who has been at the faculty of English, University
of Hyderabad for over two decades has been nominated to as an individual member
with other notable educationist of India.
Report/Indexes
–
8th Edition of Global
Innovation Index 2015 released
The 8th edition Global Innovation Index (GII) 2015 was
released on 17 September 2015 jointly by Cornell University, INSEAD and the
World Intellectual Property Organization (WIPO). The GII 2015 was based on the
theme of Effective Innovation Policies for Development.
The index shows the new ways through which emerging-economy
policymakers can boost innovation and spur growth by building on local
strengths and ensuring the development of a sound national innovation
environment.
The index is topped by Switzerland for being the most
innovative nation. Countries like China, Malaysia, Viet Nam, India, Jordan,
Kenya and Uganda are among a group of countries outperforming their economic
peers as per the GII 2015.
Although India's ranking has slipped further to 81 in the
list, compared to 76 in 2014, but it remained at the top of the regional
ranking of Central and Southern Asia.
Report titled
Achieving the malaria MDG target released by WHO & UNICEF
The World Health Organisation (WHO) and the United Nations
Children's Fund (UNICEF) on 17 September 2015 jointly released the Achieving
the malaria MDG target report.
The report concluded that the malaria Millennium Development
Goal (MDG) target to stop and reverse the incidence of malaria by 2015 was
achieved.
India stood at the third place after Nigeria and Democratic
Republic of Congo in terms of number of cases and number of deaths due to
malaria.
World
–
Pakistan to generate
40000 MW nuclear power as part of Nuclear Energy Vision 2050
Pakistan set to itself a target of generating 40000 MW
nuclear energy. It will be achieved as part of the Nuclear Energy Vision 2050.
An announcement in this regard was made by the Chairman of
the PAEA on 17 September 2015 at the 59th IAEA General Conference at Vienna in
Austria.
While PAEA stands for Pakistan Atomic Energy Commission,
IAEA stands for the International Atomic Energy Agency.
Industry
–
Hero Cycles acquired
Firefox Bikes in all-cash transaction
The world's largest bicycle manufacturer by volume, Hero
Cycles, on 17 September 2015 announced the acquisition of Firefox Bikes Pvt.
Ltd. for an undisclosed sum in an all-cash deal.
As per the deal, Hero Cycles acquired 100% stake in Firefox.
Both the companies also mutually agreed that Firefox Bikes will continue to
remain a separate business entity post the acquisition.
The deal includes the Firefox brand of bicycles, accessories
and spares along with exclusive distribution rights of Trek and other global
brands.
Hero Cycles also announced that it will setup a Hero
Innovation Centre to upgrade its line of cycles.
Obituaries
–
Veteran Marathi
Cricket Commentator Bal Pandit Dies at 86
The pioneer of cricket commentary in Marathi who made the
game more popular in Maharashtrian households, Bal Pandit has passed away after
a prolonged illness.
The 86-year-old commentator breathed his last at a city
hospital last night.
Described as an encyclopedia of Marathi synonyms for
original cricketing parlance in English, Pandit endeared himself with fans of
the game with his lucid live commentary of both international and domestic
matches on All India Radio for over four decades, before the advent of 24X7
television channels.
He had also played a lone Ranji Trophy match representing
Maharashtra against Gujarat in 1959-60.
A prolific cricket writer, Bal wrote about 30 books and also
penned newspaper and magazine articles on the subject, enhancing common man's
knowledge of the game.
Daily Expected Questions on Stock GK
Ntangki National Park
is located in which state?
– Nagaland
Achanakmar Wildlife
Sanctuary is located in which state?
– Chhattisgarh
Harduaganj Thermal
Power Station is located in which state?
– Uttar Pradesh
Maharaja Bir Bikram
College Stadium is located in which city/state?
– Agartala, Tripura
Kanchi Kailasanathar
Temple is located in which state?
– Tamil Nadu


Regards
Team ExamPundit
Sponsored

(adsbygoogle = window.adsbygoogle || []).push({});
Books For 2015 Banking/Insurance Exams