Hello and welcome to ExamPundit. Here are the important current affairs for 17th April, 2015.
PM
Visit to Canada –
India, Canada issued Joint Statement titled New Vigour, New
Steps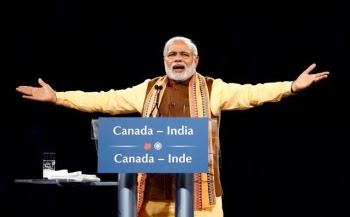 India and Canada issued Joint Statement title New Vigour,
New Steps (नया उत्साह, नए कदम)
to elevate their bilateral relations to a strategic partnership. The joint
statement was issued on 15 April 2015 during the visit of Prime Minister
Narendra Modi to Canada from 14 April to 16 April 2015. Modi's visit to Canada
is the first by an Indian Prime Minister in 42 years.
Business
MoUs & Deals –
IRMA signs MoU with
IICA, to train CSR professionals
The Institute of Rural Management-Anand (IRMA) on Friday signed
a memorandum of understanding (MoU) with the Indian Institute of Corporate
Affairs (IICA) for training CSR professionals.
The MoU, which comes in the wake of recent changes in the
Companies Act, 2013, was signed by Prof. Jeemol Unni, Director, IRMA, and Dr.
Bhaskar Chatterjee, Director- General and CEO, IICA, an institution launched by
the Government of India in 2008 to act as a think tank and capacity building
hub for corporate regulations and reforms.
The MoU was signed with the intent of furthering
collaboration between the Centre for Rural Infrastructure and Corporate Social
Responsibility at IRMA, and IICA, IRMA said in a statement here.
Ten MoUs signed on
final day of Naidu China visit
On the last day of Andhra Pradesh Chief Minister N.
Chandrababu Naidu's six-day China tour, 10 MoUs – five G2B and an equal number of
B2B – were signed on Friday.
While the G2B MoUs mostly related to facilitating direct
investment in solar energy sector, majority of the B2B agreements were in
connection with facilitating direct investment in Brandix India Apparel City in
the field of textiles. Another B2B MoU was between KSEZ (GMR) and Hangzhou
Huatong Inc for setting up a toys manufacturing unit at Kakinada SEZ, of GMR.
Earlier Mr. Naidu held a series of meetings with various
companies in Shanghai. The TCL Corporation expressed interest in exploring
investment opportunities in A.P. The corporation is a Chinese multinational
electronic company that manufactures television sets, mobile phones, air
conditioners, washing machines, refrigerators and small electrical appliances.
Mr. Naidu briefed the delegates on the strengths of the
state and his plans to make A.P. an electronics manufacturing hub. He assured them
of Government providing all necessary resources like land, water and power
required for setting up a manufacturing unit.
Awards
& Honors –
Veteran Singer SP Balasubramaniam Bags Harivarasnam Award
Veteran singer S P Balasubramaniam has been selected for
this year's prestigious "Harivarasanam" award instituted by the
Kerala government.
Balasubramaniam has been selected for the award in
recognition of his great contribution to propagate the spirit of secularism,
equanimity and universal brotherhood of Lord Ayappa temple at Sabarimala
through the songs he rendered in different languages in the past five decades.
He was selected by a jury headed by Sabarimala high-power
committee chairman K Jayakumar, minister for Heath and Devaswoms V S Sivakumar
said here.
The award carrying a cash prize of Rs one lakh, citation and
plaque would be presented to Balasubramaniam at a function to be held at
Sabarimala in June.
Cash prize of the award till last year was Rs 50,000 and it
been incresed to Rs one lakh from this year he said.
Satya Nadella
honoured with the White House Champions of Change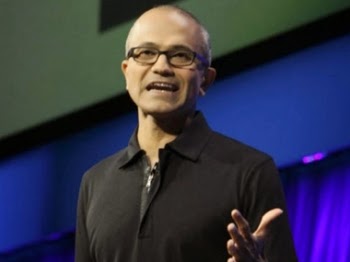 Microsoft's Indian-origin CEO Satya Nadella was honoured
with the White House Champions of Change on 16 April 2015. He is one of the 12
local Champions of Change who were honoured for their exemplary leadership.
Champions of Change honour is given to those who support
working families and help make change in their companies or communities.
Satya Nadella is the first Indian-origin Chief Executive
Officer (CEO) of Microsoft. He was named as one of the Champions of Change for
his employee-friendly initiative. For instance, recently Microsoft announced
that from 2016 onwards all the suppliers that do business with Microsoft in the
US will have to provide at least 15 days of paid leave each year to their
employees who handle Microsoft work.
Appointments
–
Vishal Sikka
appointed as University Advisory Professor at ECNU
The East China Normal University (ECNU), one of the
prestigious universities in China, announced the appointment of Dr. Vishal
Sikka, Chief Executive Officer of Infosys, as Advisory Professor.
According to a release from the company, Professor Shijun
Tong, CCP Secretary of ECNU, formally conferred the Advisory Professorship to
Mr Sikka.
Prof. Shijun Tong, CCP Secretary − ECNU, was joined by Prof.
Rongming Wang, Vice President − ECNU, Prof. Qifeng He, academician at the
Chinese Academy of Sciences, Prof. Zhenguo Yuan, Dean of Education − ECNU, Mr.
Rangarajan Vellamore, Chief Executive Officer – Infosys China, and Mr. Mike
Liu, Chief Operating Officer − Infosys China.
World
–
Russia lifted ban on
delivery of S-300 Missile System to Iran
Russia on 13 April 2015 lifted its earlier ban on delivery
of S-300 Missile System to Iran. The S-300 Missile System is a surface-to-air
missile defense system that can be used against multiple targets including jets
and enemy missiles.
Russia lifted the ban in the back drop of an informal
agreement reached on 2 April 2015 between P5+1, the EU and Iran to prepare the
final draft of Joint Comprehensive Plan of Action (JCPOA) by 30 June 2015.
Under the agreement, Iran agreed to stop developing nuclear
weapons in return for lifting economic sanctions imposed on it by the international
community.
This was the only sanction imposed by Russia on Iran since
Iran had announced its nuclear programme in 2010.
Russia stayed the execution of 800 million US dollar worth
deal after the international community raised apprehensions that the missile
system would be used to protect Iran's nuclear installations from air strikes.


Regards
Team ExamPundit
Sponsored

(adsbygoogle = window.adsbygoogle || []).push({});
Books For 2015 Banking/Insurance Exams