Finance
1. $63.3-million ADB
loan for North Karnataka
·
Asian Development Bank (ADB) has provided
$63.3-million loan for improving urban services and strengthening municipal and
project management capacity in North Karnataka towns.
·
The Centre today signed an agreement with ADB
for improving urban services. The agreement is for the fourth project under the
overall facility of $270 million for the North Karnataka urban sector
investment programme.
·
The fourth and last tranche of loan under
this programme will help upgrade infrastructure, including expansion of the
potable water systems to provide round-the-clock water supply with private sector
participation in 12 towns.
·
The town selected are Basavakalyan, Bellary,
Bidar, Gadag-Betegeri, Gokak, Haveri, Hospet, Nipanni, Raichur, Shahabad,
Sindhanur and Yadgir.
·
The programme also includes completion of
sewerage networks in three towns – Haveri, Hospet and Raichur – and
improvements to the road network in Badami and Ilkal.
India
2. Union Cabinet approved the launching of
National AYUSH Mission
·
The Union Cabinet on 15 September 2014 approved the launching of
National AYUSH Mission (NAM). The word AYUSH stands for Ayurveda, Yoga and
Naturopathy, Unani, Siddha and Homoeopathy.
·
NAM is aimed at addressing the gaps in health services particularly in
vulnerable and far-off areas.
Prospects of National AYUSH Mission
•
The improvement of AYUSH education through enhancement in the number of
upgraded educational institutions
•
Better access to AYUSH services through increase in number of AYUSH
hospitals and dispensaries, availability of drugs and manpower.
•
Sustained availability of quality raw material for AYUSH systems of
medicine
•
Availability of quality Ayurvedic, Siddha, Unani and Homeopathy
(ASU&H) drugs through increase in number of pharmacies, drug laboratories
and improved enforcement mechanism of ASU&H drugs.
3. President of India presented Indira Gandhi
Rajbhasa Awards
·
The President of India Pranab Mukherjee on 14 September 2014 presented
Indira Gandhi Rajbhasa awards on the occasion of National Hindi Divas at
Rashtrapati Bhavan, New Delhi.
·
Indira Gandhi Rajbhasa awards also known as Indira Gandhi Official
Language Awards are celebrated every year on 14 September.
·
Rashtriya Ispat Nigam Limited (RINL) CMD Madhusudan was one of the
awardees who was honoured with the prestigious Indira Gandhi Rajbhasha Shield
for the Best Hindi Implementation in the organisation.
4. AP Cabinet goes paperless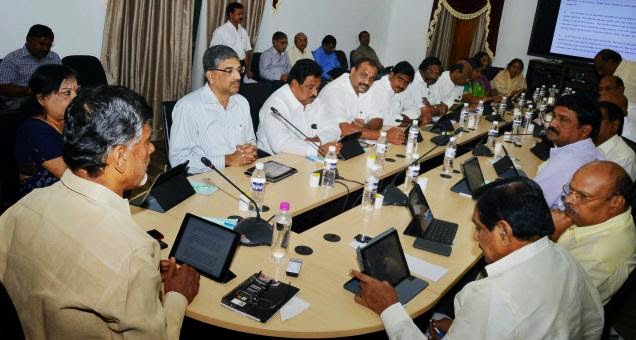 ·
Tech-savvy Andhra Pradesh Chief Minister, N. Chandrababu Naidu motivated
his Cabinet colleagues to use iPad and become part of history-making first ever paperless e-Cabinet meeting.
From the elderly K. E. Krishnamurthy to young Peetala Sujatha, Ministers
carried iPads with e-Cabinet app in their hands instead of bundles of files and
papers they used to do earlier.
·
The paperless meeting marked the completion of 100 days by Chandrababu
Naidu government.
5. NTPC signs MoU with AP Govt for setting up
4,000-MW project near Vizag
·
NTPC Ltd has drawn up plans to set up a 4,000-MW ultra mega power
project at Pudimadaka near Visakhapatnam wherein it has been allotted 1,200
acres by the Andhra Pradesh Government.
·
The thermal power project has been in pipeline for the past several
years. With both the Central and the State Governments keen to provide
necessary support for the project, NTPC has decided to initiate the project
which entails an outlay of Rs 20,000 crore.
·
The project is based on imported coal and requires about 19.8 million
tonnes of coal per annum.
·
After the signing-in ceremony of allotment of land to NTPC in the
presence of Union Power Minister Piyush Goyal, AP Chief Minister N Chandrababu
Naidu and NTPC Chairman and Managing Director Arup Roy Choudhury, the Union
Power Minister said that the project would be completed by 2019.
·
NTPC has also signed up another memorandum of understanding with the
Andhra Pradesh Government for setting up of a 1,000-MW solar park in Anantapur
district. The project entails an outlay of Rs 7,000 crore.
·
The State Industries Department has allocated 5,500 acres for the solar
park.
International
6. First U.S. air
strikes near Baghdad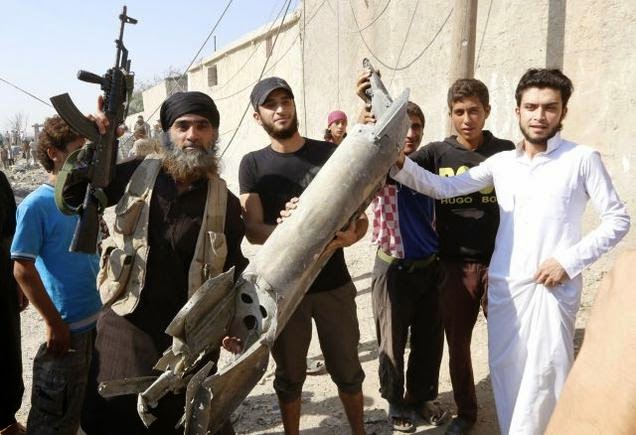 ·
In a sign of its expanding involvement in the
crisis in Iraq, the U.S. military carried out, for the first time, airstrikes
in the vicinity of Baghdad to halt the advance of Islamic State, the jihadist militant outfit that controls
significant territories across Iraq and Syria.
·
In a statement, U.S. Central Command said
that its attack against IS, employing attack and fighter aircraft to conduct
two airstrikes Sunday and Monday, was carried out "in support of Iraqi security
forces near Sinjar and southwest of Baghdad."
·
Centcom further noted that the strikes
destroyed six IS vehicles near Sinjar and an IS fighting position southwest of
Baghdad that had been firing on Iraqi forces, and the number of U.S. airstrikes
across Iraq now stood at 162.
·
The latest bombing runs by American fighter
aircraft came less than a week after U.S. President Barack Obama announced
plans to ramp up the fight against IS, which received worldwide condemnation
for beheading three Western citizens, two Americans and a Briton, and publishing
the videos of the executions online.
7. Ukraine grants
self-rule to Donetsk, Luhansk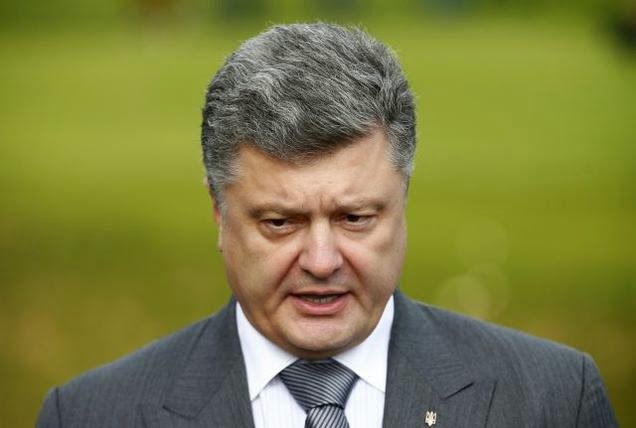 ·
The separatist-held regions of Donetsk and
Luhansk in eastern Ukraine are granted temporary self-rule for three years in a
new law adopted by Parliament.
·
Both parties in the conflict will be granted
amnesty, except for those who have committed "serious crimes," according to the
law adopted to further peace in the region.
·
The special status law granting greater
autonomy to Donetsk and Luhansk also allows for elections but stipulates that
the separatists must renounce their bid for independence.
8. Antara Haldar of
India became first non-European law lecturer at Cambridge
·
Indian-origin Antara Haldar on 15 September
2014 became first non-European law lecturer at Cambridge University. She belongs
to Mumbai, Maharashtra.
·
She is the
youngest and the only Indian to get the tenured position in the top-ranking law
faculty. She is 28 years old.
·
Before began her tenure in the UK, she is all
set to study the Gujarat development model. The focus would be on textiles as a
case study.
·
She studied law degree at Cambridge
University in 2006 and in 2010. She got a doctorate in law.
9. G-20 Labour and
Employment Ministerial meet
·
The G-20 Labour and Employment Ministerial
meet was held at Melbourne, Australia on 10 September 2014 to 11 September 2014.
·
The meet was called to put forward
recommendations to G20 Leaders. During the meet, discussions were held on how
to increase job growth across the G20 to help address disadvantage, improve
productivity and drive growth.
·
They also reflected on the high cost to
business and national economies caused by poor workplace health and safety.
·
Female labour force participation rates and
high youth unemployment are two key issues faced by G20 economies, and both
topics were a focus on the agenda for the ministerial meeting.
·
At the completion of the meeting, the
ministers released a Declaration outlining their commitments to address the
labour, employment and social challenges faced, nationally and globally.
Sports
10. Boxing India earned
Official Recognition from AIBA
·
AIBA Executive Committee Bureau on 15
September 2014 formally recognised Boxing India as the provisional AIBA
National Federation to represent the sport of boxing in India.
·
The recognition of Boxing India was confirmed
through an official letter of the President of the International Boxing
Association (AIBA), Dr Ching-Kuo Wu to the President of Boxing India Sandeep
Jajodia.
·
After AIBA Executive Committee unanimous
approval of the Provisional Membership, Boxing India waits final ratification
by the 2014 AIBA Congress, which will be held in Jeju Islands, Korea in
November 2014.
Here is the PDF Link: Download PDF
We are sorry that this post was not useful for you!
Let us improve this post!
Tell us how we can improve this post?
EP Recommends: Oliveboard Mock Tests