Hello and welcome to ExamPundit. Here are the important current affairs of 15th April, 2015.
Finance/Economy/Banking
–
Wholesale prices
declined 2.33% in March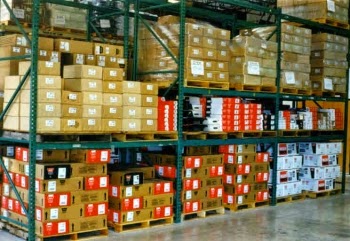 Wholesale prices declined at a faster-than-expected annual
rate of 2.33 per cent in March, their fifth straight fall, on the back of
tumbling oil and manufacturing prices, Government data showed on Wednesday.
The data compared with a 1.95 per cent year-on-year fall
forecast by economists in a Reuters poll and a provisional 2.06 per cent
decline in February.
The reading for January wholesale price inflation was
revised to -0.95 per cent from -0.39 per cent earlier.
PSUs Sign Six Pacts
at Hannover Messe to Boost 'Make in India'
Public sector firms, including BHEL, Instrumentation Ltd and
HMT, have firmed up six MoUs with companies from Germany, Switzerland, Russia
and Bulgaria for scaling up Indian manufacturing in high-tech areas.
The Memoranda of Understanding (MoU) were signed yesterday
at an event organised by engineering exporters' body EEPC India at the ongoing Hannover
Messe fair in Germany.
Power equipment maker Bharat Heavy Electricals Ltd (BHEL) inked
a pact with Russian Joint stock company INTMA for upcoming projects in Russia
and Kazakhstan.
While Rajasthan Electronics & Instruments Ltd and
Bulgaria-based Milkotronics Ltd signed an MoU to manufacture milk analyzers in
India, Instrumentations Ltd and German firm KE Kauer Engineering inked an
agreement for production of control valves.
Three MoUs were signed by Hindustan Machine Tools (HMT), the
release said. HMT inked pact with Switzerland-based Num Controls for
manufacturing of CNC controls, systems and drives.
It also signed pacts with FT Machine Tools, Germany, for
collaborating on flow forming machines and Enit GmbH for total engineering
solutions.
India is a partner country at the Hannover Messe 2015 fair,
which was inaugurated by Prime Minister Narendra Modi and German Chancellor
Angela Merkel.
ICICI Bank, Bangalore
Metro offers smart card
ICICI Bank, India's largest private sector bank tied up with
Bangalore Metro Rail Corporation to launch ICICI Bank Unifare Bangalore Metro
card to offer debit and credit card benefits to commuters.
Co-branded with MasterCard, the smart card uses Near Field
Communication (NFC) technology and offers the commuters dual benefits of an
ICICI Bank credit or debit card and BMRCL's smart card, called Namma Metro
Smart Card. "It has a unique auto recharge facility of loading Rs. 200 when the
balance drops below Rs. 100. This auto recharge facility eliminates the need to
wait in queues at ticket counters and vending machines," ICICI bank said in a
statement.
Commuters can redeem reward points accumulated on their card
for free metro rides, get 15 per cent discount on metro fare, 2.5 per cent fuel
surcharge waiver across HPCL pumps with transaction swiped on an ICICI Merchant
Services' machine discounts on dining bills at select restaurants among others.
Both existing and new credit or debit card customers can
apply for this card, the bank said.
NCR Corp launches
cloud-based ATM software
ATMs and service provider NCR Corporation introduced a
self-service banking channel, Android operating system – Kalpana software – an
enterprise and cloud-based software platform that moves ATM software and
operations to the cloud.
The software has been designed to eliminate malware, to
enable deployment of new devices and ATM services and reduce operating costs up
to 40 per cent. "It is more secure than traditional ATM software because all
software updates are originated and controlled at the server level," the
company said after launching it globally.
At present, the US-based ATM provider has 47 per cent market
share in India and 28 per cent share globally.
NCR Corp expects the India ATM industry to grow over 200 per
cent in the next five years. Dastur expects the number of ATMs to increase to
4.40 lakh by 2019 as against 1.93 lakh at present.
Business
MoUs & Deals –
Satya Nadella Tops
Global CEO Pay Chart
With a pay package of USD 84.3 million (Rs 525 crore) a
year, technology giant Microsoft's Indian-origin chief Satya Nadella has
emerged as the top-paid CEO in the US, as per a new list.
The Equilar 100 CEO Pay Study, an analysis of CEO salaries
at the 100 largest public US companies as measured by revenue, was last year
topped by Oracle's Larry Ellison, who has been now pushed by Nadella to the
second position.
Another Indian-origin CEO, Indra Nooyi of PepsiCo, is ranked
19th with USD 19.08 million. Legendary investor Warren Buffett of Berkshire
Hathaway is ranked last at 100th position with a total compensation of USD
464,011 million.
Temasek acquired
InnoVen Capital India for 300 crore rupees
Singapore-based investment firm Temasek on 14 April 2015
acquired InnoVen Capital India, formerly known as SVB India Finance, for 300
crore rupees.
With this acquisition, Temasek announced its entry into the
venture debt segment.
InnoVen Capital India will be independently managed with a
reconstituted board of 5 members, comprising Madhabi Puri Buch, former chief
executive officer of ICICI Securities, as chairperson.
Temasek has assets under management to the tune of 177
billion US dollar as on 31 March 2014, and has actively invested across sectors
like financial services, telecom, media, technology, life sciences, consumer
and real estate.
Zomato acquires
cloud-based restaurant POS product MaplePOS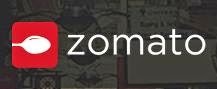 Restaurant search app Zomato has announced acquiring
MaplePOS, a cloud-based point of sale product for restaurants.
Renamed as Zomato Base, it has a functional Android-based
POS system that uses custom hardware for better reliability and customization.
It offers restaurants features such as menu and inventory
management, and has a built-in payment solution to accept debit and credit card
payments. With this acquisition, Zomato claimed it will be better placed to
provide business-focused solutions for restaurants, which in turn, will help
the company offer highly differentiated services to the end consumer.
Online hotel booking
in India to hit $1.8 bn by 2016: Google
Online hotel bookings in the country will touch USD 1.8
billion by 2016, as more and more Indians turn to the Internet for finalising
travel plans, according to Google.
Consumer confidence to do online hotel bookings is on the
rise in India, with an estimated 8.4 million Indians likely to book hotels
online by 2016. The online hotel booking Industry will be worth USD 1.8 billion
from the current USD 0.8 billion.
One of the biggest factors for this sizzling growth is the
convenience the Internet offers while carrying out the transaction.
Reports/Indexes
–
IMF released World
Economic Outlook April 2015 Update
International Monetary Fund (IMF) on 14 April 2015 released
World Economic Outlook (WEO) April 2015 Report. The report is titled Uneven
Growth: Short-term and Long-term Factors.
Global growth is forecasted at 3.5 percent in 2015 and 3.8
percent in 2016 which is in line with forecasts made in the January 2015 WEO
Update. Also the global growth rate in 2015 is broadly same as it was in 2014.
Growth in advance
economies will rebound
Global growth in 2015 will be driven by a rebound in
advanced economies supported by the decline in oil prices.
In advanced economies, growth is projected to strengthen in
2015 relative to 2014, but in emerging market and developing economies it is
expected to be weaker.
Projection about
India
India's growth is projected to strengthen from 7.2% in 2014
to 7.5 % in 2015 and 2016.
For the first time since 1999, India's growth rate may
eclipse China's and there is increasing divergence in the growth paths of the
two countries.
India is trying to shift from consumption to investment led
growth at a time when China is going opposite way.
India Slips to 89th
Place in Global Networked Readiness Index
India has slipped six places to rank 89th on a global
Networked Readiness Index, showing a "widespread" weakness in its
potential to leverage information and communications technologies for social
and economic gains.
While Singapore has replaced Finland on the top of the
143-nation list, prepared by World Economic Forum (WEF), it has called for
improvement in India's business and innovation environment, infrastructure and
skills availability.
However, India has been ranked on the top globally on a
sub-index for competition and affordability.
Overall, India was ranked 83rd last year, and even better at
68th position in 2013.
WEF said India's weakness is widespread, falling in the
bottom half of seven of the 10 pillars of the index.
In the top 10, Singapore is followed by Finland, Sweden, the
Netherlands, Norway, Switzerland, the US, the UK, Luxembourg and Japan, which
has climbed an impressive six places year-on-year to 10th position.
World
–
India, EU Strike New
'Digital India' Partnership
India and the European Union (EU) today forged a new digital
partnership and discussed potential for collaboration in the fields of
technology and innovation besides cooperation to create smart cities.
The first India-EU Strategic Dialogue Series, organised by
UK-based policy platform India Inc. Alongside key players like Microsoft and
McKinsey, focussed on 'Delivering Smart Communities' as part of the Narendra
Modi government's Digital India drive.
The Digital India Roundtable, supported by Tata Consultancy
Services (TCS) and Germany-based IT solutions entity SAP, focussed on the
potential of India-EU collaboration in the field of technology and innovation
as well as in creating smart cities.
Canada to Supply
Uranium to India From 2015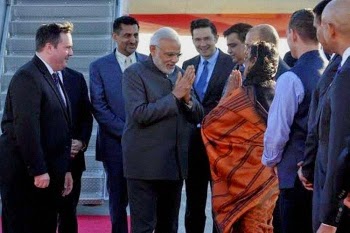 Canada today agreed to supply 3,000 metric tonnes of uranium
to energy-hungry India from this year under a USD 254 million five-year deal to
power Indian reactors as the two countries decided to set in motion a new
strategic partnership.
The agreement for uranium supply, which came two years after
protracted negotiations following the 2013 civil nuclear deal between India and
Canada, was signed after comprehensive talks Prime Minister Narendra Modi had
with his Canadian counterpart Stephen Harper.
Cameco Corporation will supply 3,000 metric tonnes of
uranium over five years to India at an estimated cost of USD 254 million and
the supply will start from this year, a top official said.
Canada is the third country to supply uranium to India after
Russia and Kazakhstan. The supplies will be under the International Atomic
Energy Agency (IAEA) safeguards.
Delhi Declaration on
Public Health Challenges adopted at 5th SAARC Health Ministers meet
The 5th meeting of SAARC Health Ministers was held on 8
April 2015 in New Delhi. The meet ended with the adoption of Delhi Declaration
on Public Health Challenges.
The declaration focuses on issues common to member nations
of South Asia Association for Regional Cooperation (SAARC). These issues
include universal health coverage, improving health regulatory systems,
preparedness for emerging and re-emerging diseases and the challenges posed by
antimicrobial resistance and non-communicable diseases.
Main highlights of
the Delhi Declaration
Agreed to strengthen cooperation on mutually agreed
agreements for prevention and control of infectious diseases and for sharing of
information in accordance with international health regulations
Agreed to strengthen capacities for surveillance and
monitoring of disease, rapid response and expanding diagnostic facilities
Resolved to strengthen cooperation to promote availability
and effective coverage of affordable vaccines including pentavalent vaccine and
to also strengthen our response to make SAARC region polio free
Agreed to take appropriate coordinated action which may be
required to be adopted by the Member States for prevention and control of
Hepatitis which is a major public health issue in the region;
Fifth Normandy Group
Foreign Ministers meet held in Berlin
The term Normandy Group was in news because the fifth
meeting of the foreign ministers of the group members was held on 13 April 2015
in Berlin, the capital of Germany.
Normandy Group or Normandy Quartet is a group of four
countries including Russia, France, Germany and Ukraine.
The group was formed to facilitate a diplomatic resolution
to the ongoing conflict between the Ukraine Army and pro-Russia forces in the
Donbass region of Ukraine.
It was formed on 6 June 2014 after an informal meeting of
the four heads of state on the sidelines of commemoration of the seventieth
anniversary of D Day in Normandy, France.
From time to time, the group reviews the progress in
implementing the truce pact, which came into force on 15 February 2015. The
pact was reached in the Belarusian city of Minsk between pro-Russia forces and
Ukraine to end the conflict.
Stanford Researchers
created a Smartphone Battery that charges in only one minute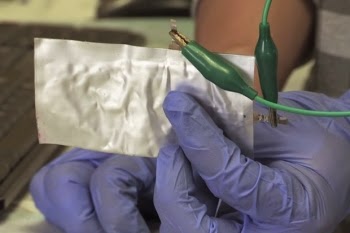 Researchers at Stanford University created a smartphone
battery that charges in only one minute. The project was published on 6 April
2015. Stanford University chemistry professor Hongjie Dai is the lead
researcher of the project.
The battery invented is the first high-performance aluminum
battery which is fast-charging, long-lasting and inexpensive.
The researchers placed the aluminum anode, a graphite
cathode and an ionic liquid electrolyte inside of a polymer-coated pouch. The
electrolyte is essentially a salt that is liquid at room temperature so it is
safe.
Appointments
–
Mohan Kumar Appointed
New Ambassador to France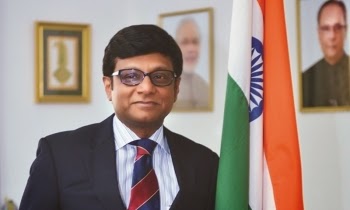 Senior diplomat Mohan Kumar, currently India's top envoy to
Bahrain, has been appointed the next Ambassador to France to succeed Arun
Kumar.
A 1981-batch IFS officer, Mohan Kumar is expected to take up
his assignment shortly, External Affairs Ministry said today.
The official announcement for Mohan Kumar's appointment
comes six days after Prime Minister Narendra Modi's visit to France.
Arun Kumar has been appointed the country's Ambassador to the
US, replacing S Jaishankar.
Incidentally, before becoming Ambassador to Bahrain in 2010,
Mohan Kumar served as Deputy Chief of Mission at the Indian Embassy in Paris
for three years.
Justice Meenakshi
Madan Rai sworn in as first lady judge of Sikkim HC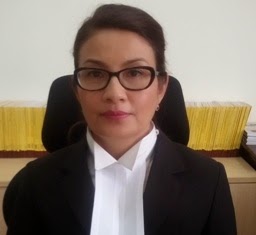 Meenakshi Madan Rai on 15 April 2015 was sworn in as the
first lady judge of the Sikkim High Court. Her oath of the office was
administered by the Governor Srinivas Patil at Ashirwad Hall at Raj Bhavan in
Gangtok.
Rai is also the third High Court judge who hails from the
small border state.
This appointment of Rai as the judge of the Sikkim High
Court has helped the state to get its full strength of three judges after a gap
of about one year.
Books
& Authors –
Vise President Hamid Ansari
Releases Book on Indian Diplomacy Through Three Decades
Vice President Hamid Ansari today released a book which is a
collection of thoughts and ideas of 33 Indian diplomats during their years in
foreign service.
India and the World – Through the eyes of Indian Diplomats
has been edited by diplomat Surendra Kumar-founded Indo-American Friendship
Association in 2010.
"The book has been very rightly described as a bouquet
of 33 Flowers as it is a fair description of experiences of 33 distinguished
diplomats and what has happened over the years since the foreign service
began," the Vice President said.
Commending the editor of the book, he hoped it will be read
by young entrants in this service and the public at large.
The work representing three generations, those who joined in
1950s, 1960s and in 1970s.
Obituaries
–
Assamese Filmmaker
Bidyut Chakraborty passes away
Renowned Assamese filmmaker and actor Bidyut Chakraborty
breathed his last today in a private nursing home in Guwahati after brief
illness.
He directed several Assamese movies including Raag-Biraag,
Goon Goon Gaane Gaane, Dwaar. Chakraborty even won Indira Gandhi national award
for Raag Biraag.
Apart from direction, Chakraborty acted in several Assamese
movies and serials.
Assam film fraternity and civil society organizations has
condoled the demise of Chakraborty. Last tributes are being paid to the
departed soul by people from all walks of life.
Regards
Team ExamPundit
Sponsored

(adsbygoogle = window.adsbygoogle || []).push({});
Books For 2015 Banking/Insurance Exams


EP Recommends: Practicemock Free Mock Tests